The word cheap has such a negative ring to it that most people I know keep their distance. But it doesn't have to be this way. The term "cheap", when it's used in tandem with baseball gloves, doesn't necessarily mean terrible.
In my early days when I didn't have the moolah to pick up some popular glove, I had to contend with the budget alternatives. Did it affect my performance? Yes. But I learned the ins and outs of the game. And before you cross a certain skill level, you can learn and enjoy the game with the best cheap baseball gloves.
That's why I'm going to break down 5 budget-friendly baseball gloves that I've had an excellent run with. So, what you'll get from me:
An honest, no-BS review of the 5 best budget gloves
A way to get the most out of these gloves
And last but not least, what to look for in a glove when you're on a budget leash, capeesh?
Before I begin this glove sermon, I should inform you that all the gloves listed here are in the $100 territory. Some of them are in the lower end of the $100 spectrum, while others are higher.
Anyways, all the gloves I have over here can help you win a game. So, don't take it out on the glove. Instead, maybe practice a bit more (wink).
Top 5 Best Cheap Baseball Gloves Under $100
Top Pick
Zero shock palm padding
Velcro wrist strap
Full-grain leather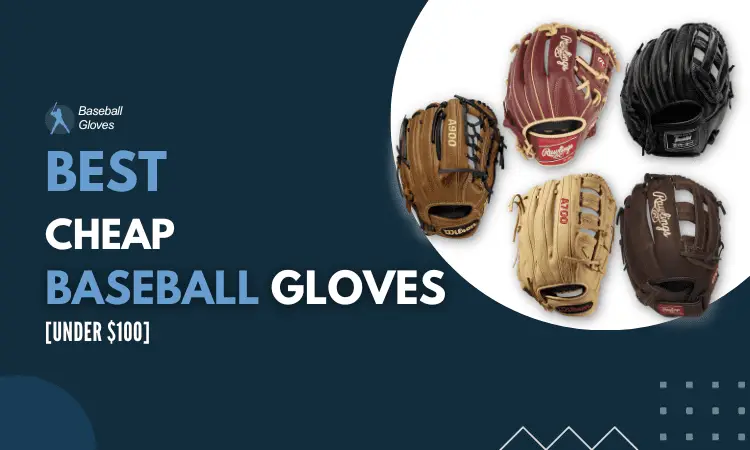 Table of Contents
1. Rawlings Player Preferred Baseball Glove
Rawlings Player Preferred is one of the highest-rated gloves you can find for the price. It's cheap. But the performance you get from this baby is amazing with a capital A.
For starters, this glove is made with top-shelf pro preferred leather that'll last longer than the below-average budget glove.
There's also the zero-shock palm padding inside of this glove to protect your hand from the impact of a super-fast ball coming your way.
Most baseball gloves aren't meant for softball. However, this glove can easily perform like a utility glove because of its 12.5-inch size.
On the outside of this youth baseball glove, there's a flex loop Velcro strap that helps you to adjust the glove as your hand measurement.
As you know, there's nothing worse than having an uncomfortable glove during an important match. So, simply adjust the glove accordingly, and discomfort won't be an issue.
RHT and LHT both models are available. You can play in any position with this glove. However, I would recommend staying in the outfield area because that's where you can test the true might of this glove.
Pros
Has enough padding to resist impact and shock
Signature Pro Preferred leather lasts for years
Utility gloves can be used for both baseball and softball
Velcro wrist closure allows easy and plenty of adjustment options
Cons
Not particularly suitable for infield positions
No breathable mesh design
---
2. Wilson A900 Baseball Glove
Everyone's aware that Wilson is the most trusted baseball gear manufacturer in the community. And Wilson A900 baseball glove is another perfect example of their reputation.
It's durable, comfortable, budget-friendly, and one of the top-rated gloves that come from Wilson Sporting Goods.
Let's look at the specs. The A900 is made with "select pro" leather that comes from the specially chosen cowhide of New Zealand. There's the H-web construction that makes catching a ball easier without letting the impact injure your hands.
A lot of youth baseball gloves suffer from comfort issues.
But Wilson added double palm construction to make sure your hand remains safe and snug. Unlike the first glove on this list, the A900 is not available for every position and hand variation.
While it's an old model, it's still one of the top 5 best-seller baseball gloves. The best part is that it comes with a 50% break-in from the manufacturer.
Pros
Easy to break in and get it ready for the game
Full-grain leather makes the glove durable and comfortable
Leather pull-strap helps with adjustments
Thick padding can handle heavy hits
Cons
No size and position flexibility
Not made with steerhide leather
---
3. Rawlings Sandlot Series Glove
If looks are on your wish list, I believe you should give Rawlings Sandlot Baseball glove a shot. I haven't seen a budget glove with such a slick look.
I'd say the price, presentation, and performance combined make this glove a bang for the buck.
Similar to the expensive Rawlings heart of the hide, this one is also made with full-grain oiled leather that gives it a vintage look.
While talking about its beauty, I should also mention it's one of the most durable gloves on the list. You can easily play for a couple of years if you just maintain it properly.
As a synthetic leather glove, it comes with a 90% break-in from the manufacturer. It means you don't have to wait until it arrives, it's ready to go.
If you still want to know how to break in a synthetic glove, you can find out more detailed guides on breaking in a synthetic glove.
The Zero shock palm pad and added finger-back lining maximize comfort while protecting your hand. Plus, the Sandlot series is available in a wide range of web styles and glove lengths.
Follow our size chart to know which one suits you perfectly.
Pros
Has enough padding to resist impact and shock
Signature Pro Preferred leather lasts for years
Utility glove can be used for both baseball and softball
Velcro wrist closure allows easy and plenty of adjustment options
Cons
Not particularly suitable for infield positions
No breathable mesh design
---
4. Wilson A700 Baseball Glove Series
If I had to streamline it, I'd say this is a top-notch glove at a reasonable price, and those who are out of bucks. The Wilson A700 Baseball Glove has a lot of features that'll make you feel like you're using something professional.
Made with high-quality Blonde Full-grain leather, the glove can take a ton of hits. Also, it comes with an H-Web glove design to add more ease for the player.
This glove is a high-performing beast. It can absorb up to 460 km per hour at least 5 million times according to the official statement.
I personally tested it because my cousin Steve has been using this one since it was released. I can assure you that the A700 lives up to the wild expectations people have of Wilson.
The laces are made of leather means more flexibility there. Dual hand variations and the option to choose a glove for all the different positions.
It comes with a 50% break-in to make it easy to use. So, if you are looking for a perfect glove that doesn't cost you much, just try this glove out. You'll love it.
Pros
Full-grain cowhide leather makes the glove sturdy
H-web design is suitable for different infield and outfield positions
Can resist the impact of fastballs
Adjustments made easy with pull-strap
Cons
Not a lot of sizing options
Not suitable for adults or teenagers with big hands
---
5. Franklin Sports Baseball Fielding Glove
I'll be frank. Franklin is another top-of-the-line manufacturer. And their target customer? Budget hunters.
So, if you're on the fence about getting a budget glove from reputed brands like Rawlings or Wilson (because you're not sure whether their budget gloves will be good enough), just go with Franklin Sports Baseball Fielding Glove.
The first thing you should know is that it's an excellent outfield glove. It's made from genuine black cowhide leather. So, you can rest assured about the durability of this glove.
There are no color options, though. But I think the black premium design makes it more lucrative than other colors.
It comes with a large H-Web design and a bigger pocket that helps you to catch tough fly balls with more ease. There's also the I-Web and Basket Web design.
You can choose what you want according to your playstyle. The soft palm lining provides you maximum comfort while you are in the field.
Like other professional baseball gloves, you have to break them in. But light and quick break-in are more than enough to finish the process.
As I said earlier, if you are looking for the best budget infield or outfield glove, look no further, Franklin CTZ5000 has got you covered.
Pros
Has enough padding to resist impact and shock
Signature Pro Preferred leather lasts for years
Utility glove can be used for both baseball and softball
Velcro wrist closure allows easy and plenty of adjustment options
Cons
Not particularly suitable for infield positions
No breathable mesh design
---
How To Choose The Best Cheap Baseball Gloves
Choosing the best baseball gloves is definitely not a walk in the park. And when you have monetary problems, it just gets tougher. Plus, there are tons of budget baseball gloves that don't even deserve a second glance.
But you can easily get some budget gems if you follow a few rules before buying. So, let me show you how to go about it.
What's The Material Of That Best Baseball Gloves?
There are several materials that can be used to make baseball gloves. Cowhide, premium steer-hide, full-grain, synthetic, and kip leather are some of them.
Each of them comes with a different level of durability. So, know what material is used and assess it against the price you're paying.
Besides, the gloves I've reviewed here have been through grueling ordeals and survived. So, I'm pretty sure all of these gloves can handle roughhousing unless you somehow go overboard.
Size – Choose The Perfect One That Fits Your hand
Size depends on your position, hand measurement, and personal preference. Follow the glove size chart to configure which one is for you.
A baseball glove or mitt shouldn't be too loose or too tight. If it's not the right fit, it creates an uncomfortable situation for players.
Adjustable straps can mitigate the problem to some extent. The Rawlings Pro preferred comes with adjustable straps that help you to fit your glove according to your hand measurement.
Webbing Helps You To Improve Your Catching Experience
A perfect webbing and a bigger pocket can help you to catch more balls with ease. The webbing design varies according to player position.
Gloves that come with a bigger pocket have more catching efficiency compared to other gloves. However, infielders don't need a deep pocket.
Again, the webbing comes down to your position in the field. Know where you're going to be, and get a webbing-type fit for that position.
Comfortable Padding To Secure Your Hand
According to Healthgrades, baseball is the 7th sport that is most likely to cause injuries. And believe it or not, baseball gloves were invented to protect the player's hands from incoming projectiles. So, comfortable and secure padding plays a vital role here.
Choose a glove that protects you from the impact of high-speed balls that'll come skyrocketing straight from baseball bats.
Those 5 elite top-notch gloves that I reviewed had to pass the "Impact Absorbing Test" to make sure that it won't be a cause of injury.
Comes With a Warranty Or Not?
The warranty assures a product's performance. If a glove comes with a warranty, that means the manufacturer is confident that it will not break the customer's trust.
However, every customer of Baseball Hover will get a one-year extra warranty on their gloves. If you are interested then you can read this agreement post to know details about this.
Final Thought On Cheap Baseball Gloves
Once you commence the glove hunt, you'll find hundreds or maybe thousands of cheap gloves. But here's the thing. They tend to hit the bucket pretty quickly. That's why I've picked and reviewed the 5 best cheap baseball gloves. The gloves I've listed in this article cannot tango with the big-boy gloves. However, if you use them correctly, these gloves can give even high-end gloves a run for their money.
With that said, I had a great run with all the gloves I've mentioned. So, it's hard for me to just pick one from the lot. Still, if you ask me to choose a specific one, I'd say go for the Wilson A900. It's got a lot going for itself. Plus, the gigantic brand name of Wilson is attached to it. So, there's little risk.
I hope this article has answered all your questions about the best cheap baseball gloves under $100. Here's to hoping that you can save that homerun with a budget glove, cheers!