The thing is $200 = a massive variety from $1 to $200.
So, while I say that there are a lot of crazy baseball gloves that you can find for under 200 dollars, you need to establish a minimum base cap for this statement to hold true. Anyways, if you've got anywhere around $200 with you, you can get yourself a nice baseball glove. And this is me speaking from experience.
It's a more-than-good-enough budget to get a baseball glove that'll last for a season or even more, given that you take care of it. As I just said, the range between $1-$200 is huge. When I was creating this list of the best baseball gloves under $200, I had to consider all sorts of baseball gloves.
From budget $50-$70 gloves to mid-range $120-$200 gloves, it's all here. So, don't get disheartened when the first baseball glove you see here seems cheap. The good ones are here as well!
And before I take you through this merry walk, I'd like to give you a heads-up. If you have a budget of $200 and you're looking for a premium baseball glove, I'd suggest bumping the budget up by $50 more. And if you don't mind browsing through top-shelf mid-range gloves, keep reading!
Top 5 Best Baseball Gloves Under 200 Dollars
Before you get to the list with high hopes, let me stop you for a moment here. Most of the gloves listed here are either excellent youth gloves or budget gloves for general use. There aren't any baseball gloves kings like Rawlings's Heart of the Hide or Wilson A2000.
So, if you're on the hunt for a premium baseball glove, it's no use. But all my mid-range moonshots, go ahead!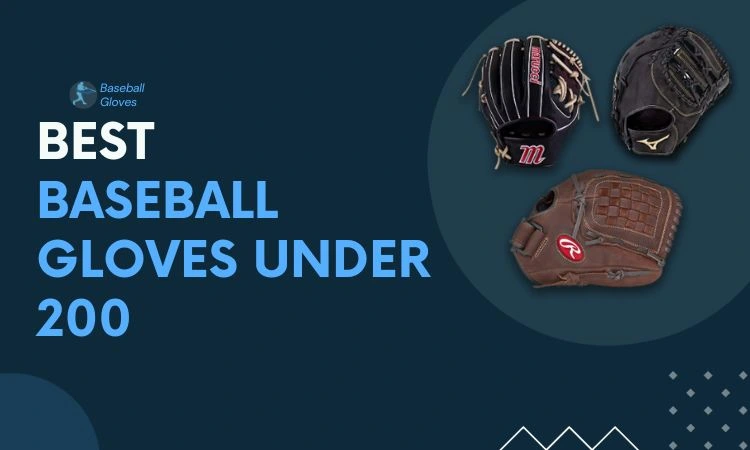 Table of Contents
1. Rawlings Player Preferred Baseball Glove
Since we are on the subject of budget gloves, let's talk about a favorite first – the Rawlings Player Preferred.
Since 2013, mainly two glove brands have been ruling the MLB scene, and Rawlings is one of them. But despite their big success in the professional industry, they still kept an eye out for those on a budget.
And the Player Preferred does exactly that with its under-100-dollar price tag – it watches out for budget buyers.
Sure, the brand had to cut a few corners here and there to keep the price low, but when you throw down the gauntlet in a competitive baseball game, the glove is capable enough to back you up.
I've recommended this glove in BaseballHover so many times that I've lost count (literally).
But you don't have to take my word for it. Just take a look at the specs yourself. At first glance, you will quickly notice its high-quality full-Grain leather construction.
The leather feels nice and firm and, with some maintenance every now and then, can last you a couple of seasons easily.
Sure, when you compare it to more expensive gloves made of steer hide or kip leather, the construction of the Rawlings Player Preferred doesn't seem all that much appealing.
But this glove costs a fraction of what you would have to pay to get that quality. And at this price, full-grain leather is not bad at all.
If you are the impatient type who wants to start playing with the glove as soon as possible, you will be happy to know that it comes about 80 percent broken in from the factory.
And you only need a couple of days of playing catch with the glove to break in the rest of the 20 percent.
The glove manages to remain pretty lightweight despite its sturdy leather shell weighing in at around 1.3 pounds.
It even features some quality-of-life features like the Zero Shock Palm padding to protect you against impact damage and adjustable wrist straps for a snug fit.
While this glove is designed for adults and youth players alike, I find the size options to be a bit of a downside to this.
The smallest size it comes in is around 12 inches which might be a bit too large for youth players. But for adults, the size options of up to 14 inches is nothing short of perfect.
You will also have the option to go with your web design of choice with this glove. It features quite a few different color schemes, so go with whichever one fancies you.
Overall, the Rawlings Player Preferred is a great pickup for entry-level players or players on a budget.
Details:
Webbing Options: Closed, H-web, Basket, Single-post Double bar
Special Features: Zero Shock Palm Padding, Adjustable wrist strap
Pros
Genuine full-grain leather shell
Zero shock palm padding provides enhanced impact protection
Adjustable wrist strap for a custom fit
Requires minimal break-in
Cons
Not available in sizes smaller than 12 inches
Kids under 8 might have trouble finding the right fit
---
2. MARUCCI Acadia M-Type Baseball Glove
If you keep track of all the top baseball brands in the market, finding Marucci on this list might come as a surprise.
This brand is usually known for making gloves for professionals, and most of its focus goes towards manufacturing top-tier gloves for a very niche group of players.
Well, now is your chance to pick up a Marucci glove for yourself, even when you have a small budget of only 200 dollars. In fact, let me make things even better for you!
The Marucci Arcadia M-Type Baseball gloves cost under 100 dollars which is an absolute steal if you ask me.
Now just because this glove retails under 100 doesn't mean Mizuno was going to cut corners, at least when it comes to materials. They have a reputation to uphold.
And the Full-grain Cowhide leather shell, along with leather palm lining, is truly worthy of the name of the brand.
Needless to say, this is the glove that has the best material selection on this list. The glove is meant to last a good couple of seasons without any issues, and as long as you maintain it regularly, the leather shouldn't start cracking anytime soon.
In addition to having a sturdy leather shell, the comfort aspect of the glove is also worth a mention. It comes with a smooth microfiber lining both at the wrist and the finger area to ensure you will have a solid grip on the ball whenever you use the glove.
The glove is also quite lightweight, making it easy to wield regardless of your skill level. Its measly weight of 1.06 pounds makes it a solid pickup for both adult and youth players.
It also makes for a nice Christmas gift for a true baseball enthusiast.
Keep in mind, though, since it's made of cowhide, it does take a while to break it in. But once you get through the process, the glove feels extremely comfortable in your hands.
If I had to nitpick, I would mention the limited size options that you have for the glove. It only comes in four sizes, so if you didn't find the one that fits, you would have to go with another glove.
Details:
Webbing Options: H-web, single post, I-web
Special Features: leather lining in the palm and microfiber lining in the wrist and finger area
Pros
Amazing build quality
Lightweight and easy to use
Comes with lining in the wrist, palm, and finger area
Excellent value for the price
Cons
Only comes in two sizes
Takes a while to break in
---
3. Mizuno MVP Prime Baseball Glove
For my next pick, I decided to go with a glove that stuck by me most of my high-school baseball life – the Mizuno MVP Prime.
This is the first glove on this list to cross the 100-dollar price threshold, and frankly, the quality of the glove exceeds what the manufacturers ask for it.
Now Mizuno is a pretty popular brand, but they don't have the same hold glove on the industry as Rawlings or Wilson.
Yes, their accessories are pretty good, especially their catcher's gear, but when it comes to gloves, you would be wrong to overlook the Mizuno MVP Prime.
The true highlight of the glove is its Bio Soft leather construction. Now, what exactly is Bio Soft leather?
Well, it's a type of leather that Mizuno uses specifically for this glove which is softer yet has enough firmness to it to protect you against any sort of ball impact.
On top of that, the material has a bit of natural oil in it, too, which ensures that the smoothness and softness of the glove remain untouched even when you use it regularly.
And if I am being honest, the material does feel great and can compete with some of the more expensive leather gloves available in the market.
The downside, though, is that breaking in the glove takes a bit longer than all of the other baseball gloves on this list.
But frankly, that's a pretty small price to pay considering the level of upgrade it offers over its competition. And to many people, breaking in a new glove is like a rite of passage more so than an unwelcome chore.
Other exciting features in the glove include a pattern design in the center pocket that guides you when you are breaking it in and a PlusGrip Thumb, which is essentially an extra layer of padding in the thumb area.
The extra padding might not seem like much, but it makes the feel of the glove a lot better.
The glove is available in sizes ranging from 11.5 to 12.75 inches, which is a pretty small range. But to be fair, the glove is designed mostly for adult players, and if you take that into consideration, the size options can be forgiven.
The webbing options are pretty interesting here. Mizuno came up with their own names for the webbing, so I would recommend doing some research on the one that you want to pick up for yourself.
Details:
Webbing Options: Deep III web, Tartan web, Shock web, Shock 2 web
Special Features: Center Pocket pattern design, PlusGrip thumb
Pros
Excellent material choice
Allows for a more versatile break-in
Comfortable thumb area design
Offers excellent impact protection
Cons
Limited size options
Takes a while to break in
---
4. Wilson A500 Youth Baseball Glove
Remember how I said there is another brand other than Rawlings ruling the MLB professional scene when it comes to baseball gloves?
Well, here's the other brand – Wilson. And like Rawlings, Wilson, too, caters to their more budget-oriented customers despite being mostly focused professionals.
If you know your baseball gear, then there's a good chance you have already heard of the Wilson A2000.
It's an extremely popular glove among both youth and adult players who play competitive baseball. The Wilson A500 is a toned-down version of the same glove modified to suit the needs of youth players who want a budget glove of decent quality.
The Wilson A500 is made with synthetic leather, and while it may seem like a downer, in reality, the quality of the leather is pretty superb.
Now I am not much of a fan of synthetic leather myself, but if I didn't know for sure that it was synthetic leather, I would assume that it's genuine organic leather. The quality is that good.
Of course, while it feels the same as real leather, it doesn't last as long. Sure, a couple of seasons will go by easily with it if you take good care of it, but something like the Rawlings Player Preferred will last longer when you take care of it the same way.
But then again, you also get all the benefits of using a synthetic leather glove, i.e., the non-existent break-in time.
The moment you get your hands on the glove, you can start playing with it without wasting a minute. To some people, this is a major requirement when they are shopping for a budget-friendly glove.
The glove is also extremely light, weighing under a pound. And since this glove is mainly designed for youth players, this is a huge plus for it.
Youngsters, especially kids under eight years old, will have an easier time wielding this glove, and once they master it, they can move on to better, more expensive gloves.
The pocket design of the glove is also pretty decent, thanks to its double-palm construction. This gives you better stability when you catch the ball in the pocket of the glove.
And for players with minimal experience, this extra bit of assistance really helps them learn the ropes.
One thing to remember about the glove, though, is that it's available only in sizes between 10.5 to 12 inches.
Since it's mostly designed for youth players, you might have a harder time finding one that fits your hands if you are an adult. That being said, the glove fits perfectly as long as you are in the right age group.
This glove, in essence, serves as a stepping stone for youth players. For competitive games, you can definitely go with something better. But for beginners in the sport, the Wilson A500 is an amazing choice.
Details:
Webbing Options: H-Web, Dual Post Web, Two-Piece Closed Weave Web, Single Post 3 Bar w/Lacing
Special Features: Double palm construction, redesigned hand opening
Pros
The synthetic leather feels really good
Better pocket stability thanks to the double palm design
Designed for youths with smaller hands
Lots of available webbing options
Cons
Not really suited for adults
At this price, synthetic leather feels a bit disappointing
---
5. Franklin Sports Baseball Glove – Field Master
If you have the absolute tightest budget, and I mean, you can't afford to go over 50 dollars, then there's only one option out there that makes sense. And that's the Field Master by Franklin Sports.
Now, I know Franklin Sports isn't exactly the top glove brand, but they are a respectable brand that manufactures reliable baseball and softball accessories.
So at the very least, you can be sure that they know what they are doing with their gloves. And frankly, for the price, the quality of this glove isn't half bad.
It can survive the test of time and can last you a couple of seasons when you take care of it regularly. But the thing is, it's made of synthetic leather.
Granted, the quality of the leather is pretty decent, but it's still synthetic, which means while it does mimic the performance of real leather, it doesn't feel as good.
Then again, it is made for entry-level players who just want a cheap glove that doesn't cost them an arm and a leg.
There are some advantages to synthetic leather over real leather, though. For instance, the break-in time with this glove is practically non-existent.
That means you can, technically, start playing with the glove the moment you take it out of the box.
You don't need to use rubber mallets or play hours of catch with it to make it soft and comfortable in your hand. This makes it a good choice for casual players or youths who are just starting out their journey into the sport.
Another great thing that this glove has going for itself is its lightweight structure. And it is extremely light to the point that you wouldn't really feel like you are wearing a glove at all.
Some might think that this means poor padding, but the impact protection in the glove is pretty decent, in my humble opinion.
One thing I really love about the glove, though, is its pocket design. The pocket is hand formed, which means you will have a better grip on the ball, and it will feel more responsive.
On top of that, the glove comes with an adjustable wrist strap that allows you to get a fully custom and comfortable fit.
Of course, it is available in different webbing types, and you should choose your webbing based on your preferred playing position.
The glove size starts from 10 inches for youth players going all the way up to 14 inches, that's catered more towards adults. You also get five different color options with the glove.
Details:
Webbing Options: Basket, Trapeze, Modified Trapeze, I-web
Special Features: Hand-formed pocket, Adjustable wrist strap
Pros
No break-in required
Hand-formed pocket offers excellent grip
Adjustable wrist strap lets you get a good fit
The price is amazing for casual players
Cons
Might struggle to last more than two seasons
The material quality isn't great
---
What to Look for When Buying the Best Baseball Glove under $200?
Frankly, 200 dollars is a pretty decent budget for a new baseball glove. Yes, there are more expensive options out there that offer more, but with this budget, you will be able to pick up a decent mid-range that will serve you well for at least one or more seasons.
To get the most out of your budget, though, you need to know which features are worth prioritizing more over others.
To that end, here is a quick rundown of the things you want to focus on when buying a baseball glove under 200 dollars.
Construction Material is the Highest Priority
Whenever I am shopping for a baseball glove, I like to start with a careful look at its construction material.
Now, most baseball gloves out there are made of leather, but the quality of leather can make a huge difference in how long it lasts and how comfortable it is to wear for the entirety of the game.
Let me talk a bit about some of the common baseball glove materials out there.
· Synthetic Leather
If you want to save money on your baseball gear, a synthetic leather glove is a good one to go with. The good thing about synthetic leather is that the gloves do not require any break-in.
But they are not as durable as genuine leather and also don't feel as comfortable in your hands.
· Full-Grain Leather
Full-grain leather gives you the first real taste of what actual glove leather feels like. This is a classic material that's used in many of the popular gloves on the market.
While the material feels heavy and stiff at first, after breaking in, it perfectly molds to the shape of your hand and feels right at home.
There are plenty of options when you are going with full-grain leather gloves in this price range. The good thing about this material is that it's a lot cheaper than steer hide or cowhide leather gloves.
· Cowhide Leather
If you are looking for a serious update over full-grain leather, then Cowhide leather is the best one to go with.
This material is lighter and more flexible than full-grain leather but also offers better durability. Needless to say, it costs a bit more, but frankly, the extra cost is worth the investment.
You might be pushing your budget a bit if you have your heart set on this type of glove material. But it's still a great choice of material nonetheless.
· Steer Hide Leather
Steer hide leather is the most expensive material that you can find on baseball gloves under 200 dollars, and it's my personal favorite.
Compared to cowhide leather, steer hide is noticeably heavier. And it also requires a decent bit of breaking in before it becomes usable.
However, the gloves made with this material are extremely durable. Personally, I recommend going with either steer hide or cowhide leather gloves when you have a decent budget of around 200 dollars.
Make Sure the Glove Fits
Baseball gloves, as I'm sure you have noticed, come in different sizes. And it's essential that you pick out the right size for your hands.
If you can't decide between two sizes, it's better to go with the smaller one of the two. A bigger glove just feels awkward.
Some gloves also come with an adjustable wrist strap which gives you a bit more flexibility in getting the right fit for your hands.
You can, of course, also redo the laces of your glove. This method can help you tighten your baseball glove just a bit, but if the glove is too big for your hands, it's not going to work.
How Long is the Break-in Period?
If you have a big game coming up where you want to use your new baseball glove, you need to consider how long it'll take you to break in your glove.
If the break-in period is too long, you are better off going with another option.
The break-in period for your glove depends largely on its construction material. Steer hide leather baseball gloves, for example, has the longest break-in time, while synthetic leather gloves require no break-in at all.
Personally, I love taking the time to break in my new glove exactly the way I want it. But there are impatient players who just want to start playing with their glove the moment they get it.
If you are one of them, then going with a game-ready glove might give you a better experience.
Check its Padding
The leather shell of a baseball glove offers decent protection for your hands against impact from the ball.
But that's rarely enough when your glove is constantly getting bombarded with those fast line drives and flyballs. So if you want your glove to protect your hand, make sure it comes with decent padding.
However, there's a tradeoff here. If you want thicker padding in your glove, it will get heavier. So, in essence, you would have to sacrifice mobility if you want more protection. You need to find the right balance of padding to get the most out of your glove.
Typically, outfielders prefer thicker padding as they have more time to react to the ball. On the other hand, infielders generally go with less padding in their gloves to keep them lighter and more responsive.
So, make sure you weigh your options and go with the amount of padding that's best suited to your needs.
Pocket Depth & Comfort is also important
One mistake that I see many new players make is that they don't think about pocket depth when they buy their baseball gloves. And that's a big mistake. How? Well, let me explain –
When you are catching a baseball, you are actually using the pocket to hold it in place. With a deeper pocket, you will be able to make catches easier.
Inversely, with a shallow pocket, you will be able to transfer the ball faster to your throwing hand to relay it to the bases.
So, your playing position will dictate a lot here. Since outfielders need to be able to catch highballs, they usually go with a deeper pocket.
Infielders, on the other hand, prefer being able to transfer the ball quicker and hence go with shallow pockets in their gloves.
Choose the Webbing That You Want
With all other features checked, you need to think about the type of webbing that you want in your baseball glove, and there are quite a few different types to choose from.
I wrote another article where I discussed the different types of glove webbing, so if you don't know what they are, that's a good place to get some info.
Now, webbing also depends somewhat on your playing position, but you have a bit more leeway here. You should go with whichever web design you find most comfortable working with.
I would also suggest asking your coach for some help here, as he should be able to offer some insights into which web type fits your playstyle.
With Everything Said and Done
I know there are people who will tell you that 200 dollars is not enough for a new baseball glove. But naysayers will always be naysayers, and you have no reason to feel bad about your budget.
While it's true that there are more expensive options out there, gloves like the Mizuno MVP Prime or Marucci Arcadia can offer you amazing value for their price range.
And you always have the Rawlings Player Preferred as a casual option.
So, the best baseball glove under $200 really comes down to what you need. I and any other experts providing suggestions can only show you the way.
That's all there is to it. I've given you all the info you need. There are a lot of baseball gloves under $200. Here, I have only five. So, you can use my recommendations as a blueprint to find out more.
Hope you find what you're looking for. Cheers!