There is a lot kind of leather grades exist that used to make baseball and softball gloves. Premium steerhide, cowhide, buffalo skin, full-grain leather are some of the best materials for making baseball gloves.
In your community, you might ever hear about Kip leather baseball gloves. If you are a young player and willing to pay in the right product for yourself, then you should go for kip leather grades.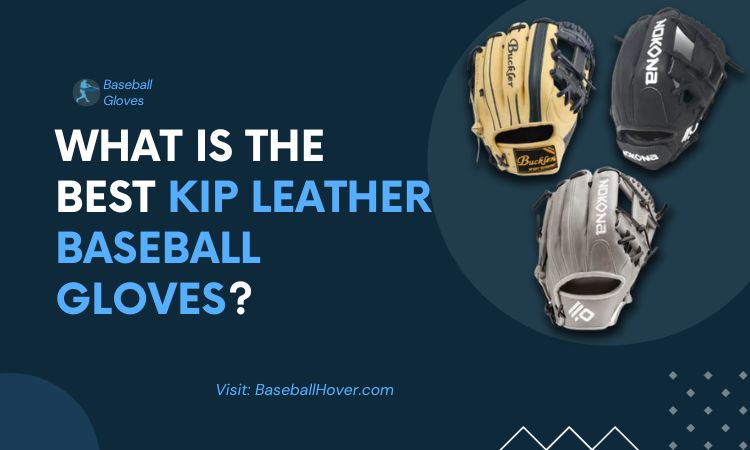 What Is Kip Leather For Baseball Gloves?
Kip leather AKA Kipskin leathers are made from young calf hide. Probably you may ever notice that younger cows are softer than old cows. Same as the cow, their skins are thinner, lighter, and softer than old buffalo hides. It's one of the most famous materials for those players who want to use their glove right after purchase.
And kip leathers are increasing their popularity day by day with their beneficial quality. Glove manufacturers have been making stiff and hard gloves for so long because of its durability. But now they are increasing their production rate of kip leather gloves because those gloves are ease of use to all aged baseball players.
Is Kip Leather Good To Use?
To find its answer, you need to know why you can choose Kip gloves. For being calf hide, those leathers are very light and soft. And those gloves that made with kip leathers come with zero require break-in. That means whenever you buy; the glove is game ready.
You may think that these gloves are thin and light so that the quality might be poor. But fortunately, there are not any major durability problems at all. I have not used Kip leather gloves personally. But my younger brother, who is 13 years old, now has one for his outfield position.
And he is using that (Buckler Core Series) for two years continuously. So I can assure you that these gloves will be better for a long term project.
Best Kip Leather Baseball Gloves
Now you know why Kip leather has its place in the baseball community nowadays. There are lots of Kip leather baseball gloves in the market. Did you ever think which one is the best amongst all? Maybe yes! Well, this one can fill all of your criteria.
BUCKLER Core Series KIP Baseball Gloves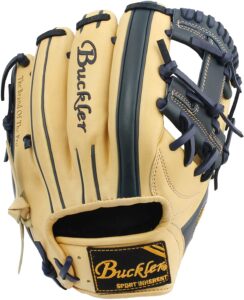 This one is one of the best Kip gloves I've ever found. The reason why I'm so confident with this glove is because my younger brother using it for the last two years.
The material of this one is Java KIP leather which is produced from young calves that are 6-12 months old.
The manufacturer used I-Web and Dual Welting to create a more durable pocket to last long. One of the good things I've noticed is that it usually doesn't bend backside even after long use.
In the packet and user manual, they said it comes with 50% factory break-in and 50% player break-in.
But you can use it without breaking in too. We recommend oiling a glove always before playing.
Hence, this one comes in a game-ready mode and keeps you free from tension. Comes with four amazing colors to making itself eye catchy to a player.
---
Best Kip Leather Softball Gloves
While there are so many baseball players in your community, softball players also exist. So keeping mind their priority we've also chosen the best kip leather softball gloves for them. Check its details:
Nokona American Kip Black Softball Glove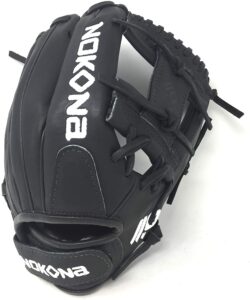 This Nokona American Kip Gloves are made by young cowhide to be thinner and softer. Not to mention this one is also lighter as the first one.
Nokona American kip gloves are only available for young players because it only comes with an 11.5-inch model.
No matter which handed player you are, it has both hand variations for its user.
On the outside of this amazing softball glove, there is an adjustable Velcro wrist strap to tighten or loosen itself as players hand preferences. As the name, this glove comes with one color, and it is black.
Individually handcrafted in the USA to make sure that every one of those gloves is worth buying. This one will give you durable performance for a long time.
Don't think this line as a fake selling sentence. Because the manufacturer is now giving you a 100% warranty for two years.
---
Best Japanese Kip Leather Baseball Glove
If you are familiar with Kip baseball gloves, then you may ever hear that about Japanese KIP leather. Japan is the first innovative country that started producing and supplying kip gloves in the international market.
Those best Japanese Kip leather baseball gloves still now have their places in the young baseball community.
Nokona American KIP 14U Baseball Gloves
The name of this glove might be confusing to you. Because we are talking about the best Japanese gloves and showing one that named as American.
Don't worry; this one is a Japan origin glove. Nokona is contracted with the rights of selling this glove to sell it internationally.
If you are an adult player and trying to find kip leather gloves for yourself, then this one may not be your best choice.
Because Nokona American 14U Gloves are specially made for under 14 age players.
This 11.25-inch glove comes with only gray color, and the laces are black. The I-Web design creates an amazing pocket that can be best for all positions of baseball.
The palm of this glove is so soft that it can absorb almost every hard impact of baseball that coming straight to the bat.
---
Kip Leather VS Steerhide
Kip leathers are made from a young cow that is 6 – 12 months age-old. Like the skin of a younger human baby, these leathers are thinner, lighter, and tighter grain. The steerhide leathers are exactly the opposite of kip.
Kip leather Vs Premium steerhide comparison
KIP
Thinner
Lighter with a tighter grain
Durable
Softer than any other material
No major break-in required
Best for young players
Increasing popularity nowadays
Steerhide
Hard and stiff
Heavier than KIP
Durability at its best
Price is high
Hard to break-in
Best for all aged players
Has popularity since baseball history
Kip Leather VS Cowhide
Usually cowhide leather means leather of a medium-aged cow. It's not stiff and rigid like premium steerhide. On the other side, it's also not soft and light like KIP leather.
These type of gloves still needs to break in to make it game ready. But you can break in faster without a professional hand easily.
If we have to say about price, these types aren't high priced at all. Affordable price, easy to break in, medium weight and durability made itself a perfect combination of KIP and Steerhide.
Wrap Up
Let me talk about my thoughts about KIP leather. As a nature lover, I don't like killing small baby calves just for their skin. Yeah, it's true that I'm not a vegetarian, but I still have a soft corner for the baby creature of earth.
However, this world is now like a corporate grocery shop, and we have to accept it. If you are looking best gloves for a young player, then Kip leather baseball gloves can be one of the best choices for you.