When I visit the baseball community (Social & Real-life), Most of the time I notice, Players are suffering by their baseball bats that are loaded with plenty of problems. Low-class materials, rough gripping, heavy for hit, over vibration are some of them. That's why I decided to write a detailed Easton Rival baseball bat review to give you an idea of the best.
I'm sure that it will save your hard managed money and time which you are going to spend by reading this review. As you know that there are hundreds of problems that can happen with a baseball bat.
To be honest, this baseball bat will not get you free from all of them but it will be an ideal choice for most of them. Actually, there is no baseball bat ever made in the world that can be a rescuer from all problems that can happen in a bat.
Okay, enough! Let me tell you why you should choose this one! yes, exactly this one as your next new ideal baseball bat.
Things to Consider Before Buying
If you are serious about purchasing a baseball bat, you should have a question in your mind that what are the things that making this one different from others? What exactly do you need to look for when buying a baseball bat?
Materials that last for years
Perfect size for your comfortability
Friendly weight for faster swing speed
Ease of use
Warranty for securing its performance
League requirements
And I selected this Easton Rival USA youth baseball bat as the best one because it maintains all of them with absolute perfection.
Why Easton Rival Baseball Bat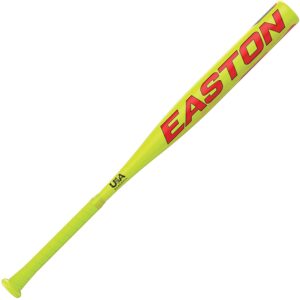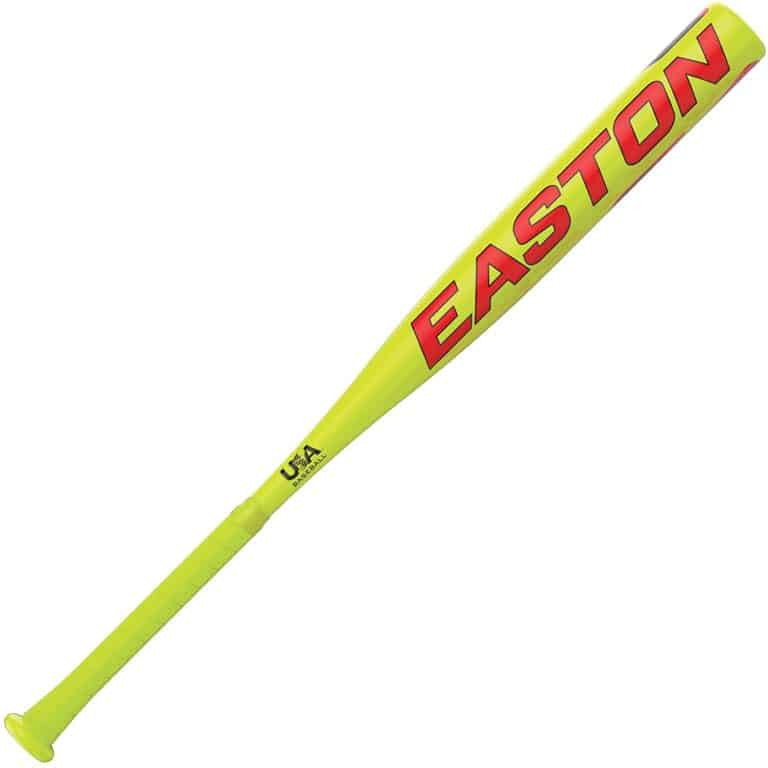 Key Feature:
2 ¼ Inch Barrel Diameter
Cushioned 2.2mm FLEX Grip for comfort
ALX50 TM Aircraft Grade Alloy construction for lightweight and durability
Pro-Style Concave Endcap
-10 length to weight ratio
USA Baseball approved
1 year No Question Asked warranty
These are the features of this fantastic bat comes with. As you watch I'm so confident about this baseball bat, there is a question must spinning into your head! "Everything looks normal. What are the reasons that making this baseball bat totally different from others?"
Well, these are the things that making the Easton Rival USA Youth baseball bat as an ideal option.
Durable Materials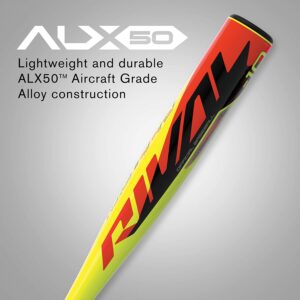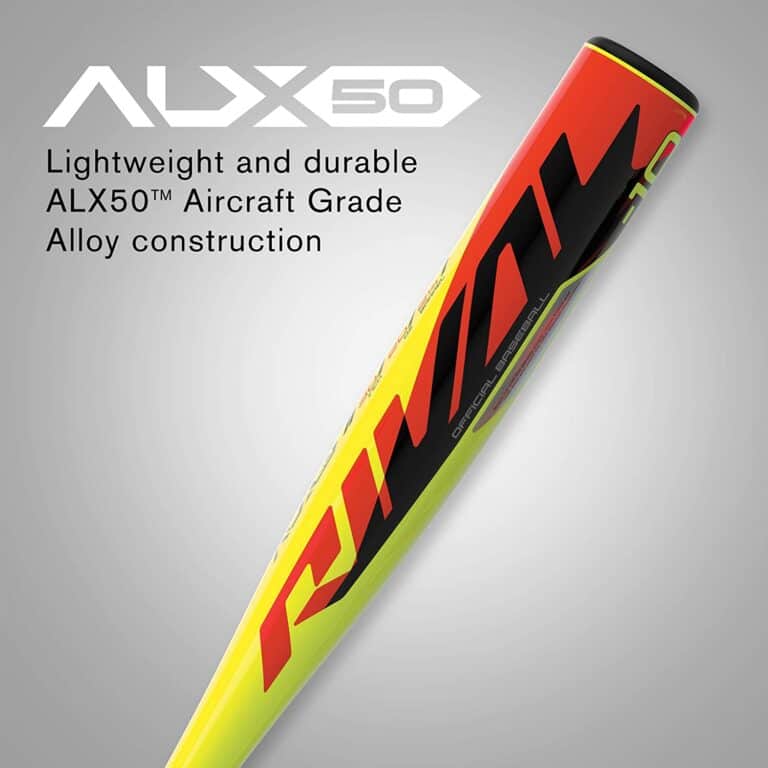 No matter what happened, Easton never compromised in the quality of their materials since 1972.
They used ALX50 TM Aircraft A+ Grade materials as their materials to make this bat.
The difference between composite bat and alloy baseball bats is that they (alloy) are lightweight.
That's why you can make more torque-speed while swinging the bat and can contact a ball with the highest power you can generate.
While being lightweight, it's way more durable than any other competitive baseball bats.
Grip of Comfort
This fantastic bat has a Pro-Style concave end cap and cushioned 2.2mm FLEX grip providing this bat extra comfortability in the dugout. So while you are gaining benefits of being lightweight, you are also getting the comfortability in your hand on the swing. And it makes it easy to perform a power hit.
That means "Lightweight + Comfortable = Combinations of power swing."
No Vibration Mode
As I mentioned, it's a one-piece baseball bat. Maybe you have a confusion that a one-piece baseball bat do more vibrates while contacting the ball. Yes, it's not a fake lie at all. Sometimes one-piece bat vibrates more than two piece bats. But these Easton rival baseball bats are also different in here.
While being a one-piece bat, it does not make vibration on contacting the ball with power. So you don't need to worry about over vibration which can affect your swing. In a word, this bat comes with totally "No vibration mode."
Aesthetic Design
The color of this bat is full bright yellow in the whole body. On the upper side of the bat, it has Red and Black Spido graphics to make this bat more aesthetic. 80% of people on Amazon love its color and they said it looks more professional in the dugout. I'm also falling in love with its color and I think you will also love it.
Warranty
It's not a bat that breaks in a week or in a month. You can find a thousand bats with their overwhelmed fake advertisement in the market. They talk about six months but didn't last more than one. By keeping mind about an advertisement, a question maybe you want to ask from me, "Why you need to believe Baseballhover review for getting this bat?"
The answer is "Yes! You have to believe this because it comes with "One year As Your Wish warranty!" As your wish warranty means you can ask for a replacement or you can ask for your money back warranty. No question will be asked.
Price That Can Afford Everyone
While getting every feature of a professional baseball bat, you'll be amazed to know that it doesn't cost much. No matter the high budget or low, anyone can afford the price. The low amount of cost can be a deal maker to you about choosing an ideal.
Alternatives If You Don't Like This One
This one will be the perfect bat if you want to desire a bang for the bucks. But it can be possible that you don't like this one (I don't know the reason).
Hence, there are some other bats that can be an alternative option if you don't like this one.
Rawlings Raptor Youth

If you are an amateur player who trying to learn baseball and want a quality bat that perfects for you, then this Rawlings Raptor Youth Baseball Bat is actually made for you. They used A+ quality Alloy as their construction materials to make this bat durable and lightweight. So you can generate the power and can hit as hard as you want with this bat because it's not heavy to swing.
Rawlings used the X-Tended Sweetspot technology on the barrel of this bat for getting maximum performance from it. If you do cares about colors then this bat comes with two amazing prints of colors in the body. For being the perfect competitor of the Easton Rival, the manufacture reduced the price of this fantastic bat. Now it's cheaper than the Easton but giving you the same facilities as the first one.
Louisville Slugger Dynasty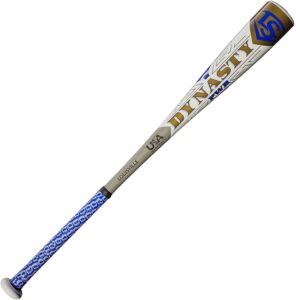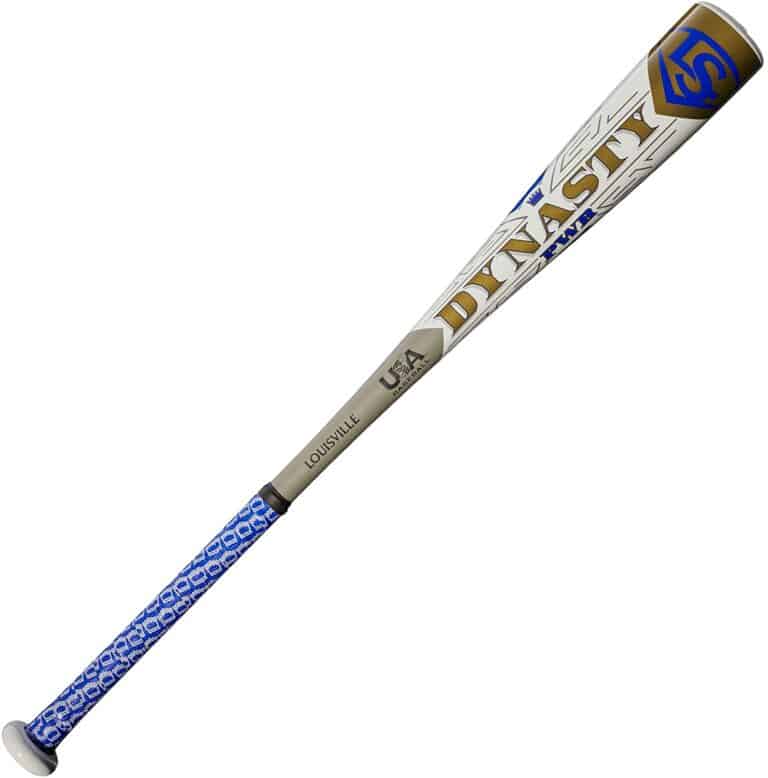 This Louisville Slugger Dynasty bat is made by 7 series Alloy as its construction materials. These bats are always on top durability while being lightweight. This bat comes with a one-year replacement warranty to make you sure that it will take your performance at a high level.
In a word, it's a perfect combination of durability and performance. It is a one piece bat but will not vibrate much when contacting with the ball. But the price may not be affordable for some. But keep in mind that it's providing the performance as the value.
Rawlings 2020 Impact


This fantastic bat is constructed with Aerospace-grade Alloy to give high strength performance. To give a lighter feeling and for making a faster swing speed this bat comes with a Hyper-Lite speed end cap. Balanced swing weight is just making this bat juicy to grab if you are finding a lightweight beauty.
I will definitely recommend the Rawlings 2020 Impact bats to choose if you really serious about buying the best. 1 Year no question asked warranty are giving you the security of its performance.
Should I Buy The Easton Rival Baseball Bat?
If you ask from me the question, I would definitely like to say "Yes!" I mean its durable, lightweight, comes with grip comfortability, no vibration mode, and aesthetic design. Manufactures are giving you 100% one year no question asked as your wish warranty. By giving all facilities it is not costing you a big amount of money.
I mean what else do you need to find an ideal baseball bat? If you read the whole review of this product, I'm sure that you are really serious about finding a perfect bat. And I can assure you, Easton Rival Baseball Bat will not break your trust about Baseballhover reviews.
What Do People Think About This Baseball Bat?
These are the feedback from the customers who choose this amazing bat as their choice. Here is a visual Infographic to give you an idea about people's opinions about this baseball bat.

There are some other reviews about the Easton Rival USA Youth Baseball Bat from Amazon.