"A good baseball coach can change a game. A great baseball coach can change a life".
Just like baseball players, coaches also need the best shoes they feel comfortable in. Their job is much more strenuous and requires a lot of running, and I see you nodding your head with a yes. There are numerous good pairs available for baseball players. But what shoes should the coaches wear? Do they need the regular baseball cleats?
Well, the shoes should be comfortable on the ground and in the pavilion, so regular cleats with big spikes won't work. This post rounds up the best shoes for baseball coaches you can wear for ultimate comfort and great support.
5 Best Shoes for Baseball Coaches
1. Under Armour Men's Leadoff Baseball Shoe
I can recommend these Under Armour baseball shoes to coaches any day. The pair has almost everything a coach needs to wear on the field.
The shoes look aesthetic, and you can wear a great-looking pair to the ground. Traction is never an issue with these shoes, thanks to the rubber spikes that hold the field firmly.
These are low-top shoes, and the wearer can quickly change directions while running.
The rubber molded cleats distribute the underfoot pressure evenly, so you can spend more time teaching baseball players.
Furthermore, the shoes offer ultimate comfort as Under Armour has placed a thick and padded insole. Moreover, the heel construction and padded collar let you step-in in comfort.
The outer is made with a combination of mesh and synthetic material. The mesh improves breathability, whereas the synthetic material enhances durability.
The rubber sole is highly flexible, and it will support your feet on the ground. The best part about these shoes is their versatility. You can wear them on any type of surface, including muddy grounds.
Lastly, it has a durable overlay on the toe cap for more protection. Under Armour offers these amazing shoes in multiple attractive colors, including black/white, red/white, and royal (400)/white.
Pros
The rubber molded cleats are highly durable.
The full-length EVA midsole improves the comfort
Even distribution of weight on the sole
Easy to clean and maintain
Cons
Mud and soil get stuck in the rubber cleats
The inner padding isn't very durable
---
2. New Balance Men's Trainer Baseball Shoe
Baseball coaches that are more into training new players on the turf will find this pair from New Balance highly comfortable.
Made using synthetic material, the shoe offers ultimate breathability, and you don't have to worry about trenched feet.
Furthermore, the shoe feels lightweight, and you get great stability and speed. This is a mid-top shoe that offers decent ankle support while letting the wearer move in any direction easily.
Talking about the sole, it is a 100% rubber sole that's highly flexible and offers excellent traction. As these shoes are perfect for the turf, there are no raised grooves on them.
The coaches will experience impressive maneuverability on outdoor and indoor turf. One coach told me that this pair has a breathable toe box that improves the airflow inside the shoe.
Moreover, your feet fit snuggly, and the shoe remains secure in place when running. To sum up, New Balance Men's Fresh Foam 3000 V5 is a beautiful pair for coaches.
Lastly, it is available in a range of color options, so coaches can wear comfortable shoes in style.
Pros
The outsole is highly flexible and offers good traction
Breathable toe box
Highly durable synthetic construction
Perfect for wearing indoor and outdoor
Cons
The ankle support could be better
Not good on the grass
---
3. Nike Men's Alpha Huarache Baseball Shoe
Nike offers this best baseball shoe for coaches looking for a durable pair. Made using leather, the upper of the shoe is sturdy, so be sure it will last longer.
Usually, leather shoes don't offer breathability, but Nike has a solution for this as well. The perforated holes on the material ensure promising breathability, so you don't feel sweaty inside.
As these are low-top shoes, you can expect better maneuverability. Furthermore, the rubber cleats enhance the traction, and you can teach players how to change directions quickly.
You will never complain about comfort, as the full-length Lunarlon midsole relieves stud pressure and helps in distributing the foot pressure evenly.
Nike has used its popular 11-stud configuration for optimal durability and traction. In addition, the synthetic outsole enhances durability while providing the flexibility you need on the field.
Overall, this amazing pair from Nike is what a coach or baseball trainer needs. It's comfortable, lightweight, breathable, and provides superb traction on any type of surface.
Pros
The perforated holes and textile tongue improves breathability
The synthetic upper provides great support
Full-length insole absorbs the impact
11-stud configuration enhances durability and traction
Cons
Not for people with wide feet
The toe box feels a bit tight
---
4. Mizuno Men's Dominant Baseball Shoe
If comfort and stability are your preferences, these baseball shoes with a comfortable platform are a perfect choice. The main highlight of this pair is the smartly engineered outsole.
The New IC Outsole provides excellent traction and flexibility, thanks to the flex grooves. The spike configuration is perfect for providing you with good traction in different fields.
The coaches wearing these shoes feel more responsive with enhanced speed. There is a full-length sole placed inside the shoe to deliver more comfort and support to the heel.
This is a 100% synthetic shoe made using top-notch material. Be assured about the durability and breathability when wearing this pair on the field.
Furthermore, the inside of the bootie offers a secure and soft fit while enhancing comfort, durability, and stability.
As you can see, it's a high-top shoe, so expect it to offer excellent ankle support. It was astonishing to know that the shoe lets you move freely even after having a high top.
Overall, you can expect optimal comfort, fit, and stability with this superb pair from Mizuno. Just make sure to choose the right size, as this shoe has cleats.
Pros
Highly durable synthetic body
It provides ample cushioning
Minimizes the power loss
Highly responsive mid-sole
Cons
The shoes are heavy
The outsole is stiff
---
5. adidas Men's Icon V Bounce Baseball Shoe
Here's another pair of baseball shoes that have rubber cleats for better traction. If you are looking for a prominent brand, Adidas Men's Icon V Bounce should be your choice.
These are high-top baseball shoes, so you get amazing ankle support while it curtails the risks of ankle injuries. You start feeling comfortable after putting your feet inside the shoe.
It has padded cushioning on the sides as well as on the bottom area. Your heel fits securely inside the shoe, and you can run freely with promising comfort.
I loved the outer of the shoe. It has a mix of mesh and synthetic material. You can be sure about the breathability and durability.
Adidas Men's Icon V Bounce is popular among coaches looking for enhanced traction. The rubber cleats are placed strategically so the wearer gets better speed and comfort.
The pointed cleats dig inside the ground, and that's how the coaches can change directions quickly while running. The shaft measures approximately 6-12 inches from the arch, and the boot opening is around 3 inches for improved comfort.
However, coaches wearing these shoes will find them a bit heavy due to the high-top design and durable construction. In a nutshell, these baseball shoes are perfect for coaches and trainers.
The shoe has durable rubber cleats for more traction, and it keeps the tootsies comfortable for prolonged times.
Pros
Ultimate ankle support with a mid-cut design
The inner and outer sole is highly durable
Promising breathability
Abrasion-resistant iron skin toe cap
Cons
The shoes are heavy
Not that great for turf
---
Best Shoes For Baseball Coaches – Buying guide
Wearing the right shoe is important to get good traction on the field. Being a coach, you have to run continuously, teaching new players how to hit a home run and the right way to deliver a pitch. Look for these factors when choosing a pair of baseball shoes.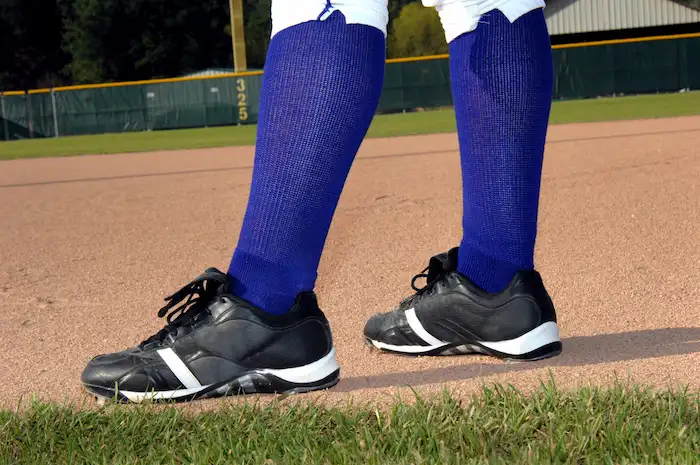 Material And Construction
Typically made using synthetic and genuine leather, baseball shoes for coaches are available in a range of material choices. Genuine leather feels more breathable, durable, and supple than synthetic leather.
However, shoes made using synthetic materials offer extra support to the ankle and foot. If you have just started as a coach, I'd recommend synthetic shoes since they are lightweight as well.
If you are an age-old coach, you already know the benefits of wearing leather shoes.
Ankle Support
Baseball shoes fall into three categories, i.e., high tops, mid-tops, and low tops. The high-top shoes extend up to the ankle and offer great support when moving laterally.
However, these shoes restrict movement, so I don't recommend them for coaches. Mid-top shoes offer average ankle support, but they help you move in all directions easily, which means coaches will find it comfortable on the field.
Lastly, some coaches prefer low-tops as they offer good speeds. However, getting stability in the low tops is a bit daunting.
Type Of Cleats
The search for the best baseball shoes for coaches is incomplete without having a look at the type of cleats. Here are the common types of cleats:
Molded Plastic Cleats
Permanently affixed to the sole of the shoe, the rubber and plastic cleats are stable and strong. Coaches can wear them on any type of surface, including asphalt, concrete, and turf, without worrying about the cleats wearing down.
Furthermore, these shoes are less expensive than metal cleats and are great for wearing in muddy and soft conditions. Usually, baseball and softball coaches prefer shoes with molded plastic cleats.
Metal Cleats
These are great for the field but not for the pavilion and hard surfaces. Shoes with metal cleats offer great traction, and you get great speeds.
However, the spikes can wear down after some time, so coaches should avoid these shoes.
Turf Shoes
The turf shoes don't have any raised cleats, but there is a pattern on the outsole that enhances the traction.
If you spend most of your time on the turf helping new players learn baseball, go for turf shoes.
Size
When choosing the size, make sure your heel fits snuggly, and there is at least one quarter inch spare left around the toe.
Different manufacturers have different size charts, so always look for the chart and measure your foot to get the best size.
Comfort
Go for a pair that's highly comfortable so that you can focus on polishing the player's skills. Look for the inner cushioning and make sure the shoe offers great support to the feet.
All the pairs that I've reviewed in this post are comfortable, so you can choose any of these pairs.
Budget
Baseball shoes for coaches are available at a range of prices starting from 50 bucks. Have a budget in mind so that you don't overspend on a pair. Make sure to go for branded shoes only that offer great comfort, breathability, and traction.
Conclusion
The article covers the top baseball shoes any coach can wear. From turf to muddy grounds, and concrete I've covered baseball shoes for all surfaces.
Wearing these booties improves comfort while reducing the risks of injuries. Make sure to go through the buying guide as well in order to make an informed choice.