Every baseball pitch comes with the risk of traumatic head injuries, and a good-quality helmet is the only savior. A decent helmet for young players can easily absorb the whole impact of the hard pitch protecting the batter from any injuries. Often, parents find it daunting to buy a helmet for their kids, size, and comfort being the top reasons. So, I've compiled a list of the best baseball helmets for youth. Check out the reviews, and skim through the guide to get a helmet that's durable, comfortable, and protects the young player from injuries and accidents.
Top Pick
Top 5 Best Baseball Helmet For Youth
1. EASTON Z5 2.0 Batting Helmet
This baseball helmet from Easton will surely boost the batter's confidence with its ultimate protection. In addition, the superb helmet meets NOCSAE standards so rest assured about the safety.
With its dual earflap design, it absorbs the impact while safeguarding the player's ears. There's a big jaw guard attached to the helmet for better protection.
On the inside, Easton has used impact absorption foam that enhances comfort and maximizes protection.
Moreover, it has BioDri padded inner liner that absorbs moisture, and the batter can wear it for prolonged practice sessions in the field.
With multiple vents on every side, the helmet offers decent breathability. Made using ABS, it's light and offers great durability. Well, everything about this helmet is great.
It has everything a young player needs to wear on the field, from thick cushioning to a smartly engineered design.
Easton offers this baseball headgear in a range of colors, so the young players can look stylish while ensuring safety for their heads.
More Details:
NOCSAE Certified: YES
Earflap: Two
Suitable for: Left/Right Hand Batters
Inner Material: Impact Absorbent Foam
Outer Material: ABS
Pros
It's light and sturdy
Removable jaw guard
Moisture-wicking liner
It offers a snug fit for maximum protection
Cons
It's not compatible with a cage
---
2. Under Armour Converge Batting Helmet
Under Armour Coverage Batting Helmet is another baseball headgear that's perfect for young players.
It looks way stylish, offers ultimate protection, and these two reasons are enough to snap it on the batter's head.
This is an SEI-certified helmet that meets NOCSAE safety standards. Made using ABS plastic, the helmet offers great protection and doesn't damage easily.
It's a dual earflap helmet, and the player can easily switch batting positions without compromising safety.
On the inside, Under Armour has used thick shock-absorbing foam that protects the skull from any injuries.
Furthermore, the foam uses anti-odor technology, so forget about sweat causing an issue. The helmet doesn't come with a guard, but you can purchase and install it for added protection.
There isn't any jaw strap, but the helmet provides great protection.
Under Armour offers this head protection gear in multiple size options for the youth. Also, it's available in a broad range of colors, including white, red, blue, and more.
More Details:
NOCSAE Certified: YES
Earflap: Two
Suitable for: Left/Right Hand Batters
Inner Material: Thick Foam
Outer Material: ABS
Pros
It meets all safety standards
Great fit for young players
Bigger head design for added protection
Compatible with cage and jaw guard
Cons
The foam is not very breathable
Not for young players with a broadhead
---
3. Easton Alpha Batting Helmet
If your little one is asking for a comfortable helmet, give them Easton Alpha TBall. Engineered for maximum protection, the helmet from Easton comes with an ABS shell that's highly impact-resistant and sturdy.
I loved the design, and the helmet features multiple air vents, so there's no chance the player will feel discomfort.
The inner material is an impact-resistant foam that protects the ear and skull from hard pitches.
Moreover, the foam is moisture-wicking and keeps the head sweat-free. The helmet has dual ear flaps that let the player switch positions while batting.
It meets all NOCSAE standards, and the helmet is perfect for all levels of play.
The pre-drilled holes on both sides make it compatible with a cage for optimal safety. Lastly, this premium helmet from Easton fits a range of young players and is available in multiple color options.
More Details:
NOCSAE Certified: YES
Earflap: Two
Suitable for: Left/Right Hand Batters
Inner Material: Dual-density Impact Absorption Foam
Outer Material: High-impact ABS Hardshell
Pros
Thick foam for promising comfort
Absorbs moisture for improved dryness
Compatible with a mouth guard
It offers a glove-like fit
Cons
You cannot wear it with a ponytail
It feels a bit heavy
---
4. Rawlings Coolflo Batting Helmet
Rawlings is here with the cheapest best baseball helmet for young players. Of course, it's cheap, but that doesn't mean it is substandard!
The outer ABS shell is highly durable, and the helmet can easily withstand the impact of a hard pitch.
Designed with two earflaps, the helmet is a perfect choice for batters that love to switch positions. I loved the inner foam as it enhances the protection and comfort.
The 15 individual air vents ensure better airflow and keep the batter's head cool.
You can even wear it with a ponytail, just pull your hair out of the vent. Furthermore, the dual-density foam absorbs the sweat and lets the batter play for longer.
Rawlings Coolflo meets the NOCSAE standards, and that's another reason young players prefer this helmet. You can easily fit a Rawlings mouth guard to get added protection.
The fit and finish of the headgear feel great, and the size is perfect for young players. Lastly, the availability of multiple colors makes this cheap helmet a great choice under the budget.
More Details:
NOCSAE Certified: YES
Earflap: Two
Suitable for: Left/Right Hand Batters
Inner Material: Thick Foam
Outer Material: ABS
Pros
It has multiple air vents to keep the head cool
Pre-drilled holes to attach a mouth guard cage
The helmet has a clear throat
Lightweight and durable
Cons
Not for players with a short head
The helmet's opening is too wide
---
5. EvoShield XVT Batting Helmet
Young players that need extra protection should go for EvoShield XVT Batting Helmet with Facemask Series. The sturdy helmet comes with a broad face mask that keeps the fast pitch from damaging the face.
The ergonomic design makes the headgear comfortable, and the batter can wear it for long game and practice sessions.
The outer shell is durable ABS, and the inner one is compression molded foam.
EvoShield has designed the helmet's vents strategically to ensure maximum airflow in order to keep the head cool.
Furthermore, it's an SEI-certified product that meets all NOCSAE standards.
Young players will find this dual earflap helmet perfect for playing tournaments. The batter doesn't need an additional accessory, as the helmet has everything to protect the face and head.
Lastly, the helmet has a low-profile shell for superior fit. It's available in one size only, and most young players found it fitting properly on the head.
More Details:
NOCSAE Certified: YES
Earflap: Two
Suitable for: Left/Right Hand Batters
Inner Material: Sleek Compression Molded Foam
Outer Material: ABS
Pros
The glossy paint makes the helmet look stylish
It has a durable faceguard
The outer shell absorbs the entire impact
The foam is thick around the ears
Cons
The helmet is heavy
The foam isn't moisture wicking
---
How To Choose The Best Baseball Helmet For Youth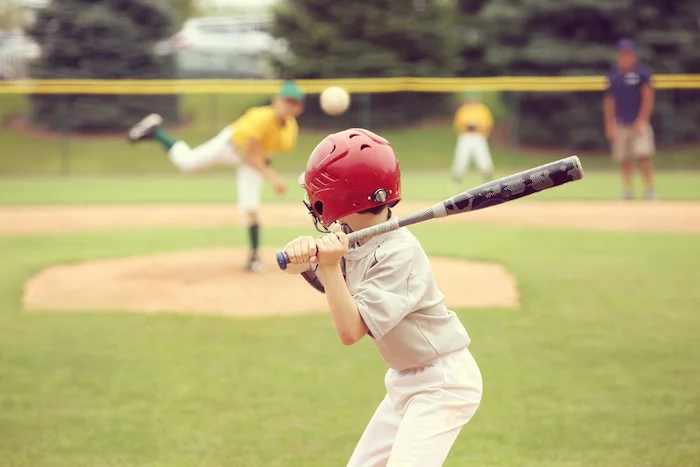 One of the most difficult things about buying a baseball helmet is size. The size impacts the comfort, and it can affect the player's performance.
Choosing the right size isn't that hard, actually. Read on, and look for these factors when buying a helmet.
It Should Meet NOCSAE Standards
It would be great to shortlist the baseball helmets that meet NOCSAE standards. The National Operating Committee on Standards for Athletic Equipment has a stringent checking process to evaluate the performance of a helmet.
The baseball helmets for young players withNOCSAE certification come with a special sticker. And you can easily identify such helmets.
Earflap (One VS Two)
You'll find two types of helmets in the market: some with a single flap and some with dual. The single-ear flap helmets are perfect for players that play in a fixed position.
If you are a right-handed batter, the ear flat should be on the left side, and if you are a left-handed batter, the flat should be on the right.
Young players that switch positions should go for helmets with two ear flaps. I'd recommend helmets with two ear flaps as they offer added safety to both ears.
Size
Next comes the size! The baseball helmet should fit properly in order to provide the batter with a snug and comfortable fit. When buying a helmet, make sure to check the specific size chart.
Also, measure the head's circumference of the batter to get a good fitting. Then, take a measuring tape, measure from the forehead to around the head, and then back to the forehead.
Caged Helmets
Some players prefer caged helmets to get added protection, whereas some avoid them due to the distractions.
Usually, the caged helmets have a removable cage, so go for such baseball head protectors and remove the cage if required. Some helmets even come with jaw guards, and these are great for young players.
Material
Usually made using ABS, baseball helmets are lightweight and highly durable. Check the inner and outer shell material. The inner shell can be made up of advanced foam, gel, foam, and a combination of fabrics.
Brand
Always go for helmets manufactured by reputable brands like Rawlings. These helmets come along with the assurance of durability, reliability, and comfort.
Budget
Have a budget in mind when looking for a baseball helmet. These helmets are available in high-end as well as inexpensive options. Make sure to buy good head protection gear, and don't fall for cheap quality helmets.
Wrapping It Up
These are the best youth baseball helmets. All the headgears I've reviewed in this article belong to reputed brands and are highly durable and comfortable.
Furthermore, all the helmets are NOCSAE certified and offer great protection to the batter.
Make sure to choose the right size, as young players often have a hard time selecting it. I'd recommend EASTON Z5 2.0 Batting Helmet, as the super-durable helmet offers added protection with promising comfort.