Instead of lulling you into this blog by telling you that $150 is going to bring a baseball glove that'll give you a glorious experience, I'll be real. $150 will only get you a mid-range baseball glove.
And if I divide mid-range baseball gloves into three categories – bottom ($100), mid ($150), and top ($200), the $150 budget falls smack dab in the middle.
Sure, you can get a lot out of a $150 glove if you know how to use and maintain it. Ballers with these gloves go on to win matches even. So, it really doesn't matter that much.
But what matters is that you get the right glove for yourself. And that's where I come into play. I've helped high schoolers choose the best baseball glove under $150 many times during my coaching years. I know what's what.
And I'm going to highlight some of the nicest mid-tier gloves I've come across. I'll dig out all the dirt for you to read!
Best Baseball Glove Under $150
This compilation that I've got for you has gloves from different price points. You'll see $50, $70, and even $149 gloves. So, don't be surprised if $50 baseball gloves only seem fitting for your kid's backyard catch practice. If you want to skim through, simply read the details section at the end of each review. And people who want a deeper understanding of the gloves listed here can read the in-depth explanation.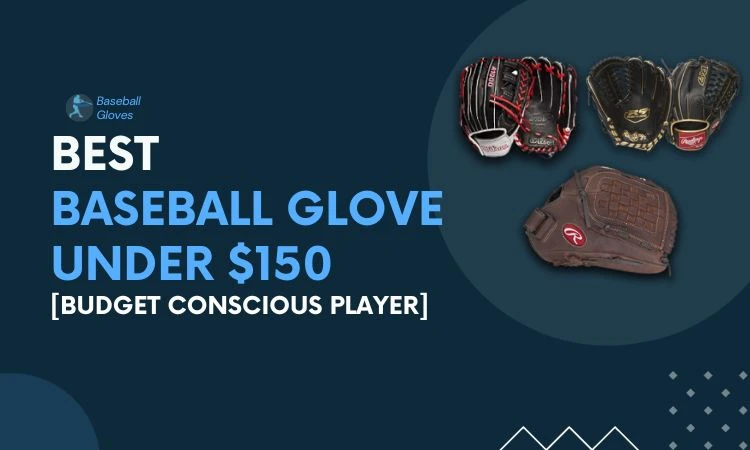 Table of Contents
1. Rawlings Player Preferred Glove Series
I'm sure many of you BaseballHover regulars saw it coming miles out, but still – when it comes to affordable, high-quality baseball gloves, the Rawlings Player Preferred is always at the top of the chart of best baseball glove under $150
Many players, including myself, started out their careers in the sport with this amazing baseball glove.
While Rawlings is well-known for their expensive, top-tier custom gloves that the Pros use regularly, the Player Preferred is pretty affordable.
In fact, its under-100-dollar price tag makes it an absolute steal for the level of durability and performance it offers.
The first thing that stands out immediately with the glove is its impeccable full-grain leather construction. They didn't go with any synthetic leather to make the glove.
So, you don't have to worry about the leather getting cracked or looking dull after a couple of uses.
The glove also has a couple of nifty tricks up its sleeves. For instance, it features the Zero Shock Palm Padding.
Essentially, this means the glove comes with a greater level of padding around the palm area that can negate the impact shock from catching those high flyballs or blazing groundballs.
This glove is available in multiple glove sizes and webbing options. And since it is also available for all positions, you can pick it up regardless of where you like to play in the diamond.
And for a snugger fit, the glove even has an adjustable wrist strap for you to mess around with.
Another great thing about the glove is its relatively non-existent break-in period. Now the Pros or those who play competitively do not mind taking the time to break in their new glove.
But if you are the impatient type, the fact that it comes 80 percent broken in from the factory means you will be able to start playing with it almost as soon as you get it.
As for its downside, there is one that might be a bit of a turn-off for some players. The glove is really not the one for younger players, more specifically, players under 8 years of age.
Since the smallest size is only 12 inches, younger players might have a hard time handling the glove.
Overall, this is an amazing entry-level glove that can help you learn the basics of baseball quite efficiently. It's quite durable, and the quality of the material used makes it feels amazing.
Details:
Webbing Options: Closed, H-web, Basket, Single-post Double bar
Special Features: Zero Shock Palm Padding, Adjustable wrist strap
Pros
Uses real leather at an affordable price
Amazing protection against impact
An almost non-existent break-in period
Comes with an adjustable wrist strap
Cons
Kids under eight might have trouble finding the right fit
Not available in sizes smaller than 12 inches
---
2. WILSON A1000 Baseball Glove Series
Coming in from Rawlings, I knew I couldn't just go with any odd glove brand in the market. You would burn me at the stake if I did that.
So, I decided to follow up with another brand that holds just as much ground on the MLB scene as Rawlings. And that honor goes to none other than Wilson for the best baseball glove under $150.
Now, Wilson has a lot of expensive gloves. And when you have the budget to go for those gloves, there's no real risk of making the wrong investment.
However, when your budget is tight, then there's only one option here that makes sense – the Wilson A1000 baseball glove.
While this is the most expensive baseball glove on this list, it is still within our preset budget, which is all that matters anyways.
And frankly, the level of performance it offers at this price range is simply unheard of. Don't believe me? – let's look at the specs.
First off, the glove comes with Pro Stock rolled dual welted leather. Now you might think of it as a gimmick, but Wilson dual welting offers a whole other level of improvement over its cosmetic effect.
It massively improves the support and handling of the glove and also enhances its protective features.
In addition, the glove comes with the DriLex wrist lining, which offers better comfort to the player on the field. It keeps your hand dry and also improves the overall feel of the glove. And the laces are professional-grade, look stylish, and last a couple of years easily.
The glove also comes about 80 percent broken in from the factory. What that means is playing a couple of days of playing catch is enough to break it in fully.
And you can also get it to feel exactly how you want it since 20 percent of the break-in is entirely in your hands.
Of course, I have already said it; the glove is a bit pricier than the other options here. But then again, as long as it doesn't go over the limit, there's no reason you can't get it.
The size range for the glove is pretty decent, and it's available in different web options for different playing positions. And the color options you get with it are also quite amazing.
Details:
Webbing Options: Single post 3X, Single post 3 bar, Dual post, H-web, X2
Special Features: rolled dual welting leather, DriLex wrist lining
Pros
High-quality dual welted leather construction
Amazing web varieties in the gloves
Relatively low break-in period
Lasts a couple of seasons easily
Cons
A bit more expensive than the other gloves here
Not for kids under 8 years of age
---
3. Rawlings R9 Baseball Glove Series
The best thing about the Rawlings Player Preferred is that it's an amazing entry-level baseball glove for most age groups.
However, when you think about competitive gloves, the Player Preferred really doesn't hold up well against the rest of the options on the market.
Then again, high-end, professional-quality gloves don't come cheap. But the good news is if you are playing in the youth leagues, there are a couple of good options out there.
The Rawlings R9 baseball glove is one of the best baseball glove under $150 for youth players offering a solid balance of performance and durability at that price range.
Now, I am not saying that it's a cheap glove. On the contrary, it costs quite a bit more than Player Preferred, with its MSRP of around 130 dollars.
But the level of performance it offers at that price point is on par with some of the more expensive gloves on the market.
Like most Rawlings gloves, this one, too, is made of high-quality leather. But what makes this glove special is the game-ready feel and softness of its leather shell.
The shell is also pretty flexible and lightweight making it easy to wield even for a relative newcomer to the sport.
This glove offers an enhanced level of impact protection thanks to its reinforced palm pad and padded thumb loop.
While some might say that the extra padding gets in the way of mobility, since the glove is designed for youth players only, the protection is actually a good thing.
As for the downside of the glove, there is only one – its size options. Keep in mind this is exclusively a youth baseball glove.
So it's designed to fit the hands of players between the age of 8 to 14 years old. If you are an adult or even a high-school-level player, there's a good chance that the glove won't fit your hands.
This glove also features a low break-in period as it comes about 80 percent broken in from the factory.
So, you will be able to start using the glove in your competitive games almost as soon as you take it out of the box. For players who don't enjoy breaking in their gloves, it's a good thing.
Of course, the webbing option with the glove is pretty versatile. It is available for both right- and left-handed players and is also suitable for all positions of play.
So regardless of your playing position, as long as you are playing in the youth leagues, this glove will be a nice addition to your arsenal.
Details:
Webbing Options: Modified trapeze, 31 Pattern, Pro H-Web, 2-Piece Solid, Modified Pro H-Web, 1-Piece Closed, 1-Piece Solid
Special Features: Game-ready leather, Reinforced Palm Pad
Pros
The leather feels pretty soft and comfortable
Enhanced impact protection features
Little to no break-in time
Wide variety of web options
Cons
Only suitable for youth players
A bit pricey
---
4. Franklin Sports Baseball and Softball Glove
If you are on an absolutely tight budget, then you'll get no judgment from me. Baseball gloves can get overwhelmingly expensive, and there's nothing wrong with getting an affordable glove if you need something that gets you on the field with minimal investment.
Unfortunately, though, a budget glove rarely performs as well as a high-end glove, nor does it last as long.
But if you don't have the budget, there's only one glove that I can safely recommend for the best baseball glove under $150, and that's the Field Master by none other than Franklin Sports.
Franklin Sports has always been a brand "for the people." That's honestly the best thing about them.
Most of the baseball gear and accessories they manufacture are priced to put minimal stress on your wallet. And the Field Master is no exception. And performance-wise, it's not that bad, either.
Of course, at its laughable under-50 dollar price tag, the brand had to cut corners here and there when they made the glove.
For instance, it uses synthetic leather as its primary construction material. But honestly, the quality of the leather is pretty decent, and it feels quite close to real leather.
And since they used synthetic leather, the break-in time with the glove is virtually non-existent. The moment you take the glove out of the package, it's ready to use.
It should feel comfy and right at home in your hands as long as you get the right fit for yourself.
Now I wouldn't want to set your expectations on an unreal level, though. While the glove does feel "close" to real leather, it is not as durable as the real deal.
If you take care of it, sure, you can make it survive a couple of seasons. But expecting it to last a lifetime is not very practical.
There are a couple of nice additions to the glove that makes it stand out from the other options in this price range.
For instance, the glove comes with an adjustable wrist strap, and the pocket is hand formed, giving you better grip response and control. I love both of these features.
The glove is available in multiple sizes and webbing options, and for a casual player, it's a solid investment.
Heck, even if you want to go pro, and this is a starter glove for you, picking it up won't be a bad idea at all. But if you are already playing in high-school or adult leagues, there are better options out there.
Details:
Webbing Options: Trapeze, Modified trapeze, Basket, I-Web, H-Web.
Special Features: Adjustable wrist strap, Hand-formed pocket
Pros
Comes at an extremely affordable price tag
The pocket feels nice and responsive
Plenty of sizes and webbing options for the price
The leather feels pretty nice
Cons
Synthetic leather is not as durable as genuine leather
Not the best choice for competitive players
---
5. Mizuno MVP Prime Baseball Glove Series
To wrap up this list of the best baseball glove under $150 dollars, I decided to mention one of my all-time favorites – the Mizuno MVP Prime.
There are very few Japanese brands out there that have made as much impact as Mizuno in the baseball gear and accessories industry.
The Mizuno MVP Prime is their take on an affordable, entry-level baseball glove that both youth and adult players can use.
It costs around 120 dollars which is pretty cheap for the build quality and performance that it offers. And if you can afford to go over the budget, then there are other options that they offer, too.
One of the true highlights of this glove is its material choice. The manufacturers went with BioSoft leather which is basically full-grain leather with a factory coating of oil, making it soft and comfortable for the player right out of the box. Personally, I'm a huge fan of the material.
In addition, the lacing and premium finish of the glove also looks extremely stylish. The laces are designed to last as long as the glove itself, so if you take care of your glove regularly, you won't have to worry about relacing your glove anytime soon.
The glove is available in multiple sizes and web options which means you should be able to pick one up regardless of your playing position.
While it is considered an adult glove, the smaller sizes are suitable for youth players too. So that's another huge win for this glove.
There is a big downside to the glove, though, which is why it's placed at the bottom of this list instead of near the top. The padding in the glove is really not that thick.
Now seasoned players might see that as an advantage as that makes the glove lighter and more maneuverable.
However, younger players who require a bit more protection from their gloves might not be huge fans of this feature.
However, credit where credit is due – the PlusGrip thumb design in the glove offers an enhanced level of protection and comfort for your thumb.
If that's not an issue, though, the glove will fit your every need perfectly. It is stylish, affordable, and also durable enough to last you a couple of seasons with minimal maintenance.
Details:
Webbing Options: Deep III web, Tartan web, Shock web, Shock 2 web
Special Features: Center Pocket pattern design, PlusGrip thumb
Pros
Excellent material choice
Allows for a more versatile break-in
Comfortable thumb area design
Comes at a great price
Cons
Padding is a bit lacking
Takes a while to break in
---
What to Look for When Buying the Best Baseball Glove under $150?
A budget of 150 dollars might be enough for you to get the softball glove out there, but for a baseball glove, it really isn't much. So you need to be smart and know which features are worth focusing on if you want to land on a glove that gives you the best value.
Here is a quick refresher on the things you want to prioritize when you are looking for the best baseball glove under $150.
Material
The first thing to check in a baseball glove is its material. Most of the gloves in the market feature leather of some sort. But the type of leather used in a glove can largely impact its price and performance. Here are some of the commonly used leathers in baseball gloves these days.
1. Synthetic Leather
Synthetic leather is the cheapest of the bunch, and if you are on an absolutely tight budget, this is the material you should opt for. The durability is decent, but it's not as durable as real leather. It also doesn't feel as good in the hand.
2. Full-Grain Leather
This is the classic material choice for most baseball gloves in this price range. Full-grain leather is stiff and heavy, which means it will talk quite a while to break in properly. However, once broken in, the performance and durability of this material are unmatched.
3. Cowhide Leather
Cowhide leather is the best material for serious players who want to use their gloves for competitive games. Unlike full-grain leather, cowhide leather breaks in pretty easily.
Since cowhide leather is quite flexible, you should be able to make quick, reflexive catches easily with it.
4. Steer Hide Leather
Steer hide leather is the most expensive choice, and there are only a handful of gloves that uses it in this price range.
It's a heavy material, though, which means most of the steer hide baseball gloves are heavy, But the durability of these gloves is impeccable.
You might also come across some Kip leather gloves on your hunt for the best baseball glove under $150. However, this material is quite expensive, and you won't find any glove under 150 using it. So, I decided not to include it here.
Padding
The leather shell exterior alone cannot offer enough protection for your hands when you catch those high flyballs or line drives. That's why manufacturers use padding in their gloves.
And when you are buying a new baseball glove, it's important to check the amount of padding that comes in it.
Now, people will have different preferences here. Some players like a glove that uses less padding as it keeps it lighter and more maneuverable. But if you are playing in the outfield, going with thick padding is usually the better decision.
So, you need to make a choice – protection or mobility? With thicker padding, the glove can get heavier. But then again, you will have to sacrifice impact protection if you want a lighter glove with less padding.
Size and Fit
Most baseball glove comes in multiple sizes that cater to a broad age group. So make sure the glove you are buying is the right fit for your hands. If the glove is too big for your hands, your grip and control over the glove will take a big hit.
Some baseball gloves these days additionally come with an adjustable wrist strap. So if your glove is slightly larger than your hand, you can use the strap to get a more comfortable fit.
This is an amazing feature, and if you are unsure of your hand size, make sure your glove comes with an adjustable strap.
Break-in Period
Another thing you want to consider when buying a new baseball glove is how long it takes to break it in. You need to factor that into your calculations if there's a big game coming up where you want to use your new baseball gloves.
Some gloves break in faster, while some can take as long as a couple of weeks. In fact, there are some gloves that come broken in straight from the factory that you can start using right out of the box.
If you are the impatient type, make sure you are getting a glove that you can use right away. Personally, I prefer breaking in my glove my own way so that it feels exactly the way I want it to feel.
Pocket Depth & Comfort
You would be missing out if you don't take the pocket depth into consideration when you are buying a new baseball glove. The depth of the pocket matters a lot especially.
It dictates how easily you can catch the ball, or how much control you have once you catch it.
Infielders typically prefer a shallow pocket that promotes quick ball transfer to the throwing hand. Outfielders on the other hand tend to go for deeper pockets that let them catch and hold the ball easier. So, you need to decide which is better for you depending on your position of play.
Webbing
Similar to the pocket design, webbing is another thing that depends largely on your preference. There are many types of webbing that can come in your glove, and each design has a different effect on your playstyle.
The I-web, for instance, lets you quickly catch the ball and transfer it to the hand easier. There's also the H-web that lets you shield out the glare from the sun as you are reaching to catch the ball.
Once you understand which web design you prefer, you will be able to pick out the perfect baseball glove for yourself.
Some Words of Wisdom
I repeat – $150 isn't going to get you a pro-tier glove. But that's okay. You only need $250-$300 baseball gloves when you're competing at the highest level. And while you're on your way to getting there, a mid-range glove would be perfect.
I'm a bit biased for the Rawlings Player Preferred. I think the price-to-value ratio is insane with this baseball glove. That's why every time a budget hunter comes to me for suggestions, I show them the Rawlings Player Preferred.
However, the Player Preferred is only for casuals. You'd better get the Wilson A1000. It's the best baseball glove under $150
While it lacks some premium features, you can get a taste of what a high-end glove feels like with this one.
Finally, for fathers who want to take their son for a backyard catching session, I'd say get the Franklin Field Master. It can be the perfect glove for your rising baseball champ!
These three gloves that I just mentioned all serve different purposes.
So, as you can see, it all boils down to what you want. Before you get hit with shiny object syndrome, assess your own requirements with care. And then get a baseball glove that fits YOUR bill.
Hope you got something useful from here. Cheers!