Every power hitter should own at least one BBCOR baseball bat. BBCOR or Batted Ball Coefficient of Restitution standard controls the trampoline effect and the amount of energy lost when the bat hits the baseball.
The BBCOR bats for power hitters have less energy loss, and they are great for hitting Home Runs. However, choosing a BBCOR bat is not a piece of cake, as there are several things to consider.
Here are the five best bbcor bat for power hitters that possess good bat control and a balanced swing. No matter what league you play for, having one of these bats will give you some extra confidence.
Top 5 Best BBCOR Bats for Power Hitters Reviews 2022
1. Marucci CAT8 -3 BBCOR Baseball Bat
This baseball bat from Marucci meets every standard of BBCOR. It's a great bat with a 2 5/8″ barrel diameter that has a bigger sweet spot, so you can hit shots with immense power. 
The ring-free barrel construction increases the performance and allows for more barrel flex.
Furthermore, the barrel reduces the dead spot, and batters can easily hit good shots. The multivariable wall design helps create better pop.
Also, it helps reduce the overall weight of the bat to give you perfect balance.
Made using AZ105 alloy, Marucci CAT 8 -3 BBCOR Baseball Bat is among the strongest metal bats for a power hitter. It has a better response rate with enhanced durability.
While playing baseball with this bat, you will feel fewer vibrations, thanks to the AV2 Anti-Vibration knob!
The end cap is perfect, and it gives the bat, right length while improving the balance.
Lastly, Marucci offers this metal bat in multiple sizes and two colors: black and white.
Bat Specifications:
Length: 30" (Available in Multiple Sizes)
Weight: 27" Ounces
Type: One-piece
Material: Alloy
Pros
The bat has thin walls and is highly durable
Anti-vibration knob
Less dead spots
Better flex for improved performance
Cons
The handle grip could've been better
There is a little sting when hitting power shots
---
2. Louisville Slugger Meta BBCOR Baseball Bat
This is the latest BBCOR bat from Louisville Slugger that helps you hit the baseball with ease. With this bat, you can transfer maximum power to the ball with minimal loss. 
In addition, it's an amazing three-piece bat that produces maximum trampoline effect, so power hitters will enjoy hitting with it.
I loved the EKO composite barrel, as it makes the bat light and properly balanced. You can swing the bat with ease, and it helps you control the direction of the baseball as well.
The sweet spot is not too big or not too small, so I'd recommend it to pro players that know how to find the sweet spot.
Furthermore, this bat has the best grip any BBCOR bat can have.
The grip is comfortable and firm, which is essential to hit with immense power. In addition, the bigger knob keeps the bat secure in the hand.
Another thing I found great in this bat is the Premium GT1 end cap. It maximizes the barrel's length and improves the swing.
When hitting power shots with Louisville Slugger 2021 Meta, you won't feel much vibration and sting.
Lastly, it comes wrapped in premium skin that takes the aesthetics to another level.
Bat Specifications:
Length: 34"
Weight: 31 Ounces
Type: Three-piece Bat
Material: Composite
Pros
Endcap improves the swing and maximizes the bat's length
It has a superb handle grip
Thick barrel with thin walls for better pop
The bat reduces the vibrations and sting
Cons
Not that great for practice sessions
---
3. EASTON Project 3 Alpha BBCOR Baseball Bat
Easton Project 3 Alpha is the baseball bat you need to hit power shots while reducing the vibrations and sting. The exclusive feature of this bat is the handle, which has a one-piece filler for a solid feel. When the baseball hits the barrel, you'll feel it, but there will be no or fewer vibrations.
With its ATAC Alloy construction, the bat is highly durable and won't get dented easily. Furthermore, the baseball bat has thin walls, so you will hear a pop while hitting power shots.
It's a one-piece bat, but Easton has done a good job in controlling the sting. The handle grip feels great in hand, and it helps you control the bat while swinging with full power.
Another impressive feature of this baseball bat is the end cap that makes it easier for power hitters to swing the bat at full speed. Just like other Easton bats, the handle of Project 3 Alpha comes wrapped in a customized Lizard Skin grip.
In a nutshell, EASTON Project 3 Alpha possesses every quality a good power hitter needs to send the baseball out of the field. The bat comes in a range of sizes, including 29" – 33".
Bat Specifications:
Length: 29" (Available in Multiple Sizes)
Weight: 26" Ounces
Type: One-piece
Material: Alloy
Pros
Specially designed end cap for maximum swing
Made using Carbon-Core technology
Properly balanced to transfer power to the ball
You'll feel less or no sting
Cons
The knob is small
The pop could have been better
---
4. EASTON Project 3 Fuze BBCOR Baseball Bat
Another BBCOR bat is here from the house of Easton. This is a 2019 model, but things didn't have to change a lot, so you can consider it for hitting a power shot.
Manufactured with ATAC alloy, the bat is highly durable and has a carbon core.
As the walls are thin, you will get the required pop. I am very picky when it comes to knobs, but this baseball bat has an impressive Power Boost Knob. The knob is perfect, and your fingers won't brush against it.
Furthermore, the bat has a composite end cap for better swing and maximum power transfer. Inside the handle, there is a VRSCOR handle insert to absorb the sting.
Moreover, the handle minimizes the vibrations, so you can hit power shots without any issues.
The wide barrel has a bigger sweet spot and is designed to offer better control. I found EASTON Project 3 Fuze as an amazing option under the budget. It is available in multiple sizes and is a great BBCOR bat a power hitter can use.
Bat Specifications:
Length: 32" (Available in Multiple Sizes)
Weight: 29" Ounces
Type: One-piece
Material: Alloy
Pros
The soft knob is great
Forged end cap for faster swing speed
It offers an excellent trampoline effect
Superb handle grip for improved hold and comfort
Cons
You may see small dents on the bat after hitting numerous power shots
---
5. DeMarini Goods Half n Half BBCOR Baseball Bat
DeMarini 2021 The Goods is a baseball bat I can recommend to any power hitter.
It's a half-half bat which means the material for the barrel and handle is different. Made with X14 Alloy, the barrel feels solid and generates good pop.
On the other hand, the handle is composite, which feels solid and reduces the sting. With this bat, you get a good swing, thanks to its balanced weight!
Furthermore, the bat has a direct connection that helps transfer maximum energy to the baseball.
I loved the Seismic Endcap designed by DeMarini as it helps deliver insane energy while improving the swing.
The end cap is highly durable and won't break quickly even if you hit multiple power shots in a row.
Talking about the handle grip, it helps you hold the bat firmly while keeping it secure. The bigger knob also contributes a lot to the security of the bat.
Overall, if you are looking to hit shots with immense power, DeMarini 2021 The Goods Half n Half (-3) BBCOR Baseball Bat is your way to go.
This is a 31" bat with a (-3) drop weight that makes it a good choice for pro league players.
Bat Specifications:
Length: 31"
Weight: 28" Ounces
Type: Two-piece
Material: Alloy and Composite
Pros
Specifically designed for elite power hitters
The bat has a good pop
Seismic end cap for maximum power transfer
Highly durable alloy barrel
Cons
You feel the sting sometimes
The sweet spot isn't that wide
---
Best BBCOR Bat for Power Hitters – Buying Guide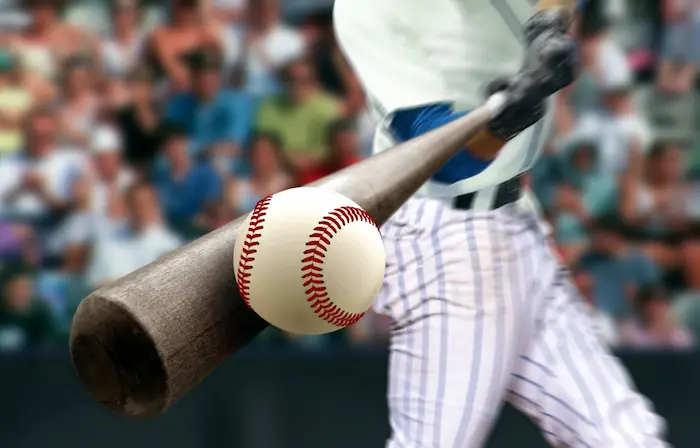 It is essential to know the BBCOR standards before buying a baseball bat. So, compare the shortlisted bats on these parameters, and make an informed choice.
BBCOR Certified Mark
The first thing to look for is the BBCOR Certified Mark. Every bat that meets the BBCOR standards will have this mark.
Manufacturing Year
The latest bats come with BBCOR 2021 mentioned on them. Every year BBCOR bats come with new improvements, so it would be great to buy the latest models.
However, previous models are cheaper, so you can choose the best one depending on your requirements.
Material
BBCOR has nothing to do with the material, but the strength, hitting power, and weight of the bat depend on the material. Therefore, you have to choose from wooden, composite, hybrid, and alloy bats.
Let me give you a gist of these materials.
Alloy
Mostly made using aluminum, these bats are robust and great for hitting with immense power. Furthermore, the bats don't chip, and you won't see any dings and dongs even after playing for months.
Wooden
Loved by pros, wooden bats are great for powerful shots. These are usually made using maple, bamboo, and hickory.
Composite
These bats are light, durable, and have a bigger sweet spot. Composite baseball bats are perfect for newbies learning baseball.
Weight of the Bat
A typical BBCOR baseball bat is a little heavier than normal bats. A power hitter bat can weigh around 27-33 ounces. And a player has to select the best-suited weight from this range.
Grab the bat, and swing your arm to an end. Now hold it for 45-50 seconds. If you can do it, the bat's weight is right for you. Bats lighter and heavier than the 27–33-ounce range, and not BBCOR bats.
Length of the Bat
As per BBCOR standards, a baseball bat can be 29-36 inches in length. Choosing the right length is up to the player. Here are a few tips for choosing the right bat length.
Hold the bat in your hand, and bring it closer to your leg. Now try to hold the handle. If you are able to get a comfortable grip, the length is right. Else, try it with another bat, and find the right length.
Pick up the bat, and bring it closer to your chest. The endcap should touch the center of your chest. Now try to grab the barrel. You'll have your hand around the barrel easily if the bat is of the correct length.
The Barrel
A barrel is a significant part of the bat as it hits the baseball. BBCOR has fixed a standard for the barrel as well. Usually, the diameter of a bat's barrel is 2 5/8 inches. If a bat comes with a BBCOR Certified Mark, then you should not worry about checking the diameter.
The Grip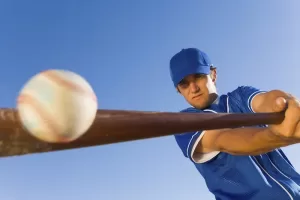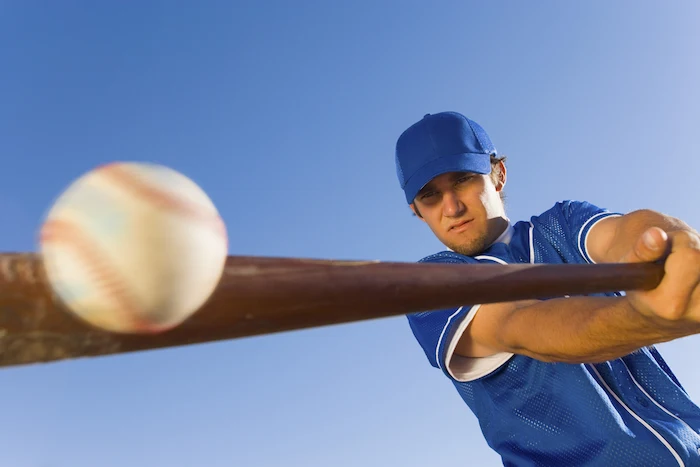 BBCOR has set standards for the grip as well. When looking for a baseball bat for power hitters, you'll find lizard skin, foamed, cushioned, and hyper grip. BBCOR has allowed bat manufacturers to use cushioned grip, hyper skin grip, and lizard skin grip.
It would be great to hold the bat, swing it, and then figure out if the grip suits you or not.
The Taper
The taper is not a problem with a BBCOR bat for power hitters. Also, players can go for bats with customized tapers.
Budget
BBCOR bats come at a range of prices. Choose a baseball bat according to your play level. If you need one for practice, consider an affordable one, whereas high-end bats are good for playing league matches.
Concluding Statement
These are the best BBCOR bats for power hitters that offer great control, proper balance, and excellent pop! Pick any of these bats and head to the field to hit home runs. All the bats that we've reviewed belong to decent brands and are great for players that love hitting shots with power.
Choose a bat wisely after looking at its pros/cons to maximize your potential in the field. Lastly, wear proper gear when hitting power shots to stay safe while enjoying the game.