During an intense battle, everyone – even your best soldiers – looks to the leader for guidance and direction. If the leader falters, defeat is imminent and certain. These are some wise words here. And believe it or not – these words apply to the game of baseball as well. Leaders are crucial to a team's success.
And that's exactly what a catcher is.
A catcher sits behind the diamond, observing, strategizing, thinking about the next move, trying to be one step ahead of the opposition. Now, what if you – the catcher – are in a state of constant discomfort because of your mitt? Will you be able to pull off the string of responsibilities I just listed?
If you're a veteran with years of experience behind you, maybe you will power through. But if you're not, you'll crash and fall – and so will the team. What I'm trying to say – catchers play a huge role in leading the team to victory. That's why you can't consider having the best catcher's mitt as a luxury – it's a necessity.
Top Pick
Pro Stock Select Leather:
Double Palm Construction:
However, if the game isn't as important, and you're playing casuals, you don't have to get all riled up like I just did right now. Still, having the best catchers mitts will help you control the game and make you the star of the show.
So, I (an ex-pro and a coach) am going to share some insights on the top-rated catcher's mitts that I think can make a huge difference to your game.
Note: A lot of people think big bucks mean incredible quality and vice versa. That's not true. There's a lot more to it. I'm going to cover everything on pro-tier mitts to give you an idea about what you should look for when hunting for a quality catcher's mitt.
Top 7 Best Catchers Mitts Reviews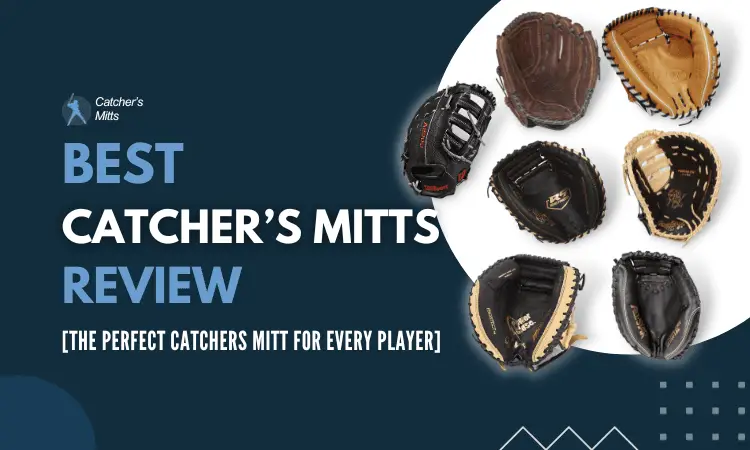 Table of Contents
1. Wilson A2K (Premium)
Once you keep moving forward, you'll see that I talk about two all-around mitts – the A2000 SuperSkin and the Rawlings Heart of the Hide. And they are both excellent. However, they aren't in the same league as the premium big-boy mitts. If you're okay with shelling out top dollars, you should definitely take a look into the Wilson A2K catcher's mitt.
Now, Wilson A2000 SuperSkin is a top-shelf mitt. So, why bother looking into the A2k, right? Well, if that's the train of thought you're in, just hit the brakes for a moment. A2K is way ahead of the SuperSkin in terms of performance, durability, flexibility, and convenience. Let me explain why.
The Wilson A2000 SuperSkin has Pro Stock Leather. You know that it comes from the strongest of American steer hides. So, the leather is top-tier. But what you may not know – the Wilson A2K comes with Pro Stock Select Leather. It's not just the addition of a single word – select. It's a whole other ballgame.
All the leathers made in Wilson's backyard go head-to-head, and only a meager 5% can claim the honor of becoming an A2K. Yeah, only 5% of all the leathers extracted make it to the top. So, I don't have to tell you what that means when it comes to durability.
Besides, the pocket has two layers instead of one. The added layer keeps your mitt stable after a fastball contact. Plus, constant shockwaves created after repeated fastballs won't end up injuring your palms and fingers.
The double-palm design also prevents the ball from bouncing back from your mitt. You can get a steady hold of the ball thanks to the padded edges and multi-layered palm padding.
Also, I like the color combination of this mitt. I've seen it in action, and the color combo makes it easier for the pitcher to spot. So, you can comfortably call the shots by slight movements instead of making it obvious for the batter – pretty neat.
And finally, according to the manufacturer, the craftsmen put in three times more effort and time into making one Wilson A2K. I can't really confirm whether the statement's true or not. But I'm sure about one thing – the Wilson A2K is an incredible mitt. It's something you should consider if you want to compete at a professional level.
There's no size variety, though. I mean – it's just got the standard 33.5 inches. Still, if your hands aren't really big, the fit shouldn't be a problem.
The only beef I have against Wilson catcher's mitts is the long break-in period. It takes so long for the mitts/gloves to reach their full potential. But there's an upside. Longer break-in time can also translate to better and more durable gloves. It means – the harder it is to break in, the better, sturdier the leather actually is.
Pros
Comes from the finest of American Steer hides aka Pro Stock Select Leather
The color combination helps pitchers notice the mitt from afar
Double-palm design makes catching more comfortable and easier
Pro catcher's mitt designed for serious players looking to perform at a professional level
Cons
Takes time to break-in
Even more expensive than the Wilson A2000
---
2. Rawlings Player Preferred (Best Budget)
I know what it looks like. I'm just circling around the Rawlings-Wilson territory. But there's a reason. While I casually don the Louisville, Franklin, or Shoeless Joe, I try to play it safe when it comes to catcher's mitts. That's why I hover around popular names even if I'm looking at budget alternatives.
Anyways, enough rambling. The Rawlings Player Preferred is for, by, and for the budget hunter. A ton of people who are into casual baseball or softball love this mitt. And honestly, there are times when I want to keep my premium mitts shelved for another day. That's when the Rawlings Player Preferred comes in handy.
Don't get me wrong, though. It's not a trash mitt just because it's budget-friendly. The 33-inch baseball catcher's glove from this series can take a lot of fastball hits because of the Zero-Shock palm padding. It's not as thick as the ones you'll find in the A2000, HOH, A2K, or All-Star Elite, but it's still decent.
The trick is to pocket the fastballs quickly instead of letting them hit the edges. The edges aren't padded enough to protect you from repeated fastball impacts.
Rawlings Player Preferred is made of synthetic leather. It's not made from tough cow or steer hides. But synthetic leathers have distinct advantages and disadvantages.
The plus is – the mitt is almost 80-85% ready for the game. You just need to take it out for a couple of games tops, and you'll see that it's all smooth and flexible.
The downside is – the leather isn't nearly as durable as the ones available in more pricey mitts. I know it's disheartening. But think about it – you're paying 1/4th of what you'd pay for a Rawlings Heart of the Hide or Wilson A2000 SuperSkin. And you're paying 1/6th of the Wilson A2K's price. So, that's crazy cheap. So, I don't think there's much room for complaints here.
Besides, the mitt's overall color and the closed web become an ideal target for pitchers. A good catcher is a good momentum controller. So, you can guide your pitcher and instruct your fielders without giving out anything to the batter by simply moving your gloved hand around. So, the Rawlings Player Preferred is the best you can hope for when you have a budget leash. It's a good catcher's mitt. I know you want more features, more durability, more shiny stuff – but that's not going to happen. This mitt (even the entire glove series) is like the messiah of the thrifty knights. So, if you're short on the green, you can definitely give this mitt a shot.
Pros
Inexpensive mitt – really low price-point compared to premium alternatives
Impact-resistant padding can reduce palm sores/injuries
Easy to break in – doesn't take more than a few days
You can use it like a baseball and softball catcher's mitt
Cons
Synthetic leather doesn't last as long
Not suitable for adults
---
3. Wilson A2000 SuperSkin (Best value)
A lot of people may argue that I should've kept the Wilson A2000 catcher's mitt on top of the list. But hear me out – the A2K is just a step ahead. However, not everyone is willing to put down the extra buck for the A2K – that's why the Wilson A2000 reigns supreme.
The Wilson A2000 is undoubtedly one of the best catcher's gloves out there. There are so many things to love about this mitt. For starters, the leather quality. It has the signature Wilson Pro Stock Leather. You should already know by now that the Pro Stock Leather comes from US steer hides.
And these leathers are tough. Many catchers use a Wilson mitt for 3-5 years without ever feeling the need to change it. So, you can see that it's an excellent long-term investment.
And with the SuperSkin added into the mix, the mitt doesn't weigh as much as it used to. Back in the day, mitts with top-tier leather weighed a ton because the hides were heavy. However, with the SuperSkin, the toughness remains but the weight is cut to half of what I was once.
I loved how the glove felt when I had it on. Wilson used the Drilex wrist lining to keep the hand cool and dry while playing for hours. So, even if you're prone to sweating a lot (like me), the mitt keeps the palms and fingers "less sweaty" thanks to the breathable lining and material.
The lacing of this mitt is really good too. Strong, perfectly placed, and guaranteed for a couple of years. All in all – ease of use, comfortable padding, high-quality leather, and unbreakable construction make it a mitt that almost always comes on top compared to other mitts.
And if you're a wary skeptic, the best part is it comes with 12 months warranty. If you don't like it or having trouble, the warranty's got your back.
Pros
Pro Stock Leather + Super Skin = More durability but less weight
Thick palm padding keeps you safe from injuries
Breathable material ensures you remain comfortable after hours of playing
Easy Velcro adjustment
Cons
Tough to break in
Doesn't come cheap
---
4. Rawlings Heart of the Hide
I know it's back-to-back Rawlings – from Player Preferred to Heart of the Hide. I could've just as easily kept the Rawlings HOH in the second position. Honestly, there can be an argument (a pretty intense one) that the HOH can kick Wilson A2K's candy ass.
Now, before I comment on it – I should tell you that Rawlings and Wilson have their separate fanbases. Even MLB pros are divided when it comes to these two titans. So, if anybody does stand a chance to go toe-to-toe against the Wilson A2K – it's the Heart of the Hide.
Alright, enough with the explanation. Let's look into the specs. Remember why A2K was considered special compared to other catcher's mitts? The Pro Stock "Select" Leather – only the top-notch leather made its way to becoming the A2K. The same thing happens with Heart of the Hide as well.
The leather screening process of HOH is excellent. Only a meager 5% of the top-shelf steer hides get the opportunity to become a Heart of the Hide. So, I don't really have to go on a limb to brag about this mitt. The leather quality speaks for itself.
I've had a Heart of the Hide even before I got my A2K. Trust me- after transitioning to A2K for a brief period, I realized the performance is almost at a similar level apart from a few exceptions. For instance, the HOH is easier to break in.
Usually, when premium steers hides come into the mix, a glove/mitt can become super hard. I've seen some catcher's mitts remain stiff and uncooperative for months – even years. The HOH – on the other hand – has softer rawhide in some parts of the mitt. That's why it doesn't have a big break-in time like the A2K.
Plus, the most vulnerable areas – palm, finger, and thumb – are covered with thick padding. The cushiony feel that you've come to love and expect from Rawlings is there, and it's better.
The color combo makes it stylish. Also, the pitcher won't have any trouble noticing the calls you make from the back of the plate.
Finally, I think Rawlings's Heart of the Hide is an incredible mitt. It's packed up with all the goodies needed to compete with all the other high-end gloves. In my opinion, it's the best high school catcher's mitt because you get premium performance within a reasonable sub-$300 price point.
So, if you're not keen on investing a heap of money for the A2K, you can surely go for the Rawlings HOH and save some green.
Pros
Top-notch steer hides make the mitt durable
Palm padding and thumb protection for easier catching
Deep pockets make the experience way more comfortable
Comparatively easier break-in despite the thick and sturdy leather
Cons
Comparatively expensive
The lacing can be somewhat confusing
---
5. Rawlings R9
All the mitts I've mentioned until now are suitable for teenagers and adults. Your young champ can still use these gloves and have a great game. But there are other alternatives like the Rawlings R9 Catcher's mitt. The list would be incomplete without having a dedicated youth catcher's mitt, won't it?
The first thing you should know is that it's not meant for adults. It's only 27 inches. So, adult hands won't even fit. But that's not the point. The size is big enough for tee-ball players or little leaguers. And it's a perfect entry-level mitt to get your young one accustomed to the game.
The leather is synthetic similar to what you saw in the Rawlings Player Preferred. It's not high-quality American or Java Steerhide. But it's not garbage pigskin either. So, you get decent performance and durability from the mitt.
It has a padded thumb loop – not something I expect in a cost-effective youth mitt. But it's a good thing. Young players are in their learning stage. So, it's difficult for them to always get the ball in the pocket. More often than not, the ball's going to land on their thumbs. That's where the padded thumb loop can keep the sores to a minimum.
I already talked about the benefits of having synthetic leather. It breaks in way faster than cowhides and steers hides. However, the Rawlings R9 is an 80% game-ready catcher's mitt on top of the synthetic leather. So, a couple of rounds of backyard catch should get this glove all set.
Plus, the color and closed webbing are ideal for catchers to control the game. Your little league star can learn to shoulder some responsibilities by guiding the pitcher with this mitt or even changing the fielding tactics. I know it's a lot to ask from a kid – but it's good to start young and get better over time.
There's some padding in the palm area as well. But it's not going to do well against a lot of fastballs. The padding is good, but it should've been a bit thicker. There's an argument here – little league pitchers won't pitch as fast as a high-schooler and nowhere near the speed of an adult. So, the palm padding can work until a certain age.
And above all, the price won't choke your wallet out. It's not as cheap as the Rawlings Player Preferred – there's a slight difference in price. But it's still pretty cheap, considering the price of all the other quality mitts.
Remember, it's a training mitt suitable for youth baseball players. You can make it work as a youth fastpitch catcher's mitt, but that's the most it can do. If you try to use it as an adult catcher's mitt, you'll be disappointed. So, this mitt is for young players looking to understand the game better and put some training hours in to get good. The overall quality, performance, and construction are more than enough to comfortably label it as the top youth catcher's mitt.
Pros
Designed specifically for young baseball players
Thick thumb padding protects players from injuries
Deep pocket for a comfortable catching experience
Affordable mitt for youngsters
Cons
Palm padding could've been better
Synthetic leather isn't as durable as hide-based leathers
---
6. All-Star Pro Elite Catchers CM3000BK (Best Premium)
Not that I've mentioned a budget mitt and a youth mitt, it's time to go back to my usual – top-shelf premium mitts. It's not just Wilson and Rawlings that manufacture high-end mitts. If you ever had the pleasure of using an All-Star mitt, you'd know. The All-Star Pro Elite CM3000BK is at the top of the mitt mountain, competing for the title of the best catcher's mitt.
Anyways, what makes this mitt stand out from the rest? For starters, it's not made of US Steerhide or Java Steerhide. In fact, the leather comes from Japan. If you're up to speed on your leather trivia, you should know that the Japanese Kip leather is the best out there – no questions.
Although the All-Star Pro Elite CM3000BK doesn't have Kip leather, it comes with a Japanese steer hide. It's not on kip leather's level, but it's pretty close. The big downside to using steer hide leather on a glove or mitt is that the break-in time increases exponentially. Even with a lot of break-in techniques, you might not get the glove ready for an important game.
With that said, the Japanese steer hide is a bit different. The leather quality remains the same – sturdy, thick, and reliable – but the glove is still soft and manageable. It doesn't become an ogre that you have to wrestle with in order to get it disciplined.
The simple design with a Velcro adjustment strap makes this mitt a boon for convenience lovers. Laced adjustment straps can be somewhat difficult to get used to. But the Velcro designs make it as easy as pie.
Plus, the pocket is really spacious. When you catch the ball, you'll hear an oh-so-satisfying pop. The deep pocket will let you control different types of incoming pitches with ease.
There's a thumb, finger, and palm padding for increased protection against repeated contact. As a catcher, you'll have to catch all the strikes and balls. So, the mitt has to be strong enough to withstand such abuse. The All-Star catcher's mitt has what it takes to stand strong against tons of roughhousing. The one I've mentioned here is 33.5 inches. If you need more sizes, check this out All-Star Pro-Elite 34 Inch or All-Star Pro-Elite Series 35 inch
Pros
The mitt is a durability beast – lasts for years
Thumb, fingers, and palm are protected with thick padding
Easy Velcro adjustment
Deep pocket = more catching comfort
Cons
Even more expensive than most premium mitts
Needs some getting used to
---
7. Mizuno Prospect GXC105
I already have listed a youth catcher's mitt here. But the Rawlings R9 is more like a training glove/mitt. It's not what I'd call a fully-developed catcher's mitt yet. It's a good entry-level mitt you can use to train your toddlers. But it's far from being the best youth catcher's mitt.
Anyways, that's why I decided to introduce another youth mitt to the fray. The Mizuno Prospect GXC105 Youth Catcher's Mitt is perfect for ages 5-10. Why? Because with this mitt, you can – save a ton of money, use it for a long time, get a mid-tier mitt that'll work fine till high school.
The one striking feature that I've noticed right out of the gate when I unpacked it is – the mitt's almost entirely broken in. You can close and open the mitt with ease from the get-go. Plus, it's soft and snug. It won't create any pressure or discomfort in your hand.
Also, you'll find the nice-and-meaty "pop" sound that I always refer to – when the incoming fastball hits the pocket. The pocket is deep and padded enough to minimize impact shocks created from repeated balls.
The fitting is all good as well. It's neither Velcro nor complicated leather straps. You have a single strap that goes through hoops. You just need to pull the strap to your side to tighten it or do the opposite to loosen it up. Even if it sounds a bit confusing now, you'll see it's really easy when you try it out.
And if you're struggling to open and close the mitt, you can always remove the last two laces. It's not something you can do with a lot of gloves. Even if you can, you need to know your way around laces to make sure you don't mess up. However, Mizuno GXC105 Youth makes it really easy. You just pull the two laces out, and you can get a more comfortable catching experience.
However, you should know that the Mizuno GXC105 is just a step above an entry-level mitt. It's not anything spectacular. The leather is made of pigskin. So, unlike the thicker and sturdier steer and cowhides, the pigskin is much more fragile.
But it's still one of the best youth catcher's gloves because kids around 5-10 can't pitch beyond 40-50MPH. So, the mitt has more than enough meat to handle that kind of speed. Plus, the easy break-in, affordable price point, and overall flexibility make this an ideal mitt for youngsters. And the GXC105 is one of the only models that offer a left-handed catcher's mitt. So, if you're a lefty catcher, this is probably your best bet.
Pros
Can get into action almost instantly – little to no break-in time needed
Palm padding and liners keep the impact shocks to a minimum
Lace removal option gives players some flexibility
Cost-effective mitt – won't take a huge chunk out of your wallet
Cons
Pigskin leather isn't as durable as steer hides or cowhides
Can have difficulties with fitting
---
How to Choose the Best Catchers Mitts – Buying Guide
What do you think? What catchers mitt do the pros use? As I mentioned before, there are a thousand pieces of baseball mitts in the market. Some of them are best to choose from, but most of them are not as good as promised.
The catcher's position is the most dangerous position in the baseball field. So you can't compromise on it at any cost. That's why you definitely need the ideal mitt for you. But what makes a glove different from others? What are the characteristics of best catchers mitts?
Well, these things you have to consider before buying the best catcher's glove.
Size
As a catcher, you may know that a catcher has to make a lot of quick movements with his catching hand while playing. So definitely you will not choose a too loose or too tight glove which will feel uncomfortable on your hands and wrists.
Catcher's mitt size, which is based on your age. Make sure that you are going to get that one that fits you perfectly.
Material
Basically, there are 4 types of materials that can be used in a baseball mitt. Synthetic, mesh-backed, soft leathers, and durable leathers.
If you are here to get a glove for your children, we recommend you go for a synthetic glove. Because it's lightweight and more inexpensive than others, which made it ideal for children. But the problem is it will not give you an excellent service for a long period of time.
Mesh-backed gloves are very comfortable to wear. And it's lightweight than other leather catchers mitts. But the cons are that they are not much durable as other leather gloves.
Soft leathers are good because of their comfortable body. And you don't need to break in these gloves because it's not as hard as durable leather. These types of gloves are not much heavier, but it maintains durability in a good way. The problem is it will not hold up for a long time as synthetic gloves. But it's not expensive.
Durable leathers are my favorites. Just not me, most of the professional and serious players recommend these gloves as the best. May they be expensive and heavier, but it's the most durable materials for a glove. It has the most padding, and when you are going to catch a baseball with them, you will get a sweet, crisp popping sound from it. And it's worth it.
Webbing
Closed or open webbing. Every baseball catcher's mitt has one of those kinds of webbing. Closed webbing gloves are more durable than open ones. And it will give you excellent performance for a long period of time. By the way, you will be happy to know that there are not many open webbing gloves in the market. By any chance, if you want any open webbing gloves, then you have to order them to customize as your preference.
Padding
The catcher's position is toughest than any other position in the field. You need to catch every ball coming toward your hand while protecting the body. If you wear a glove that has a weak amount of padding, it can hurt you in a bad way. For preventing yourself from injury, try to choose a glove with proper padding.
Adjustability
As we mentioned before in the sizing part, a catcher's mitt should perfectly fit your hand at any cost. Because no matter how a durable glove is, it will be a hell product if it doesn't fit in your hands and wrists.
But we know everyone's hand isn't in the same shape. That's why we need to adjust these gloves for each character. And you can adjust these gloves by tightening or loosening the laces of the glove. Try to find a catcher's mitt, which is adjustable because you really need to customize its fits for different people.
Warranty
Well. Who doesn't like to get a long-time warranty on his product? Everyone loves it, including me. If the question comes about the warranty, we first have to know the answer to this question: "why do you need a glove?" Probably you are purchasing the glove for solving some specific problem of your position.
So you must have the intention of causing the problem with it. If it doesn't maintain your criteria, then you should back it to the manufacturer. Otherwise, it will be a loss product for your money. Try to purchase one of those that have a long-lasting warranty. And that will be bang for the buck to you.
Brands
To be honest, I don't exactly believe that just good brands always make the best. There are some underrated brands that actually manufacture good catchers mitts. Some of the famous baseball mitt manufacturer brands are:
Wilson
Rawlings
All-star
Mizuno
Nokona
Easton
Marucci
But we also love brands like Akadema, Louisville Slugger, and a few more. They also manufacture good-quality gloves and mitts. But they are not popular like those following.
If you ask from us, then our opinion is, you should look for quality instead of a brand. Because you will use the glove, not the brand.
FAQ
If you're looking for a professional catcher's mitt and have a proper budget, I'm sure you have some questions. Nobody wants to put down their moolah without getting all the information. So, I've decided to answer some of the most common questions associated with baseball catcher's mitts.
Are All-Star catcher's mitts good?
Depends on what type of All-Star mitt you bought. All-Star has been in the baseball/softball scene for a long time. And as it happens with reputed old brands, they too have both budget and premium variants. If you're shelling out the big bucks for something like an All-Star CM3000BK, you'll get top-notch performance and it is one of the most expensive catchers mitt. In contrast, when you get the CM3031 – which is less than $100 – the quality won't be close to what you'd get from a $300-$500 mitt.
So, the answer is both yes and no. It depends on how much you're willing to invest in what model.
How do I choose a catcher's mitt?
The buying guide section titled already discussed the entire screening process. Still, the things you have to keep in mind while choosing a catcher's mitt are –
Leather quality
Size
Padding
Flexibility/Adjustability
Are Rawlings catcher's mitts good?
The answer is pretty much the same as the one where I discussed the quality/performance of All-Star catcher's mitts. Rawlings mitts/gloves are sported by seasoned professionals. They're one of the top baseball/softball equipment manufacturers. So, yes – their gloves/mitts are incredible.
But then comes the million-dollar question – how much are you paying for the mitt? If you want to experience the best Rawlings catcher's mitt, you'd have to pay top dollars. I would recommend looking into either Rawlings Heart of the Hide or Rawlings Pro Preferred.
What size catcher mitt do the pros use?
There isn't a specific magic number. The sizing entirely comes down to individual preference. If your hands are big, you get a bigger mitt and vice versa. Still, a standard size range for professional MLB catchers is 32.5 to 35 inches. Anyways, most MLB catcher's mitts have a custom design. So, there's no telling what the exact size is.
Wrapping Up
If you need a true tier-1 mitt, there's no alternative to the Wilson A2K or the Rawlings Heart of the Hide. The Wilson A2000 SuperSkin also comes into consideration, but the A2K is just a step ahead.
And many people don't want to shell out big bucks – especially if they want a youth catcher's mitt. So, if you're hunting for a budget mitt for your young baseball hero, I'd say go for the Mizuno GXC105. It's good and cheap. As I said earlier, only a good leader is the harbinger of victory. And a catcher is – in most cases – a leader. So, you – of all people – should be comfortable in the field. That's why – understand your age, size, needs, and get the best catcher's mitt to guide your team to victory. Cheers!