Do you see the potential in your kid and believe they can become a baseball sensation? The best gift you could buy your kid is a pair of youth baseball batting gloves.
Batters must wear good-quality gloves in order to get a good grip over the bat. The better the grip gets, the better the player's success rate will be. Furthermore, batting gloves prevent blisters and are helpful during long practice sessions. But buying a pair of gloves is a little complicated.
From size to material, and comfort you should look for a myriad of things so that your kid gets promising comfort. This post rounds up the top youth batting gloves a parent should buy.
Top Pick
Nonslip Palm
Air Mesh Back
Quik Adjust Strap
Top 5 Best Youth Baseball Batting Gloves Review
Below I've reviewed the best-rated batting gloves for youth. Not just these gloves look impressive, but they offer excellent comfort and protection to the batter.
Moreover, all the gloves belong to decent brands, so be rest assured about their longevity.
1. Mizuno MVP Baseball Batting Gloves (Overall Best)
This pair of gloves is an amazing choice for your little hitter. Featuring a mesh back, the gloves offer excellent breathability, so forget about trenched hands.
The non-slip palm ensures a more stable swing and less to no slippage at all (if you choose the right size).
In addition, the QuickAdjust strap offers more comfort and ease to the batter with the assurance of a secure fit.
Furthermore, these synthetic gloves are highly flexible, rewarding the batter with a secure grip over the bat. I'd recommend these gloves in the hot seasons when the batter needs breathability
However, there is no padding on the inside, and it can be a little uncomfortable sometimes. To sum up, Mizuno MVP Baseball Batting Gloves are perfect for the little hands.
The gloves are easy to wear and snap off, thanks to the Velcro strap. Lastly, washing this pair is as easy as a breeze, just toss it in the washing machine and dry it in the shade.
Features:
Sizes Available: XX-Small, X-Small, Small, Medium

Material: Synthetic

Wrist Style: Velcro
Pros
Excellent breathability makes them good for hotter days
Easily adjustable Velcro wrist strap
It doesn't hinder the movement
Non-slip palm for enhanced grip
Cons
The gloves don't have padding
You will see visible stains after every game
---
2. Under Armour Batting Gloves (Best Comfortable Batting Gloves)
This pair of batter's gloves from Under Armour is my favorite, and my son also wears them! Made using leather, the gloves offer uncompromised comfort.
Designed thoughtfully by Under Armour, these gloves have small perforated holes on the finger and the glove body for advanced breathability.
Furthermore, the gloves have HeatGear fabric that keeps the hands cool and helps the batter focus on the game.
The synthetic overlays improve the flexibility, and the batter can swing the bat fully without any issues. I loved the elastic wrist cuffs as they offer a snug fit while locking in the hands.
However, the cuffs can get loose over time after regular usage. Talking about durability, the gloves have a superb build and will offer a decent lifespan.
The polyester shell doesn't get wet easily and contributes a lot to the overall durability
In a nutshell, this pair of youth baseball batting gloves are perfect for anyone looking to have all-day comfort.
However, as the gloves are made with leather, they are a little heavier than the synthetic counterparts.
Features:
Sizes Available: Small, Medium, and Large

Material: Leather and Synthetic

Wrist Style: Elastic Wrist Cuff
Pros
Ample padding for added comfort
Highly durable and tough gloves
No struggles of adjusting the Velcro
Keeps the hands securely packed
Cons
The gloves are heavy
Not the best choice for hotter days
---
3. Franklin Sports MLB CFX Pro Baseball Batting Gloves
These sturdy-looking gloves are perfect for baseball and softball players. With a classic design and a curved palm, the gloves offer excellent grip.
Furthermore, the relief lines run along with the fingers and knuckles for optimal flex.
The thick padding on the inside reduces the sting caused by bat vibration, thus protecting the hands and enhancing the performance.
With a retro look, these gloves are a favorite among young players.
Coming to the breathability, your kid won't complain about it, thanks to the perforated holes. These holes are everywhere on the glove from the back and front of the fingers.
These gloves have a Velcro wrist style for the ease of wearing and taking off.
Hitters won't feel like wearing these gloves, as they are lightweight and offer a snug fit. The only problem with these gloves is the cleaning part.
Overall, Franklin Sports MLB CFX Pro Baseball Batting Gloves are an outstanding choice for every weather.
Additionally, Franklin offers a plethora of color options, including dark and light colors to match your taste.
Features:
Sizes Available: Large

Material: Leather

Wrist Style: Velcro
Pros
The gloves offer great comfort
It doesn't restrict the swing motion
Perforated holes keep the hands cool
A natural fit with a slight curve
Cons
Cleaning these gloves is a task
The stitching isn't very durable
---
4. Clutch Sports Apparel Baseball and Softball Batting Gloves
When it comes to unmatched comfort in the field, young batters choose Clutch Sports Apparel Baseball and Softball Batting GlovesMade with top-grade premium leather, the gloves have outstanding cushioning to provide comfort to the batter.
On the palm area, the pair has microfiber material for uncompromised breathability and sturdy grip.
In addition, these gloves have a slight curve that hugs the hand and rewards the batter with flexibility.
Clutch Sports has designed these gloves with perforated holes to keep the hands cool while playing. However, these gloves are thick, and the batter may feel a little sweaty.
The color scheme is attractive, and The Thin Blue Line American Flag looks cool. These batting gloves have got a hook and loop closure type that remains securely in place and prevents the glove from flying off the hands.
The wearer won't feel the bat's vibration and the sting, so these gloves are perfect for a practice session as well as a tournament.
Lastly, they are a bit heavy due to the oversized design, but the batter will get habitual quickly after wearing these gloves for quite some time.
Features:
Sizes Available: Large, X-Large

Material: Leather

Wrist Style: Hook and Loop (Velcro)
Pros
Easy to wear and take off
Excellent inner padding
Restriction-free sublimated back for improved stability and comfort
Made with one-piece leather for added durability
Cons
These gloves should have been a little lightweight
The material is thick, so not that great for hot days
---
5. Franklin Sports MLB Digitek Batting Gloves
Franklin Sports has designed these gloves for the youth to provide them snug and secure fit. Fabricated with leather and synthetic, these gloves are a superior choice for all seasons.
Your kid will never complain about comfort, as the synthetic mesh lining is breathable and has good padding.
Likewise, the leather material is high-quality and has given a natural arc to the hand for more stabilized swings.
Taking on and off these gloves is pretty easy using the Velcro closure. Furthermore, the batter gets added confidence with these gloves, which boosts performance.
On the sides, you'll see microfiber patches that enhance the aesthetics and improve the grip.
Be rest assured about the durability as the gloves belong to Franklin Sports.
Lastly, these gloves are available in a range of color choices, including gray, white, black, and more.
Features:
Sizes Available: Medium and Large

Material: Leather and Synthetic

Wrist Style: Hook and Loop (Velcro)
Pros
Enhances the hand's flexibility for stable swing shots
Highly durable batting gloves
Perforated holes prevent sweaty hands
No doubt these gloves look stylish
Cons
The Velcro strap gets loose after some time
These gloves require regular care
---
How to Choose the Best Youth Baseball Batting Gloves – Buying Guide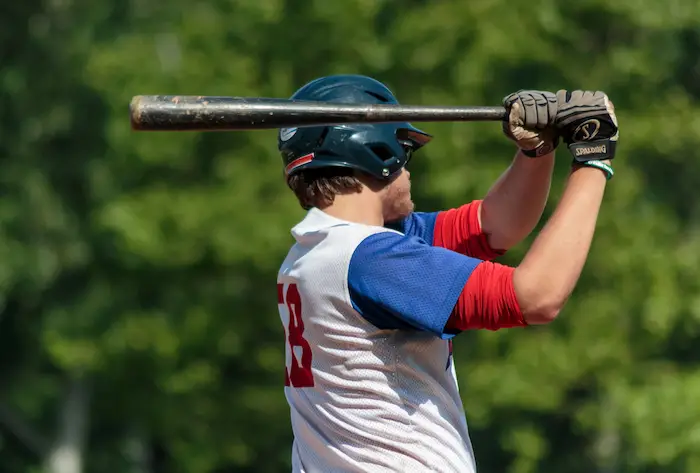 A glove that fits well improves the gameplay. Furthermore, gloves impact the hitting power, so you should get the best pair to see your child hitting a home run. Here are a handful of things to consider when buying gloves for youth.
Size
| | |
| --- | --- |
| Size | Batters Hand |
| XS | Under 6" |
| S | 6" – 6.25" |
| M | 6.25" – 6.5" |
| L | 6.5" – 6.75" |
| XL | 6.75" – 7" |
A pair of gloves that's too loose will fly off the hands, and a pair that's too tight will be comfortable to wear. When buying batting gloves for your kid, you cannot overlook the size.
These gloves are available in a range of options with varying sizes for different needs. I've created this table to make things easier for you.
Check it out, and then measure the hands of the batter to choose the right option.
Materials In a nutshell, the gloves should offer a snug fit, as tight gloves can restrict movement, whereas loose gloves can lead to slippage.
Typically, manufacturers use leather and synthetic to manufacture the batting gloves. Both materials offer clear benefits.
Synthetic batting gloves offer more comfort than leather and are easy to clean. Furthermore, they offer good breathability. On the other hand, leather gloves offer a classic feel.
Yes, they can be a little uncomfortable at times. But once the batter is habitual of wearing them, these gloves can feel like a part of the hand.
Lastly, some manufacturers now offer mixed-fabric gloves with leather palms and a synthetic upper area for better grip and flexibility.
Wrist Style
The wrist style has a significant impact on the batter's performance and the longevity of the gloves. Usually, baseball batting gloves for youth come with Velcro wrist, as it is easy to adjust.
However, Velcro loses its effectiveness over time if it gets wet regularly. You'll find some good options with a high-profile wrist. These gloves offer a high compression feel to the batter in order to offer enhanced support.
Gloves with a low-profile wrist style provide ease of movement with a full range of motion. Ask your kid about his preference, or get in touch with his baseball coach to get better insight about the right gloves.
Added Features
Look for added features, including an articulated thumb that offers better movement to the thumb.
Moreover, some pairs have a natural curve that reduces the possibility of the fabric bunching under your knuckles. These gloves also come with extra padding for more comfort and better grip.
The choice of batting gloves depends on the player's preference. But with these features in mind, you can pick the best youth baseball batting gloves for the young one.
Final Thoughts
Having the best youth baseball batting gloves is essential to get a better grip over the bat. Moreover, these leather/synthetic sleeves protect the hands from blisters while boosting confidence and enhancing performance.
Read the reviews carefully, and check the buying guide to get an idea of the features you should look for in a pair of baseball batting gloves.