Tired of finding the right softball glove as all that you have tried are loose and uncomfortable? Finding softball gloves for small hands is a task since most brands them in a standard size.
But now, this painstaking task has come to an end, as here are the best softball gloves for small hands. From comfort to a snug fit, you can rest assured that these gloves will improve your gameplay.
Furthermore, I've picked the best-branded gloves that are highly durable and easy to break-in. So stop using that big fat glove, and get rid of adjusting the strap multiple times.
Professional level lace
Bio soft leather:
Left/Right-Hand Orientation
Top 4 Best Softball Gloves for Small Hands
---
1. Mizuno MVP Prime Fastpitch Softball Glove – Best Overall
Mizuno MVP Prime is an amazing fastpitch softball glove you need for improved performance on the field. The rugged glove has a basket web making it great for catching and throwing the softball.
Made using leather, the glove promises durability and comfort. Yes, it takes time to break in this glove, but it is worth the effort. The center pocket design ensures a quick break-in
You can expect a snug fit from this glove if your hand's length is around 12-inches. In addition, the professional lace system enhances the durability and improves the longevity of this softball glove.
The leather feels soft and has a natural softness which improves the overall comfort. I loved the steer soft palm liner, and the glove absorbs the impact quickly before it reaches your hand.
Perfect for infielder, outfielder, and pitcher, this is the most versatile softball glove I've come across. The Velcro closure system is adjustable and lets you achieve a snug fit quickly.
In a nutshell, Mizuno MVP Prime Fastpitch Softball Glove Series is the best glove anyone can own. It looks stylish, offers all-day comfort, and is easy to break-in.
Pros
It has a bigger air pocket
The leather is smooth and comfortable
You get firm control over the softball
Made with highly durable material
Cons
The glove is heavy
The material requires care
---
2. Rawlings Heart of The Hide Fastpitch Softball Glove
Designed for infielders and pitchers, this glove features a basket web, so you can have the batter guessing your next pitch. You get ultimate confidence with Rawlings Heart of The Hide Fastpitch Softball Glove Series on your hand.
Fabricated with cowhide leather, the glove is exceptionally durable, and expect it to last multiple seasons with minimal care.
Ideal for pros as well as high school softball players, the glove offers an excellent fit for people with small hands.
This glove offers a narrow fit and has a leather palm lining for more protection. Furthermore, the padded thumb loops enhance comfort while protecting the fielder's hand from the impact.
The glove comes with a 40% factory break-in, so you have to spend some time with it to break in completely.
Rawlings Heart of The Hide Fastpitch Softball Glove Series features a pull and tie closure system, so don't worry about adjusting the glove several times, as it won't slip off your hand.
The deepest pocket allows more space for your hand to fit, and that's why pitchers prefer using this softball glove.
The leather laces enhance durability while making the glove look stylish.
Overall, this fastpitch softball glove from Rawlings is a fantastic choice for people with small hands. This is a classic leather glove you can wear for seasons to play softball like a PRO.
Pros
Highly durable glove
Padded thumb for better protection and comfort
Ideal for pitchers and infielders
This glove looks stylish, undoubtedly
Cons
A bit expensive
Rest of 60% break-in takes time
---
3. Wilson Aura Fastpitch Glove
Those looking for a reliable softball glove under 100 bucks should consider buying the Wilson Aura. It's a full-leather glove that comes game-ready, so just wear it and head to the field.
Aura A900 is popular amongst pitchers and infielders, thanks to its dual web design. The basket web helps you conceal the softball while leaving the batter guessing your next move.
It doesn't come fully factory break-in, and you have to invest time fitting your hand in the glove. However, the material feels soft, and the glove quickly adapts to the shape of your hand.
Just like other popular Wilson gloves, this one also comes with a Velcro strap system. Wilson Aura has everything to elevate your game.
The unisex glove is perfect for girls and boys and offers a snug fit.
The bigger leather laces help you adjust the glove's size quickly while making enough room for the fingers and thumb to move freely while catching the ball.
The double palm construction on the front side keeps your hand safe from the impact. Furthermore, the glove is versatile and features a deep pocket to help you perform better.
Everything about Wilson A900 is great, from leather construction to low-profile heel, making it a bang for the buck. I wish Wilson had offered it in more color choices than just British Tan.
Pros
The Pedroia fit makes it great for small hands
Full-leather construction
Double palm construction for more protection
Ideal for pros as well as high school players
Cons
It would've been even better with an H-web
The glove is heavy
---
4. Franklin Sports Fastpitch Pro Softball Glove
Franklin Sports has some of the best softball gloves to offer. This 11" glove is suitable for anyone with small hands.
So whether you are a pro player or need a glove for a practice session, this stylish glove should be your choice.
The infield glove is made using a lightweight technical mesh with improved breathability and durability. As a result, your hand won't trench even after playing with this glove for hours.
The soft pocket material is easy to break-in, and you will feel the glove bending when you receive a catch.
This glove has an open-type web, so you can see the ball coming. As the gap between the web is small, it helps you hide the ball as well.
The best thing about this glove is the thick palm padding that improves comfort and protection. Your fingers get enough room to move and bend, and you won't miss any catch with this Franklin Sports softball glove on your hand.
The Velcro strap makes adjusting the size as easy as a breeze, and you can even adjust it quickly while playing.
To sum up, this is the best non-leather softball glove for shorthands.
The glove offers uncompromised comfort with its soft inner lining and is an affordable option for softball players looking for a cheap glove.
Pros
No sweating at all
You can adjust it quickly to get a good fit
Fairly priced
Lightweight and easy to break-in
Cons
Not as durable as leather gloves
Not a great choice for playing tournaments
---
How To Choose the Best Softball Gloves for Small Hands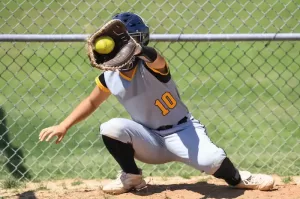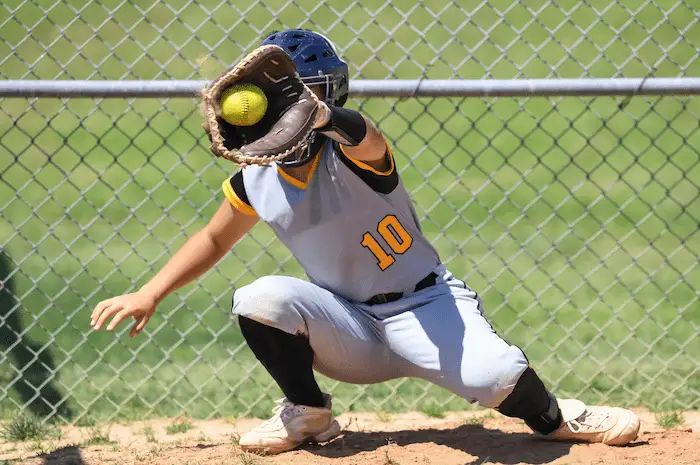 When it comes to buying a softball glove, size isn't the only concern! There are several things to look for, including the material, webbing, type of glove, and more.
Here's every important factor explained in detail to help you make an informed decision.
Slow Pitch Vs Fastpitch
The choice of the glove should depend on the type of player you are. If you are a pitcher or catcher, you need a larger slowpitch glove.
Meanwhile, fastpitch softball gloves are perfect for catching a flyball, and these gloves are designed to withstand wear and tear.
Material
The material impacts the durability, comfort, and longevity of the glove. Typically, softball gloves are made using full-grain leather.
But some manufacturers prefer synthetic leather as well. The common materials include:
Synthetic Leather
Gloves made with synthetic leather are easy to break in and are comfortable as well. Furthermore, they are cheap and lightweight. However, the longevity isn't as good as leather gloves.
Full-grain Hide Leather
If you need gloves for a pro series tournament, I'd recommend using leather softball gloves. The material offers superior performance and is durable as well.
Furthermore, you get better stability with a leather mitt on your hand. The only downside of this material is the tough break-in process.
Go for gloves that come 90% factory break-in.
Cowhide
Ideal for young players, cowhide leather gloves range from medium to heavy in weight. The break-in process is faster than full-grain leather, but the gloves require care and maintenance.
Size
All the best softball gloves reviewed in this article are ideal for small sizes. But how small should the glove be? It depends on the length of your hand.
For proper sizing, use a tape and measure your wrist from the tip of your index finger. This way, you can determine the right size quickly.
Generally, softball gloves for small hands come in a size range of 11 to 12 inches. I've mentioned the size of every glove reviewed above, so you can quickly find out if it will fit you or not.
Web Types
The web type has a significant impact on the glove's performance. The softball gloves come in a range of options with varying web types.
Basket
Common in Wilson gloves, the basket web is great for pitchers. The basket-weave helps them with more flexibility and lets the pitchers conceal the ball from the batter.
H-Web
H-webs are open and are popular among outfielders and infielders. However, this is not a great choice for pitchers, as the ball may be visible from the open H-pattern.
Trapeze
Gloves with trapeze web have shallow pockets and are perfect for outfielders.
Two-piece
The two-piece web has two leather strips laced together to add a layer of support and structure. Pitchers can consider two-piece softball gloves as it helps them hide the ball.
I-web
Ideal for infielders, the I-web gloves have shallow pockets and have an open style for catching the ball with ease.
Hand Orientation
Always choose a glove depending on your hand orientation. Softball gloves aren't versatile, and you cannot wear a right-hand glove on your left hand.
Budget
It would be great to have a budget in mind when looking for the best softball glove for short hands.
These gloves can start from 50 bucks, and the range can go up to $500. Having a budget in mind will prevent you from overspending.
Final Thoughts
Size matters a lot when buying a softball glove! All the gloves that I've covered in this post are perfect for people with small hands. Furthermore, I've listed leather as well as synthetic gloves to help you make a choice.
Make sure to measure your hand before shopping for a glove. Lastly, choose the material wisely, and give your best on the field to help your team conquer the game.