Imagine you just bought a baseball glove for your position to play your next match. But you can't break-in the glove instantly to make it game-ready because you don't have the baseball oil to apply on it. What will you do? Most people will look for the alternatives of baseball oil like mink oil, neatsfoot oil, or olive oil to finish their work. 
But if you don't even have access to these oils but shaving cream, can you use that? This is one of the most asked questions that we've ever got on our e-mail. So today we are going to answer: should you use shaving cream on a baseball glove? If yes, then how to break in a baseball glove with shaving cream?
Should You Use Shaving Cream On Your Baseball Glove?
Well, the first answer is "No". If you care about your glove and its color, then we don't recommend using shaving cream to break in a baseball glove. But if you have to use it to soften your gloves, then there is some way that you can follow to get the best result without getting harmed.
Don't worry, shaving cream is not something like acid on the human body that will immediately ruin your glove. But still, we prefer using the right baseball glove oil to do the break-in process if you can. 
Because shaving cream is actually made to shave your beard and soften skin.
How To Break In a Baseball Glove With Shaving Cream (If you have to)
As we said at first, breaking in a baseball glove with shaving cream is risky but possible if you follow some steps. These steps are not hard to do. Easy but will need some extra time. So how can you break in a baseball glove with shaving cream?
Take the right accessories: A clean soft cloth, some shaving cream, a baseball, a wooden or plastic mallet, some rubbers will be enough to break in the glove.
Put the shaving cream on the cloth:

Don't ever use any chemicals on baseball gloves directly. Not just shaving cream, don't do this with even original baseball glove oil. It will darken your gloves color instantly right after applying.

Rub the cloth on your glove:

Then massage the shaving cream on the glove using a circular motion. Make sure you are covering every part of that glove.

Let it dry for 24 hours:

Let it dry in a dry place where it can get enough airflow. Don't use a heater or don't keep it under the sun because external heat ruins the leather. Don't even use a fan to dry the glove.

Wipe the glove with a clean cloth after 24 hours:

After letting it dry clean the glove with a soft cloth and make sure no excess shaving creams are left on it.

Use a mallet to break the glove: Now it's time to make the glove soften. Use a mallet that can break the glove without doing any harm. Hit the glove until you make sure that the glove is 100% broken.
Shape the pocket:

Now it's the last thing that you have to do to make the glove ready to play. Put a ball inside of the glove and tie it with those rubbers that you took before starting the break-in process.

Let it dry:

Again keep it in a dry place and give it time to reshape by itself. You can keep it for 24 hours but we recommend 48 or 72 hours to get the best results from itself. After that period, your glove should be ready to play.
Best Shaving Cream For Baseball Gloves (Safe option)
Like we said at first, shaving cream isn't a glove-friendly material. That's you just can't use ordinary shaving cream on your baseball gloves. The best practice is to use lanolin-based shaving cream. Example:
Barbasol Original Thick and Rich Cream Men Shaving Cream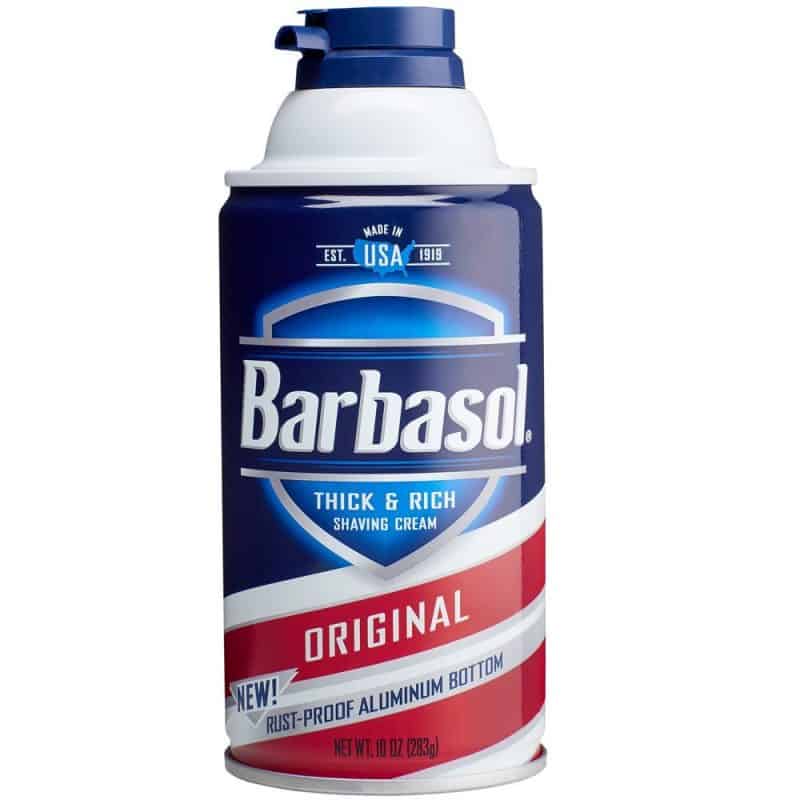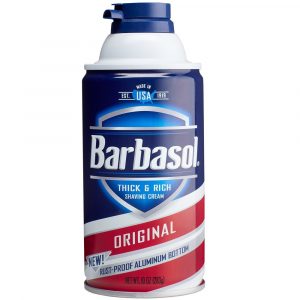 Barbasol shaving cream comes with water and sodium lauryl sulfate that helps your glove to moisturize faster and safely. Using the perfect amount of this shaving cream does not harm your leather and doesn't darken the color either.
Make sure you are applying the cream with the help of a clean cloth to avoid any further color issues. The best part of this shaving cream is it has 20% of propane and Laureth-23 which helps your glove to reshape more comfortably by soaking its stiffness.
We used this shaving cream on one of our sponsored gloves for test purposes and we found no major problem with it. So if you are going to break in your glove with shaving cream then the Barbasol original thick and rich shaving cream will be highly recommended.
Disadvantages Of Using Shaving Cream On Baseball Gloves
So till now, we told you that shaving cream to break in baseball gloves will harm your glove. But we didn't say what damage it would do. Several things can happen if you use shaving cream without following those rules that we said before.
It can ruin the leather and its durability.

It can darken the color of the glove.

It can make the glove slippery.

It can take a longer time to reshape if you don't dry it properly.
Our Thoughts
Shaving cream is made for shaving your beard. There is no logic to use it for breaking your glove. A good baseball glove oil like Hot Glove Treatment is cheap and ideal to use. 
But if you don't have any other options without using shaving cream then use then make sure to use as little as possible. Don't let it dry for the entire 48 hours before reshaping. Remove the excess oil from the glove after the first 24 hours.
That's it. Hope you enjoyed our guide and we wish you a very good baseball journey for the future.