According to the Amature Softball Association of America (ASA), it registered 83,000 youth girls, softball teams, with over 1.2 million girls. But unfortunately, the number of girls baseball players isn't even half of it. So what's the reason behind it? Why do girls play softball instead of baseball? How softball started its journey and who played it first? 
I had an interview with two professional baseball players (men and women both) and I'm going to share with you what I learned from them about this topic.
How Softball Started Its Journey For Men?
Softball is not invented by women and it's not a female version of baseball. It was invented on a windy day in Chicago, 1887. A group of men was waiting for the result of the Harvard Yale football game. They waited for one hour but after that, they turned a glove tied together into a large ball and a broomstick as the bat. At first, people thought it was a way to play baseball indoors.
But when it gained a lot of popularity in the whole country, it was named Softball. Tom Heitz, a former librarian of the National Baseball Hall of Fame Museum, explained that softball was created for men who could not play baseball or did not want to play outside. So as you see, softball is created by men and first played by men.
Why Do Girls Play Softball Instead Of Baseball?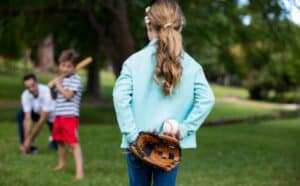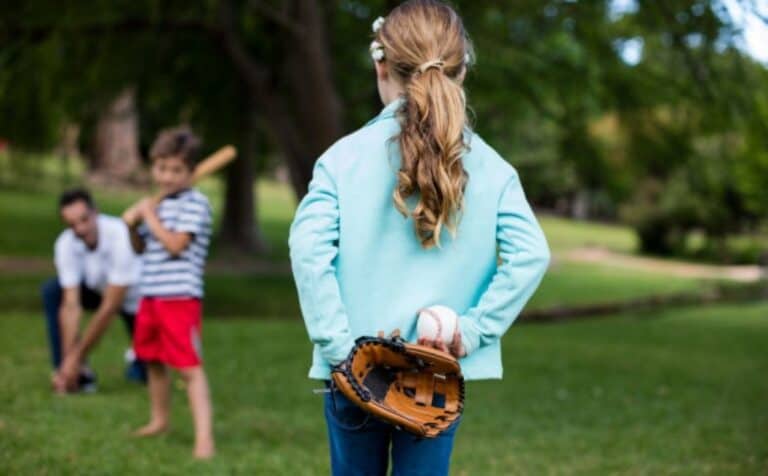 There is no specific answer found anywhere. But most people claim that people who play softball get less injuries than baseball. But the reality is softball is much harder than baseball. Everyone knows that women are not physically the same as men. Some injuries could be more harmful to women which is normal for a man. So they have to play more protective games.
It's not a 100% accepted theory all over the world. But considering physical ability it's the most acceptable one amongst other thousand theories. 
The Benefit of Playing Baseball For Women
There are so many benefits that you can get by playing baseball. Men and women both can enjoy these amazing health benefits. First, it helps you to build your cardio strength. According to American Health Research, playing baseball regularly reduces stroke, diabetics, blood pressure chances by 5%.
It gives strength to the whole body muscle including the heart. As a summer game, you need to play baseball under the sun for a long time. And the beneficial part is, it gives you vitamin D from that sunshine. Playing baseball also helps you to increase mental focus and concentration. It can reduce stress, depression, and mental disease too.
Should Women Play Baseball Like Men?
A big YES for this!! Women should play baseball more like men. As I said softball is much harder than baseball. A girl shouldn't fear injury. Because this is 2021, medical experiences are so updated now. Women's baseball teams are breaking world records every year. If Doris Sams left playing baseball because of the fear of injuries, then she won't get "Player of the year" twice. Eri Yoshida, Ila Borders, Jean Faut made their name through baseball.
Final Thought
For me, there is no shame in playing baseball like men. Fearing injuries, getting tired doesn't suit a woman. Men should encourage their daughters, sisters to play more baseball. Because this world is waiting for the next "Doris Sams!"
Who knows, It could be you!