Baseball gloves are made to last for a long. Sometimes you need to revive your old dirty glove to make it usable. For a professional glove reviving service, a baseball glove expert can charge you more than $100. But you can do that expensive task for free at your home. How?!
By doing that relacing process on your own. It's not as hard as you might think. With the help of a baseball glove repair kit and a simple instruction guide, you can get a professional relacing service at your home.
So the question is how to replace a baseball glove? Well, we've added a detailed video guide at the last of this article. You can skip to there if you want. But this article is not about how to do relacing. We're here to talk about the baseball glove repair kit that you will need for that reviving process.
Here are the 4 best repair kits for emergency moments:
Wilson A2000 Baseball Glove Care Kit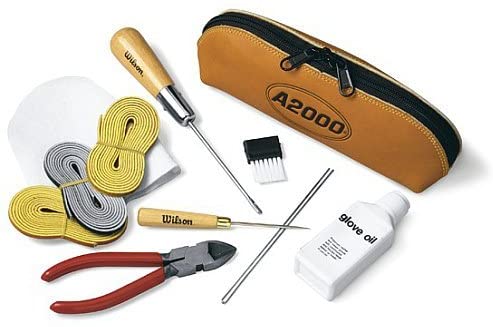 Wilson A2000 baseball glove care kit is like a first-aid kit for baseball gloves. It comes with a protective leather cover to manage the tools. Inside of the leather kit box, it has both black and tan rawhide lace, an awl, cutters, lacing tools, glove oil, brush, and threading needles.
So you see, all you need to take care of your glove comes with this kit. It also has an instruction guide inside of it to teach you how to relace, revive, reshape your gloves.
Markwort Deluxe Pro Relacer Kit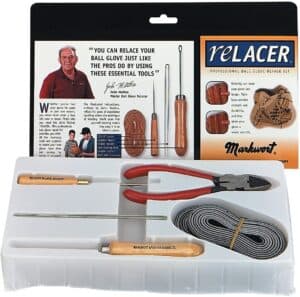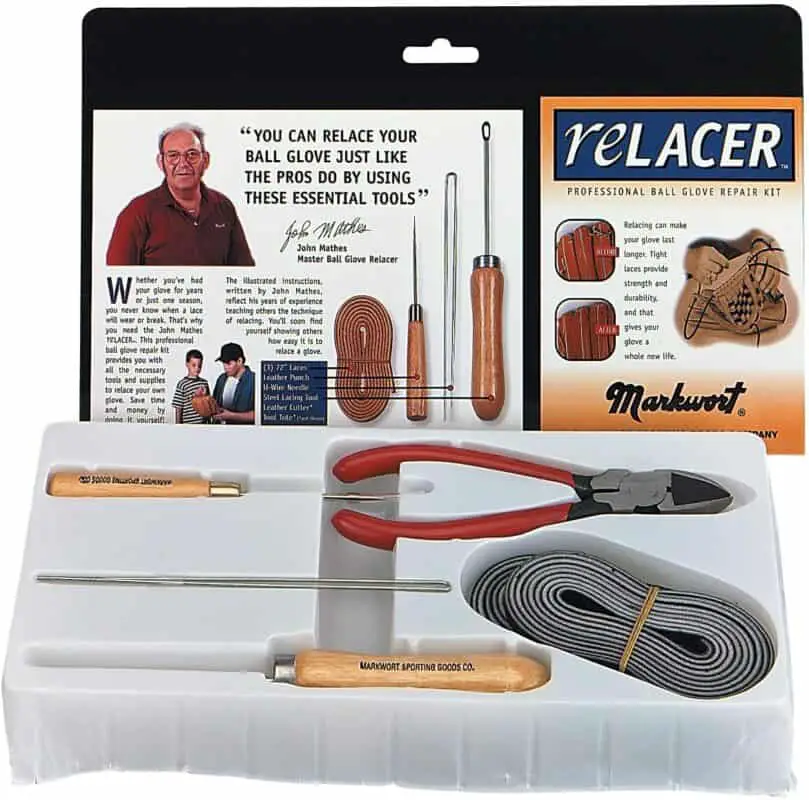 Markwort Deluxe Pro Relacer Kit is the same as the first one. It also comes with 3 72" laces, u-wire needle. Steel lacing tool and leather pouch. Hence it doesn't include any glove oil and brush. Another cons side is it doesn't have any leather cover to protect its tools.
But it has a white hardcover to organize them. Inside the box, you will get a detailed instruction guide written by John Mathes, who is one of the most experienced relacer of California.
Covey Sports Baseball/Softball Black Glove Repair Lacing Kit (Rawlings)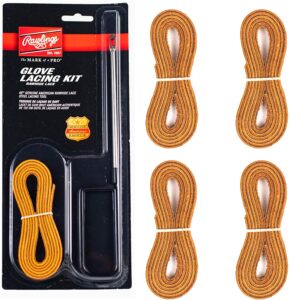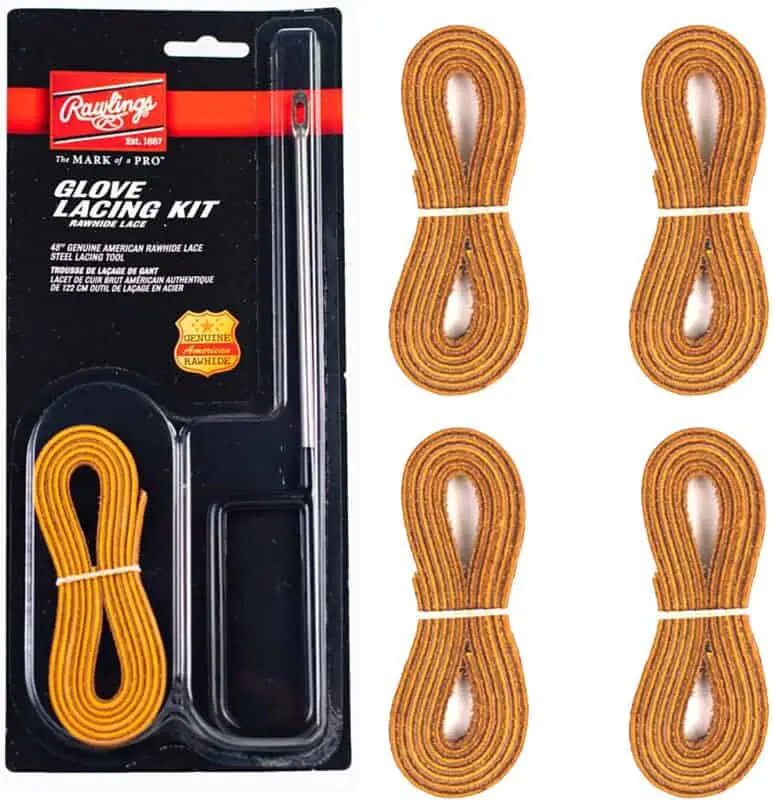 The Covey Sports Glove Repair lacing kit is a product of Rawlings. It's not a total glove repair kit. It's just a lacing kit that comes with only one awl-type steel restringing tool and 48" long x 3/16" wide tan rawhide glove lace.
Plus Covey sports added four 72 inches long and 3/16 inches wide extra leather laces for free. Like others, it also has two color variations (black and tan). Unfortunately, no user guide comes with it. But it's not a huge problem because we've already added a video to teach you how to do that.
Professional Baseball Glove Re-Lacer Kit with Tools and Leather Laces


This one comes with three 72" leather laces, one leather punch, one leather cutter tool, one L-Tote tool, one U-wire steel needle, and steel lacing tools. We expected but unfortunately, there is no protective cover included on it. 
It also has a step-by-step instruction guide that will simplify the process for you. For beginners, we recommend this one as the perfect relacing kit because it comes with everything that you need to relace your glove.
Why You Should Keep A Baseball Glove Repair Kit With You?
A glove repair kit isn't something that you need always. Tearing a glove's laces can happen often. At that time to secure your glove from being wasted, you need to repair your glove. As we told you first, a glove repair service can cost up to $100. But you can do that by yourself for free. A repair kit doesn't cost you more than 30-40 dollars. 
How To Replace A Baseball Glove
Relacing a baseball glove is easy. Using a relace kit you can do that at home. We've attached this video to teach you the process.
Conclusion
Having a relace kit in your baseball bag is like keeping a first aid kit at home. Always take care of your favorite baseball game buddy. Make sure you are oiling your glove at least once a year. It keeps your glove on the way for the best performance possible.