Wilson and Rawlings are two names in the MLB professional scene that you just don't look down on. Rawlings, for instance, currently holds around 57% of the stock in the MLB scene. This means about 57% of the professional players wear Rawlings.
While Wilson holds only 27% stock, it is still the next best option out there. But frankly, I don't put much stake in the statistics. To me, what feels good and fits better in my hands, is more important.
So which brand is better? Do you go with Rawlings, who is currently dominating the pro scene? Or is Wilson better? They are a close second here, after all.
Wilson A2000 Baseball Glove vs Rawlings PRO Preferred Baseball Glove
If you want to go big in the game, then you should settle for nothing but the best. That's precisely what you will get whether you go with the Wilson A2000 or the Rawlings Pro Preferred. Now, naturally, being the flagship model of both brands, these gloves are pricey.
The Wilson A2000 will set you back around 300 dollars, while the Pro Preferred costs even more. Before I go into details about the two gloves, let me give you a chart for a quick overview.
| | | |
| --- | --- | --- |
| Name | Wilson A2000 | Rawlings Pro Preferred |
| Age Group | 13 to adult | 13 to adult |
| Size Options  | 11" to 34" | 11.5" to 34" |
| Player Position | All Positions | All Positions |
| Material | Sky Blue Pro Stock Leather | Full-Grain Kip Leather |
| Fitting | Traditional | Traditional |
| Break-in | 20% Factory, 80% Player | 30% Factory, 70% Player |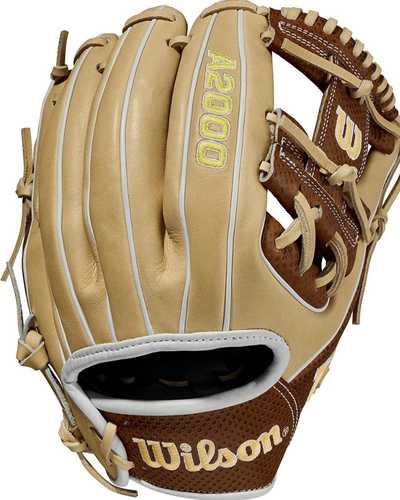 The Difference in Key Features
Glove Material and Construction
Truth be told, the most important part of the gloves, apart from their fitting, is how it is made and the material used to make them. So that's what I will start with when comparing the two top-tier baseball gloves. Now, since both Wilson A2000 and Rawlings Pro Preferred are considered premium baseball gloves, the quality is pretty good on both ends.
The Wilson A2000, for a start, features a Sky Blue Pro Stock Leather construction giving it a rugged yet comfortable texture. Thanks to the ProLux Leather liner in the A2000, the glove feels soft against your skin. And the Comfort Sleeve that they added in the revised versions allows for more comfort for the player.
Both the infield and outfield versions of the A2000 glove come with a dimpled pattern in the leather at the palm and web area. This reduces the spin rate of the ball, allowing you to catch it more easily as it travels. Other than that, the Bold Logos on the gloves gives it a nice look.
As for the Rawlings Pro Preferred, the manufacturers went with Full-Grain Kip Leather to give the gloves a feel and look to die for. To retain the glove's shape, it comes with thick wool padding on the inside, which also improves the overall feel of the gloves.
Pittards Sheepskin Palm Lining also wicks moisture from your hand, keeping it dry and comfy all the time. The glove also features Pro-Grade leather laces and padding on the thumb sleeve to improve the overall performance and protection that it offers to the player.
Age Group and Size Options
Wilson A2000 is only available for youth or adults. Because of its larger size, a youth player of 10 years old or younger will not have an easy time handling it. So, if you are getting this as a gift for your kid who is just getting into baseball, you need to take his age into consideration.
The Rawlings Pro Preferred, on a similar note, is suitable for players of the same age groups. With size options ranging from 11.5 to 34 inches, the Rawlings Pro Preferred is designed perfectly to fit the hands of most youth and adult players who want to get into the game seriously.
So, this should not be a major factor in your decision to go with either brand. It ultimately comes down to how much you are willing to spend on your new baseball glove and which construction material you prefer between the two options.
Break-in Period
Both Wilson A2000 and Rawlings Pro Preferred come slightly broken in from the factory. But you still need to do most of the work. In my experience, the A2000 takes a lot longer to break in compared to a Pro Preferred.
The Rawlings Pro Preferred takes only a couple of days of playing catch to break in properly. On the other hand, with the Wilson A2000, you need to use a baseball mallet if you want to break it in quickly for an upcoming game.
Price
Since both of these gloves are considered high-end, pro-level baseball gear, they are pricey. But with the Wilson A2000, you will be saving around 70 to 80 bucks. The good news for Rawlings lovers, though, is that the Pro Preferred goes on sale quite frequently, and its price comes down to the same level as the A2000.
So, if you are patient, you can get a pretty good deal on a brand-new Pro Preferred baseball glove. The price of the A2000 glove also goes down, so it's worth keeping an eye on it, too, if you want to go for a more affordable option that gives you a professional level of performance.
WILSON 2022 A1000 Baseball Glove vs Rawlings Player Preferred Baseball Glove (Best on a Budget)
While both the Wilson A2000 and Rawlings Pro Preferred are amazing gloves, they are pretty expensive. And going for an expensive, high-end baseball glove for a casual player or a beginner is not exactly the brightest idea. If you are just starting out, I would recommend going with something a bit more affordable.
That's where the Wilson A1000 and Rawlings Player Preferred come in. Both of these gloves are budget versions of the ones that I talked about just now. And though they cost almost a fraction of what their more expensive counterparts go by, they feature a lot of the same build quality and performance.
Let me give you a quick overview of their general specs.
Wilson vs Rawlings Budget Baseball Glove Overview
| | | |
| --- | --- | --- |
| Name | Wilson A1000 | Rawlings Player Preferred |
| Age Group | 10 to 14 | 12 to adult |
| Size Options  | 11.5" to 33" | 12" to 33" |
| Player Position | All Positions | All Positions |
| Material | Full-Grain Leather | Full-Grain Leather |
| Fitting | Pedroia | Traditional |
| Break-in | 50% Factory, 50% Player | 80% Factory, 20% Player |
| Price | Around $150 | Around $80 |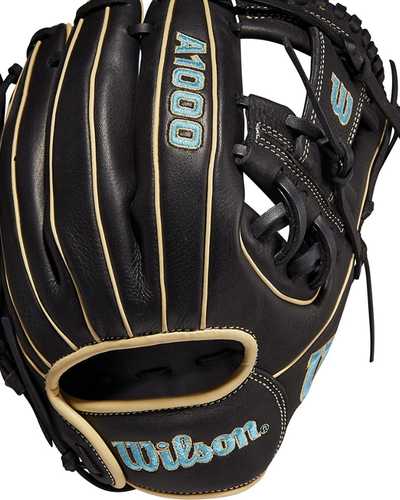 The Differences in Key Features:
Glove Material and Construction
Though both the Wilson A1000 and Rawlings Player Preferred are considered budget gloves, I quite admire the quality that they bring. This really goes to show you how far technology has come. The materials used in these gloves can easily compete in the big leagues in the right hands.
That being said, both the A1000 and Player Preferred feature a Full-Grain Leather construction. But that's about where the similarity ends. For the rest of the parts, the two brands decided to go their own separate ways.
The Wilson A1000, for instance, boasts a Pedroia Fit technology which, in layman's terms, means that the pinky and thumb in the glove are closer together. This design allows the glove to retain its shape better and feel more comfortable in the hands of younger players with smaller hands.
You will also find a similar Spin-Control Technology in the A1000 that is a major highlight of their more expensive A2000 glove. The DriLex Wrist Lining in the glove makes it extremely comfortable for the player, and its Thin Heel Pad design allows for quicker break-in.
On the other hand, Player Preferred uses the traditional fitting that is the norm with most baseball gloves. The glove also features Pro H Webbing, which is great for both infielders and outfielders, along with Zero-Shock Palm Padding to offer increased protection against impact.
In addition, the glove comes with an adjustable wrist wrap for a comfortable fit and comes about 80 percent broken in when you buy it.
Age Group and Size Options
The Wilson A1000 is designed for youth players who do not want to spend a lot on their new baseball gear. The size of their gloves ranges from 11.5 inches all the way up to 33 inches. So that's a pretty well-rounded range for players aged over ten years.
In the case of the Rawlings Player Preferred, the smallest gloves they have on offer are 12 inches which are about half an inch longer than the Wilson A1000. It might not seem much on paper, but in practice, it makes it so that players under 12 years of age have a harder time handling them.
Of course, if you have a larger hand, this extra length might not be too much of a factor here. But make sure you refer to the fitment chart and test out the glove as much as you can before you go with one brand over the other.
Break-in Period
The good thing about budget baseball gloves is that they are designed for user experience. Don't get me wrong – I enjoy breaking in a fresh new baseball glove, but when you look at it from the perspective of a casual player, they usually want to get to playing as soon as possible.
Both Wilson A1000 and Rawlings Player Preferred feature a minimal break-in time to help you get to the field the moment you get it. They both come broken into a decent extent from the factory. In my experience, though, the Rawlings Player Preferred breaks in a lot faster than the A1000.
Price
While the Wilson A2000 was a better choice than the Rawlings Pro Preferred strictly from a price standpoint, it turns out Rawlings makes the more affordable glove in the budget range.
The Player Preferred costs around 80 bucks, which is almost half of what you would have to pay to get a new Wilson A1000 baseball glove. With a budget of 150 Dollars, the A1000 asks for a pretty significant investment from the player.
What Glove is Better: Wilson or Rawlings?
As you can see, it really isn't a question of which brand is better, but rather which brand better suits your needs. Both Wilson and Rawlings have a lot to offer, and while they differ in many design choices, there is one thing they both have in common. And that is quality.
The quality of both the A1000 and the Player Preferred, despite being in the affordable range, is surprisingly good. So, it makes it very difficult for me to suggest one over the other. But since Player Preferred is a bit cheaper, it might seem more appealing if you are on a tight budget.
On the top-tier side of things, I prefer Wilson A2000. But then again, I have always had a soft spot for this one since it was my first real pro-level glove. The Rawlings Pro Preferred is every bit as good and, in some cases, even better. So, you can go with whichever one better fits your budget.
If you ask me, though, I would always suggest going with a cheaper option first. That is, of course, assuming you are a beginner who just wants to try out baseball. Then if you want to get more serious with the sport, you can switch to something more befitting your station.
I hope my detailed comparison between the two giant brands, Wilson and Rawlings, could help you understand the things that they have to offer. You should now have a much easier time picking out a glove from either brand. Good luck!