With so many different brands with nearly an endless supply of new gloves out there, it is very easy to lose track of your specific needs. And since a baseball glove is a pretty expensive investment, losing sight of your priorities is never ideal.
And more money doesn't mean better quality. That's why I can't sit back when I can help make things easier. I've tried a lot of gloves out during my career. So, that puts me in a good spot to offer some insight into what different brands offer.
Here, though, I will talk about two specific brands that hold a special place in my heart – Rawlings (I still use my old Pro Preferred) and Nokona. Yes, there are other brands out there, but instead of putting everything in one place, I'll save them for later.
And if you want to see how this one-on-one between the two most expensive baseball gloves ends, keep reading.
For now, let's take a trip through the two brands and see what things they do differently. And by the end, hopefully, you will be able to figure out which brand will be the better one to go with for your new baseball glove.
Rawlings PRO Preferred Baseball Glove Vs Nokona Handcrafted Alpha Baseball Glove (Head-to-Head Comparison)
Now I know that a single glove from each brand doesn't do a brand much justice, but considering how many options each brand has to offer, I don't really have much of an option. So, I decided to go with the Pro Preferred for Rawlings and the Alpha from Nokona as they are priced in the same range.
Keep in mind, though – there are plenty of other gloves available in each of the brand's catalogs, so I will recommend shuffling through them to see if you like any. Between these two brands, Rawlings is the more cost-effective option, though, as most of Nokona's gloves are pretty expensive.
So, before I go deeper into the details of these two gloves, let me give you a quick chart to highlight some of the key differences between them.
Rawlings vs Nokona Baseball Gloves Overview
| | | |
| --- | --- | --- |
| Name | Rawlings Pro Preferred | Nokona Alpha |
| Age Group | 13 to adult | 6 to adult |
| Size Options  | 11.5" to 34" | 9" to 32.5" |
| Player Position | All Positions | All Positions |
| Material | Full-Grain Kip Leather | AmericanKIP™ and SuperSoft™ |
| Fitting | Traditional | Traditional |
| Break-in | 30% Factory, 70% Player | Game-ready, virtually no break-in required |
| Price | Around $380 | Around $400 |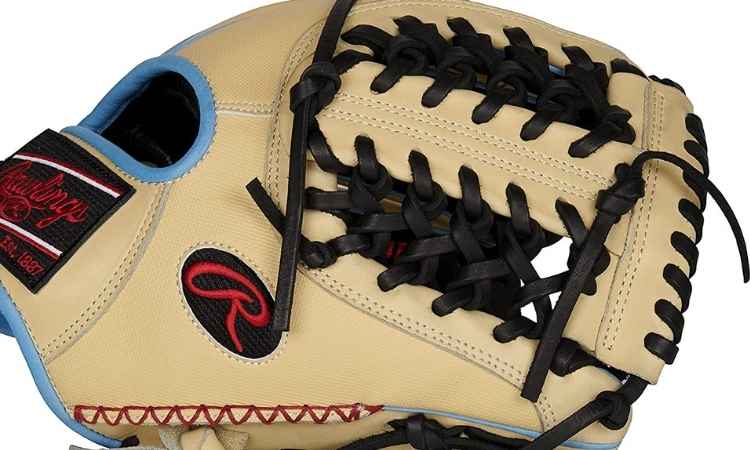 The Differences in Key Features:
Now that you have looked at a quick comparison of the features let me break it down, so you get a clearer picture of what each brand has to offer.
Glove Material and Construction
As always, the highest priority for me when I am buying a new baseball glove is its material and construction quality. Since both Nokona and Rawlings are premium glove manufacturers, you don't have to worry about anything going with either brand. But there are a few differences among them worth knowing about.
The Rawlings Pro Preferred comes with a Full-Grain Kip Leather construction giving it an exceptional look and feel. Kip leather is the best kind of leather out there, and Rawlings was not trying to cut any corners here in terms of material quality.
In addition, the Pro Preferred glove comes with thick wool padding on the inside along with a Pittards Sheepskin Palm Lining. What that does is it makes the glove extremely comfy for the user, wicks moisture if you have sweaty hands, and also makes sure that the glove retains its shape after months of use.
The glove also comes with Pro-Grade leather laces along with an extra layer of padding on the thumb sleeve to enhance the overall feel and performance of the glove. With the mitt version, you will get a bit more protection, naturally. But the design is pretty much the same.
With the Nokona Alpha, the manufacturers decided to go with a blend of American Kip Leather and their own SuperSoft, which is a special type of treated Steerhide leather. The combination of materials makes the glove extremely durable yet soft, lightweight, and comfy.
Now, the Rawlings Pro Preferred is already a pretty lightweight glove weighing in at only 660 grams. But the Nokona Alpha is even lighter, with a weight of only 640 grams. I think it's safe to say that wearing this glove feels like not wearing one at all.
In addition to being lightweight, the glove also feels extremely comfortable thanks to the inner padding. Since it is a position-specific glove, like the Pro Preferred, there are some variations between each model. But all of them come with some level of padding to offer protection to the player against impact.
The mitt version of the glove gets the most protection naturally. But the infield and outfield gloves variants are also good at creating a basic layer of safety for the player. The Nokona Alpha also comes with a Velcro back that allows you to quickly put it on or take it off without any fumbling.
Age Group and Size
The Rawlings Pro Preferred is an extremely popular choice among both teenagers and adult players, at least those who want to take their skills to the big leagues. Its size options range from 11.5 inches for infield baseball gloves to up to 34 inches when you are going with a catcher's mitt.
This is a pretty standard size range giving you plenty of options to find the perfect fit for your hands. And it also opens up this glove for a lot of different age groups. However, under 12 players might have a hard time finding a good fit unless they have a larger hand than average.
The Nokona Alpha, on the other hand, gives you a bit more flexibility. While they mostly cater to adults or teenage players, they have two distinct models with smaller sizes that are perfect for youth players. The Alpha S-50 9" Closed Web Youth Infield/Outfield baseball glove, for instance, is the perfect choice for young players with smaller hands.
Now, the Pro Preferred by Rawlings is a pretty versatile glove offering you plenty of size options. But if you ask me, Nokona takes things one step further with their Alpha Baseball Glove series. And their smaller gloves are cheaper, too, which doesn't hurt either.
Break-in Period
One of the best parts of the Rawlings Pro Preferred is its relatively low break-in time. It comes about 30 percent broken in from the factory. The rest of the 70% is entirely in your hands. So that gives you a bit of control over how you want the glove to feel in your hands.
I know how a lot of players hate having to break in their baseball gloves. Personally, I don't mind it much, though. I enjoy the feel of breaking in a new baseball glove and how it eventually fits exactly how I want it to fit. But many players would rather have a glove that they can play with the moment they get it.
Well, with the Nokona Alpha, that's precisely what you will be getting. This baseball glove requires absolutely no break-in. This means when you unwrap it and put it on, it should feel soft, light, and perfectly comfortable in your hands – as long as you are getting the right size, that is.
Durability
Just because a baseball glove is comfortable doesn't mean it is worth buying. If the glove cannot survive the test of time, it's not worth much, in my opinion. For me, if a baseball glove can't survive past one whole season, there is no point in getting it in the first place.
Thankfully, both Rawlings Pro Preferred and Nokona Alpha are beasts when it comes to build quality. I mean, I already talked about how well-made they are when I was talking about the glove material and construction before. If you take good care of your gloves, both of these options will last you two or three seasons easily.
Price
Baseball gloves can get pretty expensive. And since both Nokona and Rawlings are known to manufacture top-tier baseball gloves, you would often have to pay a hefty price for both of them.
Nokona, for instance, deals almost exclusively with high-end, top-of-the-line gloves. Naturally, from a price standpoint, these are not the best choices out there. Then again, if you don't mind the cost, then their baseball gloves will be the best investment you can make for your career.
Rawlings baseball gloves are expensive too, but the good news here is that they also make a lot of budget-friendly gloves. The Rawlings Player Preferred, for example, is an extremely cost-effective option for new players. I have already talked about this glove in another article where I compared them with Wilson.
Is Nokona better than Rawlings?
I firmly believe that every glove, at least the ones worth writing about, has its place in the world. So, I would never recommend one brand over another, especially when it comes to two giants in the industry like Nokona and Rawlings.
As a matter of fact, Rawlings has most of the market shares in the pro scene these days, and they also proudly hold the title of the "Official Glove of Major League Baseball." Around 59% of the professional players in MLB use Rawlings baseball gloves.
So, I wouldn't say that Nokona is exactly better than Rawlings. But it's not far behind, either. Compared to Rawlings, Nokona is a lot more expensive. However, their gloves do come with some excellent design features that make them unique and worth investing in.
For example, most of the gloves that Nokona makes require virtually zero breaking-in. This means the glove will be game-ready the moment you unwrap it. In addition, they mostly use American Kip and SuperSoft Steerhide leather for their gloves which make them extremely comfortable and lightweight.
So, to answer the question – Nokona is not better than Rawlings, and Rawlings is not better than Nokona. Both brands have something unique to offer, and both of them are worth getting depending on what you prefer.
I hope my extensive look into the quality of Nokona and Rawlings could help you draw a clear line of distinction between the two brands. Cheers!