When it comes to affordable and efficient pitching machines to train young hitters, the Louisville Slugger UPM45 Blue Flame might be the most popular choice. It is a manual pitching machine and has just enough power to train youths who are still learning the ropes.
I, myself, used one extensively in the past when I was starting out. And now in my career as a little league coach, I constantly come back to this machine whenever I need to start the training of a certain player from scratch.
Despite my fantastic experience, a lot of people still seemed to find things to complain about with this pitching machine. But I believe most of the issues that one faces come from poor setup, improper calibration, and a lack of knowledge. And that is exactly what I will try to tackle now.
I will give you a complete guideline on how to set up a Blue Flame pitching machine and enjoy everything that this pitching machine has to offer.
How Do You Set Up a Blue Flame Pitching Machine?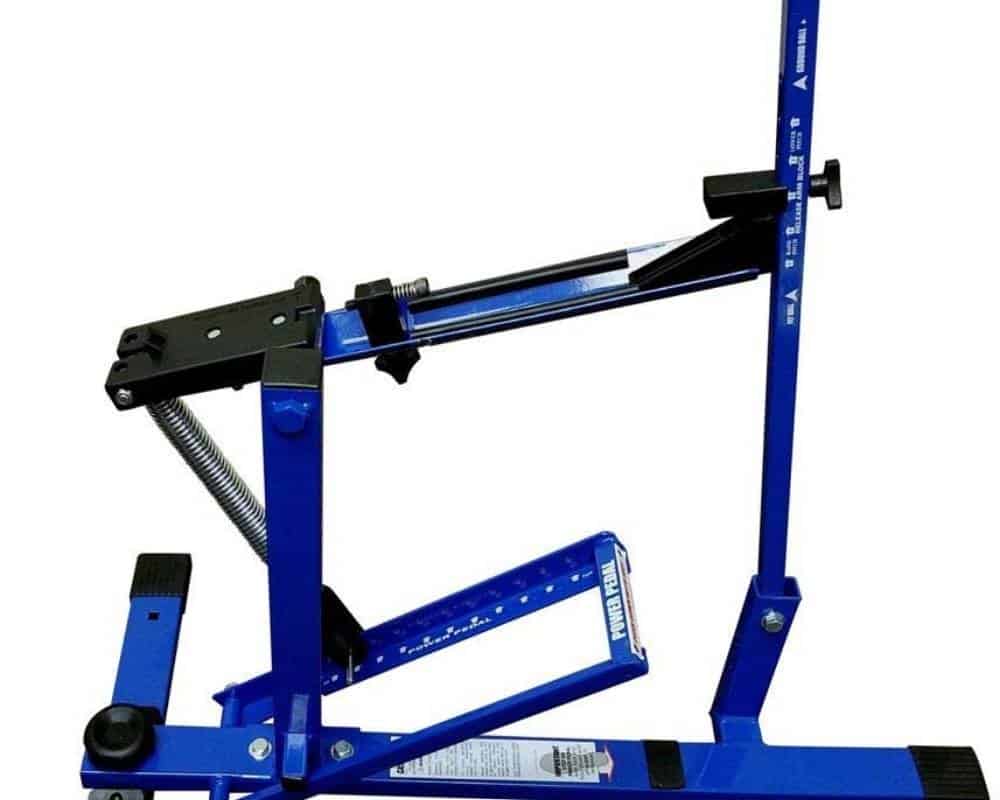 When you first get your hands on your Blue Flame pitching machine, it will come disassembled inside a box. So, before you can start practicing with it, you need to assemble all the pieces. And you really should be careful during this process as the overall performance and stability of the pitching machine mostly depend on it.
You should also get an instruction manual on how to assemble all the pieces. When I first got one, I was pretty intimidated because of all the small parts that came with it. The instruction manual contains diagrams to help you understand where everything goes so following it is extremely easy.
If you are still struggling with assembly, I will try to make things easier by walking you through every step. Make sure you have a wrench and a Phillips head screwdriver.
Also, do a double-check of the pieces before you start. You should have around five major pieces along with a few small ones. The bolts should already be in place that you have to undo and redo while assembling it.
Step – 1
The first part of the assembly starts with the front leg. Remove the large knob located in the middle of the Front Leg and align it to the base assembly. Then simply reattach the knob and tighten it as needed.
Step – 2
For the second step, take the throwing arm assembly and remove all the nuts, washers, and bolts from it using your wrench. Set it up to the base assembly and reattach the bolts and washers. After tightening it properly, reinstall the nuts and tighten them.
Step – 3
From the other part of the base assembly, remove the nuts bolts, and washers using a wrench. Now you have to attach the release handle inside the U channel. Make sure you do not overtighten the nuts and bolts when attaching and only tighten as much as needed to hold the release handle securely.
Attach the top shield to the top of the release handle by removing and reattaching the nuts and bolts from the release handle.
Step – 4
Then you can attach the release arm block and micro-adjustment mechanism to the numbered slot of the base assembly. You can refer to the chart found on the top shield to help you decide where you want to place it.
Step – 5
Now you can add the optional spike to the front leg assembly for better stability while pitching. Then finally, install the spring to the numbered hole on the power pedal according to the speed you want. Again, you can find a reference to the speed on the top shield.
A Brief Overview of Blue Flame
Before getting to the actual setup, let me give you a quick rundown of the different features of the Blue Flame. Having used it extensively both in the past and the present, I have gathered a pretty thorough idea of everything that the machine has to offer.
Here are some of the features you will find on your Blue Flame UPM 45:
One of the best baseball little league pitching machine thanks to its affordable price, lightweight design, and ability to work with any type of ball. Not only does it work well for baseball, but it can also pitch softballs if that is what you need.
Entry-level pitching speed, ranging from 18 to 45 miles per hour. The pitching velocity is easy to adjust using speed controls located on the panel. With plastic or light balls, I could get the velocity up to 60 miles per hour which is excellent when you are trying to push the limits of your players.
Completely manual design requiring no batteries or electrical connection
Accurate and on-point pitch. It can get 12 inches arc when throwing softballs.
Can throw flyballs accurately and ground balls with some decent force to help you train fielders.
Lightweight yet sturdy frame with a very strong base. So you will notice little to no movement on the machine when using it after setting it up.
Easy to set up on your own thanks to its measly weight of only 25 pounds.
As you can see, for a sub 200 dollars baseball pitching machine, the Blue Flame comes with some pretty excellent features. The ability to throw both grounds and fly balls is always handy when you are planning to train your fielders as well as your pitchers.
The only real downside to this pitching machine is that someone needs to operate it at all times. However, since I like to communicate with my batters and fielders in between pitches, this was not a big issue for me. And though its speed is just about right to train youngsters; after a couple of years, they will grow out of it.
But when you consider the price of the Blue Flame and compare it to something like the Hack Attack, then it does not seem like a bad option at all, despite its minor flaws here and there. As a starter pitching machine to train newbies, this one is a clear winner.
How Accurate is the Blue Flame Ultimate Pitching Machine?
The thing I love about the Blue Flame is that its pitching accuracy despite being such an affordable model is pretty consistent. Sure, it will not hit the exact same spot each time. But that is true for any other pitching machine that tries to simulate real-time pitches.
However, each pitch from this machine will be in the general area of the strike zone once you set it up and get it calibrated. Because of this, you will get a feeling of playing against a real pitcher when you are up against this pitching machine. Sometimes the ball will go higher, sometimes lower.
How Fast Does the Blue Flame Pitching Machine Pitch?
The pitching speed of the UPM 45 Blue flame is not exactly groundbreaking. It is decent, but when you compare it to a high-end option or even a moderately-priced machine like the JUGS BP1, it starts to show its downsides. Still, for an entry-level pitching machine aimed at little leaguers, its pitching speed is not half-bad.
The pitching machine can handle standard pitching machine softballs and baseballs and can pitch them as slowly as 19 miles per hour and as fast as 45 miles per hour. However, if you are using lightweight balls, you can get a speed of up to 60 miles per hour which is excellent when you are training reflexes and depth perception of your hitters.
Another good thing about the unit is it is rated for about 20,000 pitches. So, it will last you quite a while before showing any signs of wearing. And once the spring gets damaged or worn, you can simply replace it and your pitching machine will be as good as new.
Final Words of Wisdom
While it may not be the high-end pitching machine out there, that spot is reserved for more expensive models, the Blue Flame is definitely a great pickup if you are on the market for a reliable and affordable pitching machine. If you are working with young players, then this would be one of the best investments you ever made.
Its reliable pitching accuracy and consistent speed will help your players get into the rhythm of swinging perfectly. You will also be able to monitor their batting techniques and also train your fielders since you will be able to call out to them before you cock it up for another pitch.
If you want something with a bit more speed and expandability, you can check out the UPM50 Black Flame by Louisville Slugger. I did an extensive review of this model.
With that said, the Blue Flame pitching machine is an excellent machine that won't put a gaping hole in your wallet. Plus, I've already discussed how to set up the Blue Flame pitching machine and use it to maximize your drilling techniques – now, you can get the most out of it. Cheers!