Just because a softball bat has a DeMarini tag doesn't mean that it's one the best. Yes, it does add credibility to the bat. But I've seen a handful of DeMarini softball bats with terrible pop, bad handles, small sweet spots, and garbage durability. Okay – maybe I'm being a bit too harsh.
On the contrary, most DeMarini bats are simply amazing. They're at the top of the game. Let's take Prism+ and CF, for instance. These are some of the best softball bats I've ever come across.
You're probably wondering which one is better the DeMarini Prism+ vs. DeMarini CF softball bat. Well, there is no easy answer to it as both bats are unique in their own way. That's why it's difficult to gauge the differences between both bats.
Still, I believe I can help you choose between one of them. If not, I can help you understand the key differences, making it easier for you to know what you want. So, if you want to know what the bats have in stock for you, by all means, keep reading.
Specifications
These are the general features that you'll find in both Prism+ and CF. While this generic overview does not give you the complete picture, it does give you some helpful pointers. So, do check the chart out.
| | | |
| --- | --- | --- |
| General Specs | DeMarini Prism+ | DeMarini CF |
| Bat Length | 28" to 34" | 30", 34" |
| Barrel Diameter | 2-1/4" | 2-1/4" |
| Barrel Material | Composite | Composite |
| Bat Drop | -10, -11 | -11, -10, -9, -8 |
| Certification | USSA, NSA, ISA, ASA, ISF | USSSA, ASA, NSA, ISA, & WBSC |
| Color | Silver & Black | Black/Purple/White |
The differences in Key Features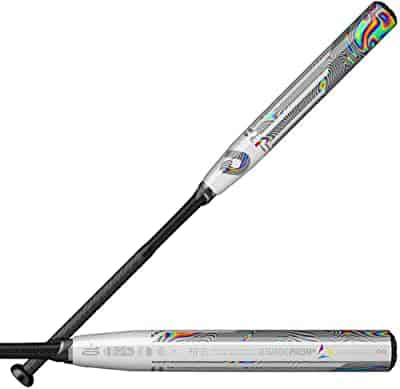 I've broken down every single feature of the bats below. So, if you want to know how much the bats are capable of, then make sure to take a close look
· Bat Construction
As you can see from the chart, the DeMarini Prism+ comes in a range of heights starting from 28″ and all the way up to 34″. The same goes for the 2022 CF fastpitch bat. However, it's a little limited, and you only get to choose among 30″ to 34″ bats.
Nevertheless, both bats have a barrel diameter of 2-1/4″, which is approved by almost all the softball league governing bodies. Next comes the weight drop of softball bats, and as you can probably tell, Prism+ comes with two options -10 and -11. CF, on the other hand, has -8, -9, -10, and -11 models; however, we are just going to talk about the -10 bat here.
Prism+ and CF are also made up of different materials. The former uses aluminum composite as its primary material, and the latter features Paraflex plus composite for the barrel and the handle.
· Barrel Design
We are coming to the most important part of a softball bat— the barrel. Prism+ and CF both feature unique barrel designs. The former comes with Doublewall Gapped Barrel Technology, meaning it has an inner and an outer wall. The barrel walls are made up of aluminum composite, which allows the bat to create an incredible sound while maintaining its durability for an extended period of time.
On the other hand, CF also features two walls made up of Paraflex plus composite. The particular build enables the bat to perform constantly. It also ensures an even weight distribution across the bat, which boosts its overall performance.
The Prism+ softball bat is built with longer composite strands, don't know what it means? Let me explain! What the feature does is it improves the performance of the bat by adding weight across the barrel.
While trying out the bats, I concluded that despite having a marvelous construction, it's tough to break into Prism+. However, the situation is the complete opposite when it comes to CF. The bat is relatively easy to break in, and it was pretty much hot right out of the box.
According to my experience, CF has much more pop and power than Prism+. So, if your kid lacks power, I believe the former is a better choice, but if he/she wants an overall boost in balance, then the latter is the one you should go with.
· One-Piece Vs. Two-Piece
Both bats are quite different in terms of design as Prism+ features one-piece construction, but CF comes with a half and half two-piece build. So, you are probably wondering what are one-piece and two-piece softball bats? I can't explain the entire thing here, but I'll give you a brief.
A one-piece softball bat means the item comes with one solid piece of construction. In the case of two-piece bats, the handle and the barrel are created separately and later on combined to produce a complete piece.
Usually, a one-piece bat has more power than a two-piece bat. The power usually depends on the barrel design. As Prism+ has a one-piece construction, you can expect to land some pretty strong shots with it.
Two-piece bats, on the other hand, have better flex, which reduces the amount of vibration produced while you're taking a shot. A one-piece bat tends to vibrate more but not to the extent that it will cause you any trouble.
As a two-piece bat has more flex, they are bound to be more durable than one-piece softball bats. However, it would be wrong if I said, Prism+ isn't durable because, in my experience, the bat can withstand quite a beating.
If you think one design is better than the other, then you're mistaken. The best softball bats come in both one-piece/two-piece constructions.
· Endcap and Grip
When it comes to overall balance, I have to give the point to Prism+. It comes with a Type V Connection and Refracts End Cap that increases the responsiveness of the bat while providing you a feeling that you never had before.
The features also help you generate a maximum amount of speed when taking shots. The balance you'll have will be unmatchable. The DeMarini CF also offers a Type V connection, but it has Tracer End Cap. The features help the bat to reduce the amount of vibration produced. Moreover, it sends the energy towards the barrel area for maximum power.
Features
| | |
| --- | --- |
| DeMarini Prism+ | DeMarini 2022 CF |
| Doublewall Gapped Barrel Technology | Paraflex Plus Composite Barrel |
| Continuous Fiber Composite Barrel | Half and Half two-piece design |
| ReFract End Cap | Tracer End Cap |
DeMarini FP Prism+
---
DeMarini 2022 CF
---
When All is Said and Done
The debate of which one is better between the DeMarini Prism+ Vs. DeMarini 2022 CF is surely a tough one. It is quite impossible to decide which bat beats the other.
I have made four of my students use the bats— two of them preferred Prism+, and the other two went for Demarini 2022 CF. Their answers made me realize that there is no better or worse between the bats.
Both bats are simply outstanding. But I think power-hitters would love getting their hands on the 2022 CF. And contact hitters are going to fare well with the Prism+. That doesn't mean you can't use Prism+ for contact hitting and vice versa.
At the end of the day, it does come down to your playstyle and preferences. I lean a bit towards the 2022 CF because I want any boost I can get for power-hitting. That's about it. Hope you got a few nuggets from this article. Cheers!