The choice between a composite barrel and an alloy softball bat is often up for debate. While most people consider composite to be the better type, there are some who consider alloy softball bats to be the better choice. I have met and talked it over with both groups of people, and personally, I disagree with both of them.
I believe that if you want to know which one is better, you need to know properly about both of these bat types. And typically, those who lean towards a particular variant do so without gathering all the data. The truth is, there is no clear winner in this comparison.
Sure, composite bats are great for professional players, but alloy softball bats are more popular in high school youth softball games. And composite bats cost much higher than alloy bats, but they also can hit the ball further. Needless to say, both bat types have their own share of strengths and weaknesses.
I will give you a thorough comparison between composite vs alloy softball bats, discussing their advantages and disadvantages so that you can understand which one is better suited for you.
Quick Overview Of Composite vs Alloy Softball Bat Debate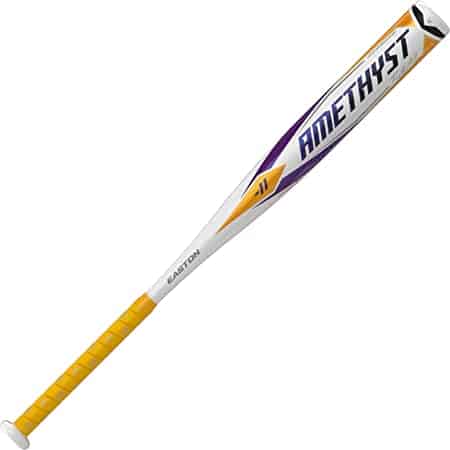 I have a detailed section below outlining the strengths and weaknesses of both alloy and composite bats. However, for those who are short on time, I've also crafted this handy little chart here. While it's not comprehensive (it's a chart, after all), it'll still give you a decent idea of both bat types.
| | | |
| --- | --- | --- |
| Features | Composite Bats | Alloy Bats |
| Material | Carbon-fiber based materials | Aluminum + other metals |
| Price | Expensive | Budget-friendly |
| Pop | Excellent | Decent |
| Sweet Spots | More | Less |
| Swing Weight | Better | Okay |
| Vibration | Less Vibrational Sting | More Vibrational Sting |
| Break-in | Required | Not required |
What are Alloy Softball Bats?
The idea of aluminum or alloy softball bats was first conceived in the seventies. Before then, people mostly used wooden baseball or softball bats, even in the Major leagues. And when aluminum bats arrived, it naturally caused a massive uproar among ballplayers, professional and amateur alike.
Good alloy softball bats are an efficient upgrade over your wooden bat and offer more pop, bat speed, and swing weight. And since aluminum alloy bats are lighter than wood bats, it is also much easier to wield for a youth hitter. The iconic "ping" that resonates as soon as an alloy bat makes contact with the ball is still a big part of softball and baseball history.
This type of bat uses a mixture of aluminum and a couple of other metals. But, the type of metal used to make the alloy bat also reflects its barrel length, weight, durability, price, and overall quality. While high-end alloy bats use high-quality materials, they also tend to cost a bit higher. If you are on a budget, you can, of course, go with an affordable alloy bat, but its striking performance will not be as good.
What are the Disadvantages of Alloy Softball Bats?
There are a few common issues with alloy bats. For one thing, these softball bats vibrate a lot. The moment you hit the ball, you will feel the vibration in your fingertips. And if you are not used to it, it can feel quite unpleasant. The first time I hit a home run with alloy bats, I actually dropped it as the vibration was pretty intense.
Other issues with aluminum bats, at least affordable ones, include less durability and depreciating value over time. But compared to wooden bats, it is still quite durable. These days, alloy bats are most dominantly seen in smaller softball and baseball leagues. Since MLB does not allow the use of alloy bats, you will not see a professional use them in a real game. Still, as an upgrade over wooden bats, alloy softball bats are not bad at all.
The Key Advantages of Alloy Bats:
Stronger and lighter than wooden bats
Feels stiff while swinging
Has decent pop
Priced quite reasonably
Requires no breaking in
The ping sound is quite satisfying
What are Composite Softball Bats?

Composite bats, compared to alloy or wood bats, are a relatively new invention. The first time MLB saw a composite bat in use was in 2001. These days, this type of bat is the go-to option for most professional hitters.
Composite bats are made using carbon fiber-based materials. Similar to how aluminum alloy bats feature a combination of different metals, composite bats feature a blend of carbon composites. Carbon composites have less density compared to metal alloy but, in most cases, offer much better performance.
High-end composite bats also feature what most baseball aficionados call the "trampoline effect" as it hits the ball. The ball essentially bounces off the point of contact when you manage to hit it with the sweet spot of the composite bat. This allows you to hit the ball much further than you would be able to achieve with other types of bats.
It also produces much less vibration when you hit the ball. So, you will not suffer from the "sting," which, if you recall, is pretty common with aluminum bats. It also has a higher damping rate which drastically reduces the vibration intensity as you hit the ball.
Composite softball bats can either be one-piece or two-piece. But in most cases, people try to stick to two-piece composite softball bats. Those bats are considered superior to other designs, and most professionals also tend to use them in MLB games.
What are the Disadvantages of Composite Softball Bats?
That does not mean, though, that these bats are without issues. The first problem with composite bats is that they are quite expensive. Unless you are pursuing a career in the game, there is a good chance that you would not want to invest so much in a composite softball bat.
Besides, little league baseball does not allow the use of composite bats in that age group. Since the balls hit with a composite bat travel faster and further, it can pose a health risk to youth fielders and pitchers. In that age group, composite bats are considered a hazard.
The Key Advantages of Composite Bats Are:
Has excellent pop
Less vibration stings
Balanced swing weight
Can hit the ball further
Much lighter than alloy bats
Suitable for professionals
Difference Between Composite and Aluminum Softball Bats
I got this question more times than I can count. And I understand where it comes from. When people talk about bats, they use the term "aluminum" individually. That's wrong. There are no "pure aluminum" bats. All the aluminum bats that you and I can see, touch, use are actually aluminum alloys. An aluminum alloy is actually a mixture of aluminum and other metals. There can't be a bat where aluminum is the only component. So, when somebody asks you –
"What's the difference between aluminum and alloy bats?"
Answer – nothing. They're the same. "Alloy" is just a moniker for aluminum alloy bats. So, you don't really have to get all excited about alloy and aluminum – because they're both exactly the same.
Getting back to the subject at hand – what's the difference between composite and aluminum softball bats? Well, the exact same difference that I showed you between composite and alloy bats.
My pick on Alloy Softball Bat:
EASTON Amethyst -11 Fastpitch Softball Bat
If you are going with an affordable and high-quality alloy bat, the Amethyst by Easton will give you the perfect blend of both. It is a part of Easton's new Diamond Gem bat collection and costs only under a hundred dollars. For youth or high-school hitters, this bat is truly a gem.
This bat is made using military-grade ALX 50 alloy that promises extended durability and performance. The material is not only strong but also ensures optimal weight distribution across the length of the bat, giving you a balanced feel every time you swing.
In addition, the bat features a cushioned All-Sports grip that helps you keep all the power it delivers under control. It comes in different barrel lengths and drop weights, so make sure you pick out the one that feels most comfortable to you. If you are unsure, just go with the -11 model as it is the lightest one.
For a beginner, this bat should provide everything that a hitter needs. It looks pretty and gives you perfect control on the bat to help you swing with high accuracy. If you are on a tight budget and have your heart set on an alloy aluminum bat, this is it.
---
My pick on Composite Softball Bat
Rawlings | Mantra | Fastpitch Softball Bat
When it comes to composite softball bats, the Mantra by Rawlings is the one that I go with. It features a fantastic design that not only looks pretty but also performs amazingly at the hands of a capable hitter. This softball bat features a 3-step inner barrel that ensures optimal weight distribution. As a result, you will be able to swing it with more strength through the swing zone. Because of its larger sweet spot, the moment you connect the barrel with the ball, you will watch it soar towards the stand.
It also features a revolutionary Blast Motion Sensor knob that helps you get a better hand feel and feedback when you swing and connect with the ball. The bat is available in multiple sizes and drops weights. I typically go with the -9-drop weight option, but you should go with whichever feels better in your hands.
The Rawlings Mantra is a premium bat that promises premium performance. As far as composite bats go, it is one of the finest options out there.
---
Which is Better: Composite or Alloy Bats?
As I said at the start, there are good sides and bad sides to both of these bat types. So, if anyone claims that composite bats are simply better, has not done proper research on this subject. That's why – when someone says they have the best softball bat in their arsenal, you should know that the entire experience is subjective.
Yes, composite softball bats are great, and they are worth the exorbitant price they sometimes ask. But there are a couple of major flaws with them. For example, if you are buying it for your kid playing in the little league, he most likely won't be allowed to play with it in a proper game.
Alloy softball bats, on the other hand, can be a great choice for amateur players. This type of bat practically dominates the college baseball and softball scene. And if you have seen youth players in action these days, you already know how well they use their alloy bats. Cheers!