Even still now, I remember when I was nine years old and trying to convince my father to buy another new baseball bag. Because I just brooked two wheels of that nonsense bag which he gifted me on my recent birthday!
I mean it didn't last more than two months. I know the pain. That's why I decided to write the Boombah rolling Superpack review cause it's one of the popular baseball bags.
What to Look before Buying
It's not the fault of my father that he gifted me a bag that is going to give lousy support. But unfortunately, it happened because he didn't look for the things that need to consider and picked a random one.
But you shouldn't make the same mistake as my father. So keep in mind these things before buying a baseball bag.
Materials: for securing that it will last for seasons
Compartments: for every baseball essentials that you will need
Waterproofing leather: for preventing your bag from water or rain
Comfortable shoulder straps: for easy transportation with heavy load (Optional on the wheeled bag)
Nice colors: to get a good mood while playing
Affordable price: for giving access to everyone
Boombah Rolling Superpack Review
Key Features
Heavy-duty nylon ripstop and 100% 600d polyester
Durable zippers
Reinforced J hooks
Dimensions: 23.5 x 13.5 x 9.5
Durability tested inside steel wheels
Can hold up to four bats
Telescopic handle
Separate compartments for everything
Materials That Will Last For Years
High-quality durable materials are always at the top priority level while it comes to Boombah baseball bags.
1. Main Materials
As promised, they used black heavy-duty nylon ripstop 100% 600d polyester as its leather material. Even after a rough use, this bag will not give you lousy support because 600d polyesters are specially made for surviving tough conditions.
2. Durable Security Zippers
Every compartments and pocket have unbreakable zippers for securing the bag. When you are on the dugout, you may need to hang the bag on the fence.
Rarely it can be possible that someone is trying to steal your things like a phone or wallet!
Using a small padlock can be a lifesaver at that moment.
Hence, the bag doesn't come with a padlock. You can take it as a security tip.
3. Reinforced J Hooks
They used two reinforced J hooks on two sides of the bag to hang it on fence. These two hooks can carry the bag at a maximum weight without any problems.
Compartments For Every Gear
This ideal baseball bag is perfect as it looks. There is plenty of room and separate compartments for every baseball equipment and gear that a baseball player needs.
It comes with a lot of storage for batting gloves, balls, batting helmet and others.
1. Extra IPad Compartments
In front-upside of the bag, you will get an iPad pocket for the things like phone, earphone and other.
On that pocket, they featured an earbud hole for the sound system. If you play a song into your mobile and lock it into the pocket, you will get clear sound even from inside of the bag.
(I will definitely play "Attention" by Charlie Puth)
They featured it because sometimes you can miss an emergency incoming caller ringtone from your phone.
And as you know, the materials are hard so it's a normal and common problem. But they made the bag to maintain and fill up all possible problems that a bag has to suffer.
2. Bats Compartments
On two sides of this Rolling baseball bat pack, you will get two side bat compartments for four softballs and baseball bats. Inside of those compartments, it featured comfort padded foam to protect your bats from scratch.
Separate Shoe Compartment For Not To Dirt
No one will want to keep his pair of shoes inside of a bag that is fully loaded with essentials. Those pairs of shoes can be full of dust.
By keeping mind that this bag comes with a shoe compartment to prevent your gears and equipment from dirt. So you don't need to worry about your recently used shoe management.
Heavy-duty Wheels and Handle for Easy Transportation
This bag doesn't come with shoulder straps. That's why it's a full premium baseball/softball gear bag. It's not easy to carry the bag on just two shoulder straps while it's fully loaded.
Shoulder straps will be useless in this situation. They used Telescopic handle as the alternative of straps.
This is a wheeled version baseball bag. So they used two durability-tested inside steel wheels for easy transportation. Those wheels are passed the High durability test (including rock, fire, pressing).
They can suffer any hard ground no matter how sturdy the surface is.
Waterproof Outfit To Prevent Essentials from Rain
The black nylon ripstop 600d polyesters are 100% waterproof.
Being honest may the materials can be 100% waterproof. But if we are talking about the whole baseball bag, then it's not 100% waterproof because of its outside net pockets.
The better solution is you should not keep something on the pocket that is going to harm by water. But this is just an extra pocket. You shouldn't worry about this simple problem. Otherwise, this is a bag that can be a perfect example of a waterproof baseball bag.
Eye-Catching Colors to Get Focused
Yes, it's true. Color boosts your focus and concentration. If you choose a color that is favorite, then you can concentrate on the game while looking good.
By keeping mind that this Rolling The super pack comes in five different colors. You can choose any of them as your preferences.
But we would like to recommend the black/lime green one for two reasons. First, this color got the most popular among these five. And the second green helps you to focus.
Affordable Price for Everyone
While getting all these pro features at a combination, this is not a bag that will cost you 100 bucks. It's not expensive. At the same point; it's not extremely cheap bags to buy. This is a medium level price range for easy access to everyone.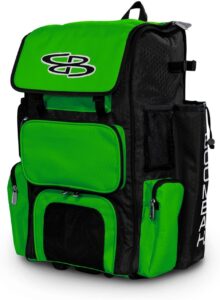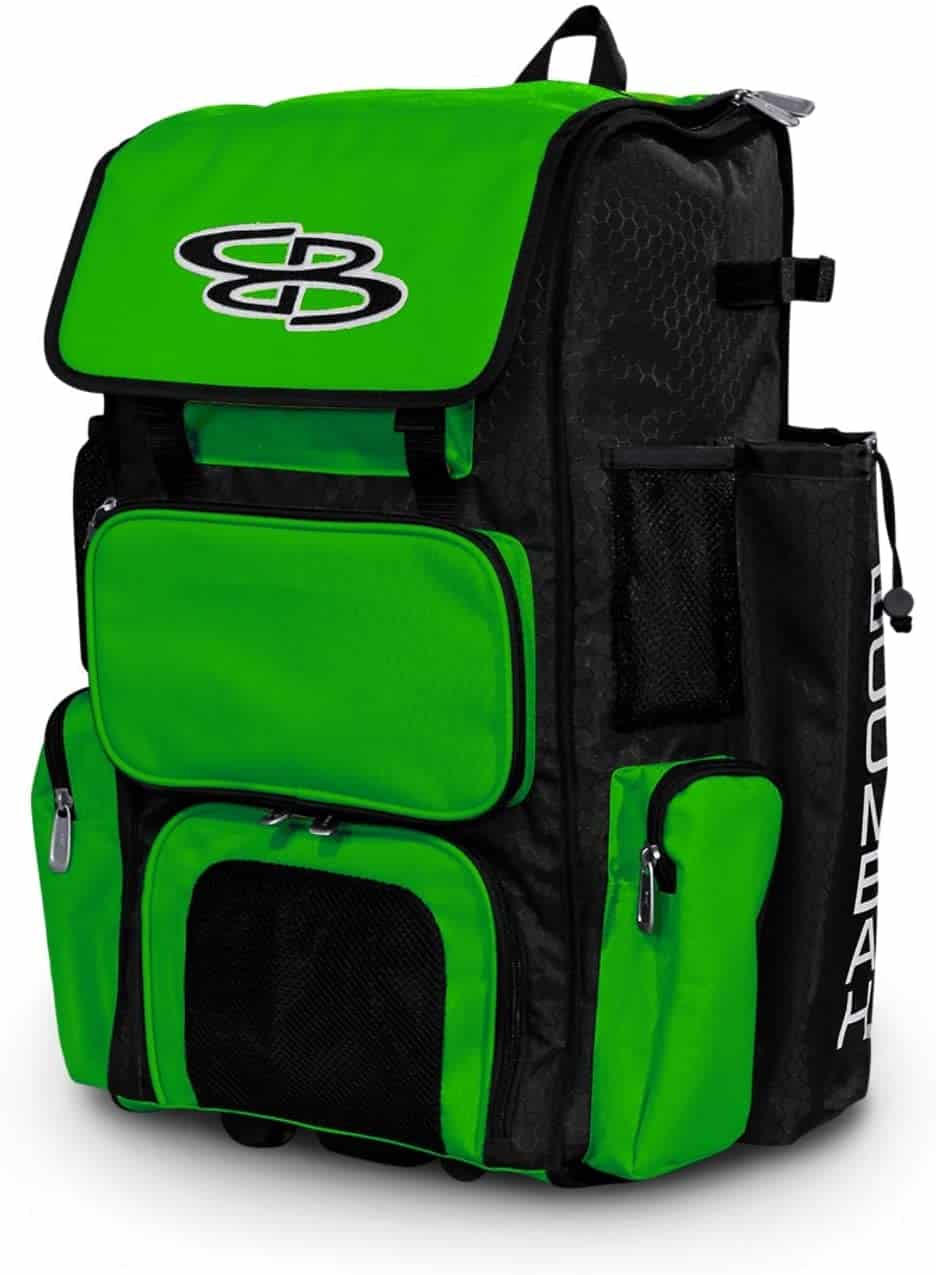 Alternatives
Boombah Rolling Superpack Camo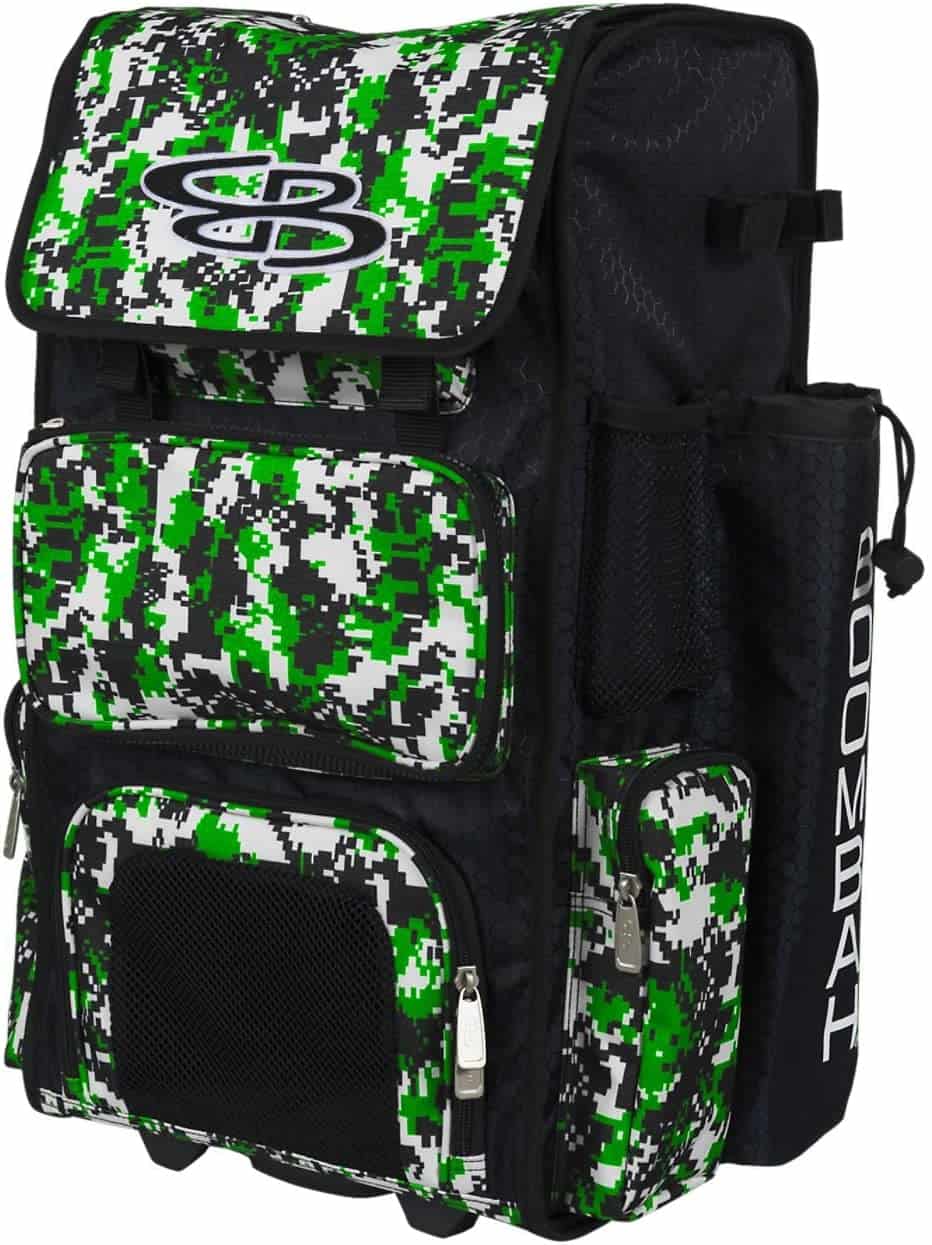 There isn't any notable difference between these two. The main reason why it is divided in the name of camo is the color. The Superpack camo series comes with 20 significant colors while the non-camo comes with 5.
Otherwise everything like waterproof materials, constructions, wheels, handles, price is the same as the first one.
You can call this the alternative of none camo version. But actually, it's not an alternative option; it's the same thing in a different version.
DeMarini Momentum Wheeled Bag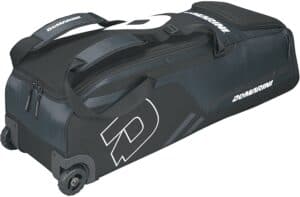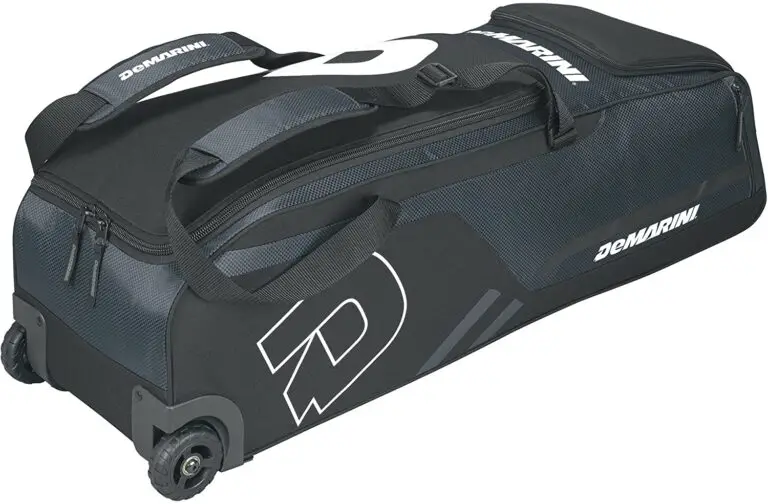 DeMarini momentum is one of the best-wheeled baseball bags that should be a perfect alternative to boombah rolling super pack. It comes with a large main compartment that can hold everything you need.
For bats, there are individually padded bat sleeves for four bats. If you want to talk about how you will travel with this bag, then they featured two rugged wheels for travel easily.
Just not the wheels it also has two shoulder straps for carrying the bag in the shoulder easily. Like the first one, it has a separate interior shelf for cleats. It will not cost you much. Even it's cheaper than the Superpack.
Boombah Spartan Bag Review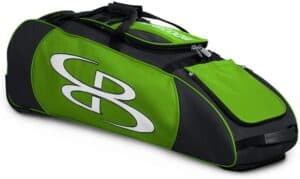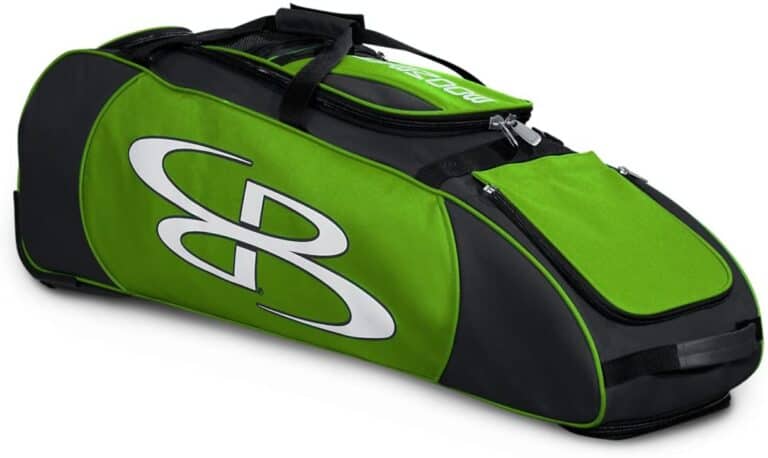 This one is the largest baseball bag from Boombah baseball. They used heavy duty nylon and 100% 600d polyester to make it. Heavy-duty zippers for security and reinforced J hook for hanging on the fence.
It also has an extra separate compartment for the shoe. Simply as the first one. Multiple pockets for a different thing like keys, phone, wallet etc. Like others, it has a bigger compartment for four bats.
If you do care about color, then this affordable baseball bag comes with 18 different colors to choose from. Reinforced wheels and double shoulder straps both are featured for easy carrying. Straps are so comfortable that you will feel their softness on your shoulder and back while carrying.
Conclusion
If you are trying to buy a baseball and softball gear and equipment bag that is durable, eye-catching and not overpriced, then this Boombah rolling Superpack bat pack is just for you.
We loved every feature of this fantastic equipment and bat bag. That's why we choose this one as our first choice from the five best baseball bags that are giving the best support and lasting for years.
Not just we, everyone positively talking about this. We hope it will not break your heart by giving lousy support in a short time.