I spent most of my childhood playing ball games. Even to this day, I think of a weekend as wasted unless I hit the field with a couple of friends to play a game of baseball and softball. As long as I am playing, it really does not matter to me which game it is.
But over the years I have seen many players use baseball catcher's mitt when they do not have a mitt for fastpitch softball.
Though it is not ideal, it can be done if certain conditions are met. With some catcher's mitt, you will be able to play fastpitch softball without too much issue.
In this article, I will share some ideas about this subject so that you can decide if you want to use a baseball catcher's mitt for softball.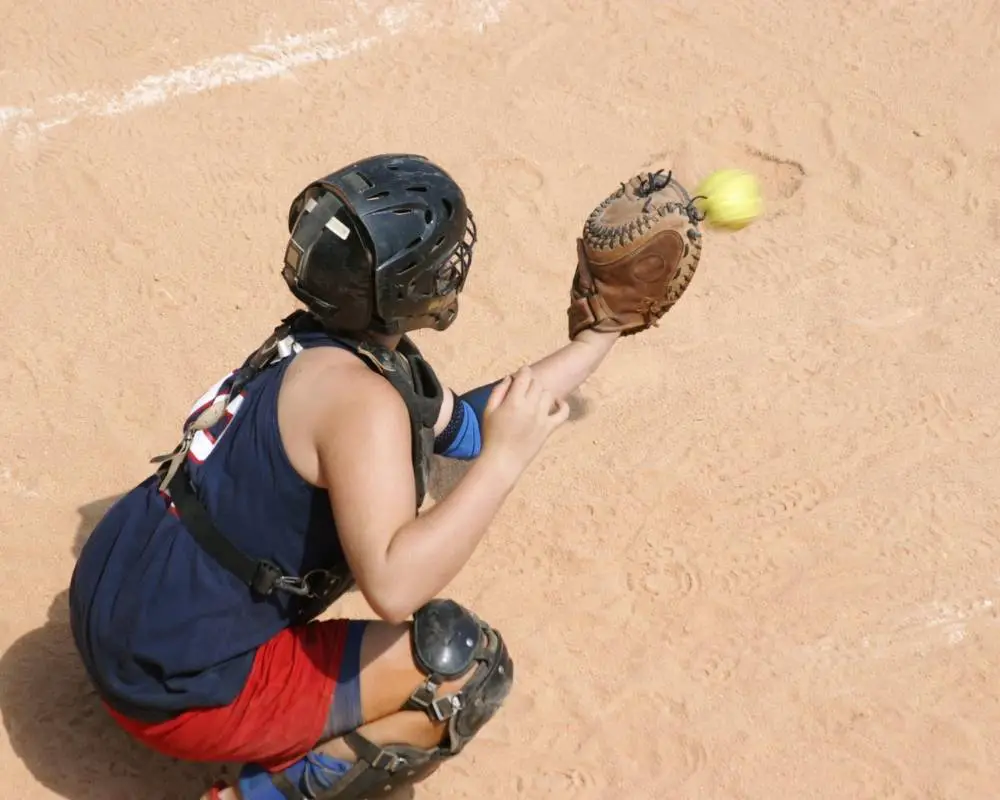 Are Baseball and Softball Gloves the Same?
I have seen people use baseball and softball gloves interchangeably on many occasions.
Though you might be able to get away with it in a casual game, professionals would never make this mistake. The main reason for it is that baseball gloves are, in fact, smaller than softball gloves.
Even a baseball catcher's mitt which is quite a bit larger than a baseball glove is not ideal for playing softball. Because of the smaller size of baseball gloves and mitts, you can barely fit softball into the glove.
As a result, you will not be able to get a good hold of the ball whether you are catching or throwing it.
Apart from the size factor alone, there are a few other noticeable differences between a baseball catcher's mitt and softball gloves.
Remember, a baseball glove and a baseball catcher's mitt are designed differently and used by different players. A catcher's mitt as the name implies is for catchers alone.
Here are a few major differences between a baseball catcher's mitt and softball gloves.
The Differences
Padding
The baseball catcher's mitts are considerably thicker and have more padding compared to softball gloves. Since baseball pitches are thrown harder, increased protection is essential in a baseball catcher's mitt. Softball players do not require as much protection and prefer to have more freedom of movement with their gloves.
Despite the increased padding, the size of a baseball catcher's mitt can range from 32 to 34.5 inches. On the other hand, softball catcher's gloves are a bit bigger with the smallest ones starting from 33 inches with the upper limit being 35 inches at most.
Pocket Size
Baseball balls and softball balls are different in size. Softball is bigger than baseball. Because of this, the size of the pocket in the gloves for the respective gloves is also different. With baseball gloves, the pocket size is smaller because the ball is small as well. The opposite is the same for softball.
So, using a baseball glove for softball means it will be harder for you to catch the ball in the pocket. There is a greater chance of you fumbling the ball which is never an idea when you are playing a game. The shorter pocket of baseball gloves gives the players better control which is quite important for the game.
Fitting
Another subtle difference between the two gloves is how they fit into the hands of the players. Although this can vary from one player to another, typically, most softball players want their gloves to be a bit tighter compared to baseball players. Baseball gloves do not fit as tightly as softball gloves.
Because of this player preference most softball gloves, especially those that are used in fastpitch softballs come with Velcro attachments at the bottom. Since most of the athletes of this sport are female, they can get a custom fit with their smaller hands. Typically, baseball gloves do not have any Velcro.
Can You Use A Baseball Catchers Mitt for Fastpitch Softball?
Though it is not ideal, you can actually use a baseball catcher's mitt for fastpitch softball. Since the catcher's mitt is typically larger than a baseball glove, you might be able to get away with using it in softball. Still, I would not recommend it.
What I would recommend is going with a glove that can serve well in either setting. This means – you need to think carefully about the size of the gloves, the depth of the pocket, and also the overall fittings.
Two Catcher's Mitts that You can Use for Both Baseball and Softball
Before I give you the options, I want to reiterate. A baseball catcher's mitt is not the right choice for softball. But as a casual player, you might not care about it all that much. In that case, I will leave you with two options.
1. Rawlings Player Preferred Baseball/Softball Glove Series
When it comes to sub-100 dollars gloves for softball and baseball, the Rawlings Player Preferred really has no competition. It has been my choice of mitt whenever I am playing the catcher. It requires minimal break-in as do all Rawlings gloves. So, you can start playing with it the moment you get it.
The manufacturer understands and respects casual players; that much is clear when you take this mitt in your hand. They know that a casual player will not spend hundreds of dollars on a separate set of gloves when switching games. So, they brought this budget option to the market that serves equally well for both games.
This unit comes at a size of 33 inches and provides excellent impact protection thanks to its Zero Shock Palm Padding. The conventional back design ensures a comfortable yet secure fit when you are playing. You can further adjust the fit using the Velcro wrist strap built into it.
Catching the ball is comfortable and does not cause any discomfort thanks to the soft and flexible shell. The solid 1-piece webbing design ensures you can catch the ball in the pocket.
However, with softball, it can be a bit harder to control the ball properly because of its smaller size. But considering the price and its versatility, that much can be forgiven, say the least.
When it comes to baseball gloves, the material is the most important thing. This is another field where this pair shines giving you a high-quality full-grain oiled leather shell. Even the laces are made of leather ensuring you get a long-lasting use out of this glove.
For a casual player looking to enjoy a weekend of softball or baseball, this is as good as it gets. You will not be spending premium dollars for it, so expecting it to perform like one is not logical. However, the value you get out of it is immense.
2. Rawlings Liberty Advanced Fastpitch Softball Glove Series
For serious fastpitch softball players who are looking to get the most value out of their investment, Player Preferred is not the best choice. It is versatile, sure, but a catcher's mitt made specifically for softball will always beat it. That is why you would never see professionals use Player Preferred despite it being a popular choice among casuals.
For veterans and seasoned players, however, there is the Rawlings Liberty Advanced. This beast of a glove can help you step up your game and compete against the big kids. It is truly a magnificent pair of gloves and saying that I love it would be an understatement.
With fastpitch softballs, the pitches are faster, and wearing the perfect catcher's mitt to catch them is essential. Since it comes at a size 34 and so it is perfect for catching softballs easily. Kids and adults alike can wear it and use it without running into any size issues because of its adjustable design.
You also get excellent protection thanks to the Poron XRD pads for both your palm and index fingers. This padding reduces the impact of the ball ensuring you feel no discomfort from catching those fast pitches.
Made using high-quality full-grain oil-treated leather, the shell of this glove can withstand any abuse you throw at it. It will serve you well over a long period. I have been using one for well over three years and it still shows no signs of damage despite how roughly I use it on the field.
Parting Shots
If I am being absolutely honest, I would always use a fastpitch catcher's glove when I am playing this game. But I can understand the urge to avoid spending extra on a sport that you are only playing casually.
So, if you are planning on using a baseball catcher's mitt for softball at least invest in a decent pair. The two options that I showcased are the best choices as they will not only give you solid performance, they will also last you a pretty long time. Cheers!